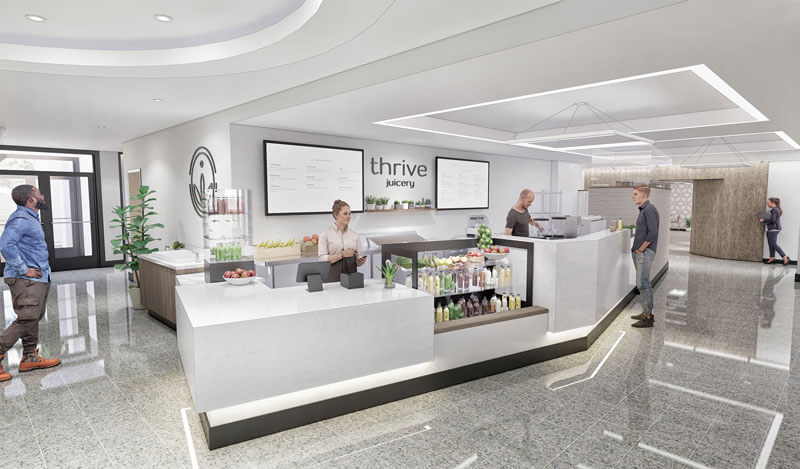 Redefining Ann Arbor Commercial Real Estate: Yellowstone Build
It's an exciting time for commercial real estate and the people who inhabit it. Why? Well, because people do not just want to return to the same office space that they left back in 2020. Businesses are going to have to make the return to office appealing – more appealing than the comforts and conveniences of home. Ann Arbor property management companies, like Oxford Companies, understand this challenge, and are partnering with architecture and construction firms, like Yellowstone, to make that happen.
On Ann Arbor's Southside, at 777 E. Eisenhower Parkway, Yellowstone is very adeptly collaborating with tenants, the owner, and the property manager to amenitize the property by expanding the offerings on the ground floor. We spoke with Charles Huber, Yellowstone's Architecture and Design Services Manager, about this exciting project and what it can mean for the people experiencing this space.
What was the goal for this project?
The goal was to provide amenities for a building with however many thousand people that may come here to work each day, but also so it could be a part of a vision for the Southside – eventually tying the site to the local area.  Yellowstone is excited to work in a developing area so it can be a leader in bringing some things here that haven't been here before. The idea was to improve the experience of coming into the building.  There's currently an underutilized lobby.  The idea is to energize you before you go up to your office, and entice you back down when it's time for a break.  We hope this collaboration with these small, local business owners will support the needs of people here, and provide access to valued resources.  We have 2 great food retail users that we are working with for the lobby, and there is still space for future development that fronts the building with dedicated outdoor space to support that business.  It will be exciting to bring activity outside the building – flowing in to connect to the indoor spaces. We are also looking at a couple of other uses for the first floor that building users can access.
So the goal is to build out the lobby space for the office users?
This isn't just about one thing.  This is a bigger picture idea. The hope is to help the building be competitive and the best choice for people looking for Ann Arbor office space, but also to bring in more people from the local community who have been waiting and hoping for more restaurant options and retail experiences.
What do you think makes Yellowstone uniquely qualified for this type of job?
We have team members that have experience in office, retail, and hospitality design – various perspectives from the differing types of space allowed us to tie together some ideas that may have been missed if it was coming from a singular perspective.  We are tasked with transforming an office space into an amenity and retail space.  So, we brought all the right people on board to facilitate this transformation in a way that serves a lot of needs.
What do you mean by a lot of needs?
The owner wanted a food amenity in the building.  There was a little hint to future site development but not a fully developed idea.  He didn't want to lead us in one direction. He challenged us to contribute ideas.  How do we make a successful project on the first floor – providing amenities and distinct types of spaces?  In the interest of the investors, we had to consider cost.  We wanted to help make an impact without doing what wasn't necessary.  For example, we considered proposing a 2-story lobby, but losing rentable square footage didn't make sense for the building's financials.  You could still create an inviting and diverse space without breaking the bank or losing creativity.
We also needed to create an inviting space that is easy to navigate so that the retail businesses felt supported and visitors are enticed to shop there. So we worked with the tenants to understand their product and services and designed the spaces that were easy to use and work in and made it easy for customers to find them.
We also met with the property manager. Her input was crucial to designing and building a space that is easy to maintain – it will save time, money and frustrations of all parties involved. So it was a real collaboration.
Was that difficult?
No – I like to have multiple perspectives and inputs to get all of those pieces to work – it gets you a better product in the end.  Ease of care, financial frugality, creativity.  Having all groups at the table (PM, owner, tenant, design, construction) is much better than focusing on needs of one. We are able to address the needs of all.
Do you have an example of how you designed the spaces for the restaurants?
Sure, there are two great examples. There is a column when you come into the lobby that could have blocked the view of Thrive, the health food and juice bar going directly into the lobby. So, we designed the Coffee counter to curve out past the column, so you see it the moment you walk in.  You smell the coffee, see the life and energy. And the owners, who are great to work with, wanted to place to-go juice containers and the register right on the front corner so it will be right in your line of site. That is such a convenient way to quickly grab something delicious and healthy on your way up to the office and reminds people of the products offered as they pass through the lobby.  So, it worked well with Thrive to support their business but also to accomplish what we wanted to do for the lobby/building.  A lot of great ideas went back and forth.
Also, a great sushi restaurant is going in toward the back of the first floor. Entrance into their space requires a bit of wayfinding. So instead of small plaque signage directing customers, we placed a beautiful full-sized sign, that still blends with the style of the lobby that can be seen as soon as you enter the lobby, to draw people back in the right direction. And once the customers walk past that sign through the open doorway, they are welcomed toward the host stand of the restaurant. It is really going to be a dynamic space for all visitors to the area. We are excited to be a part of this great project.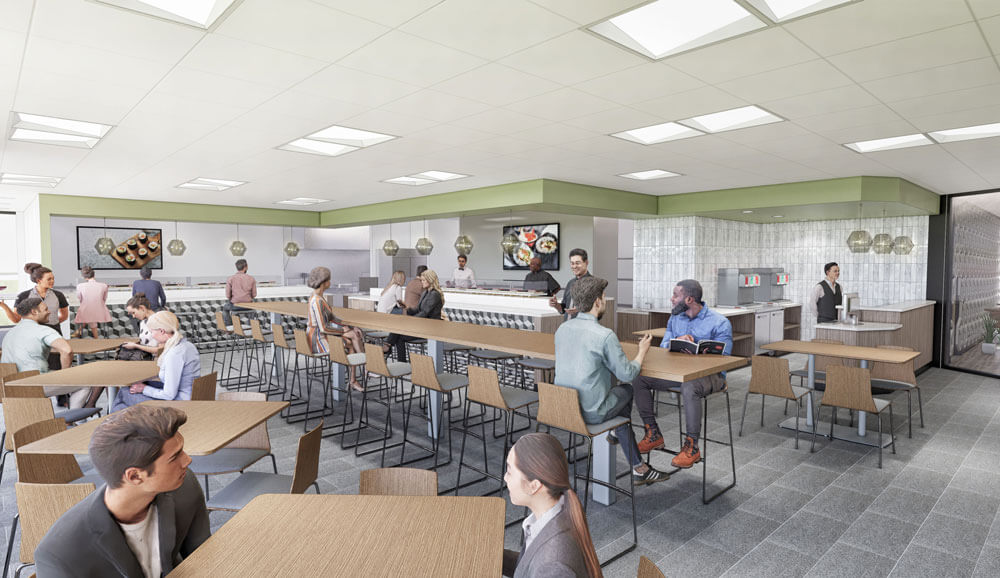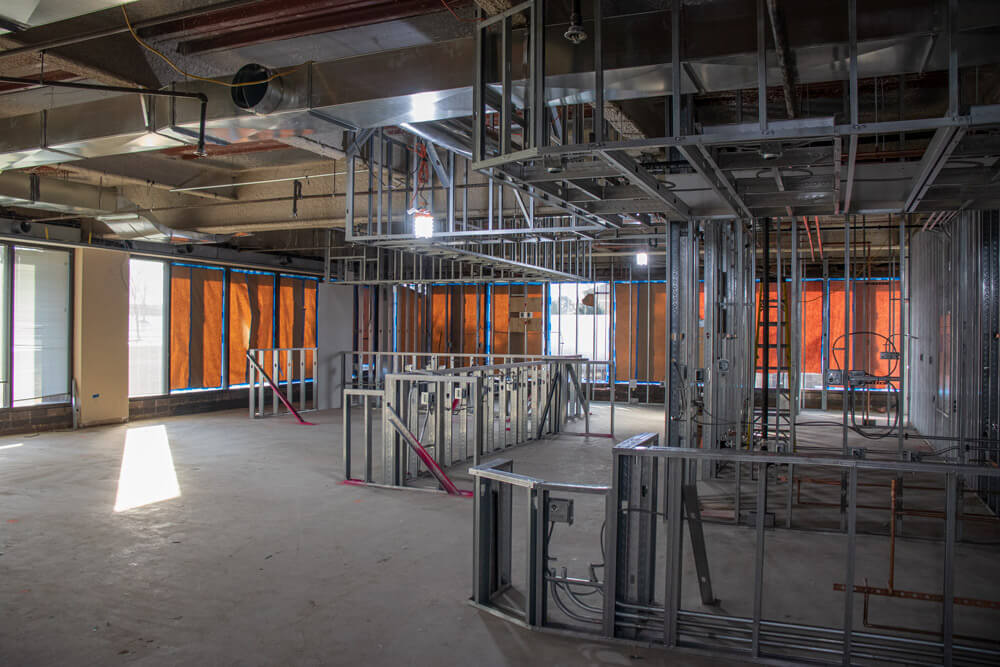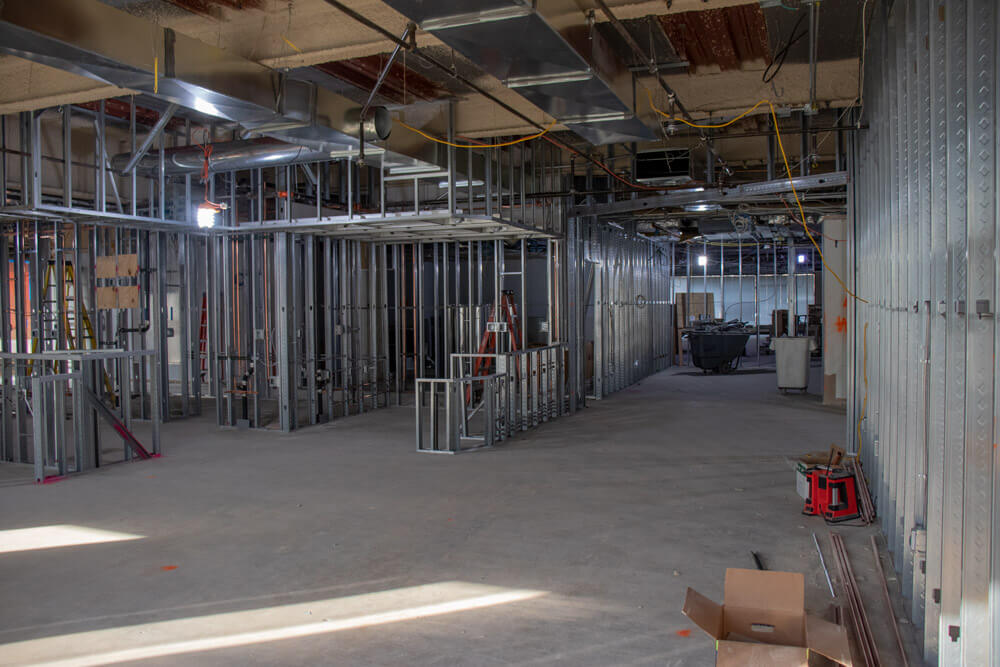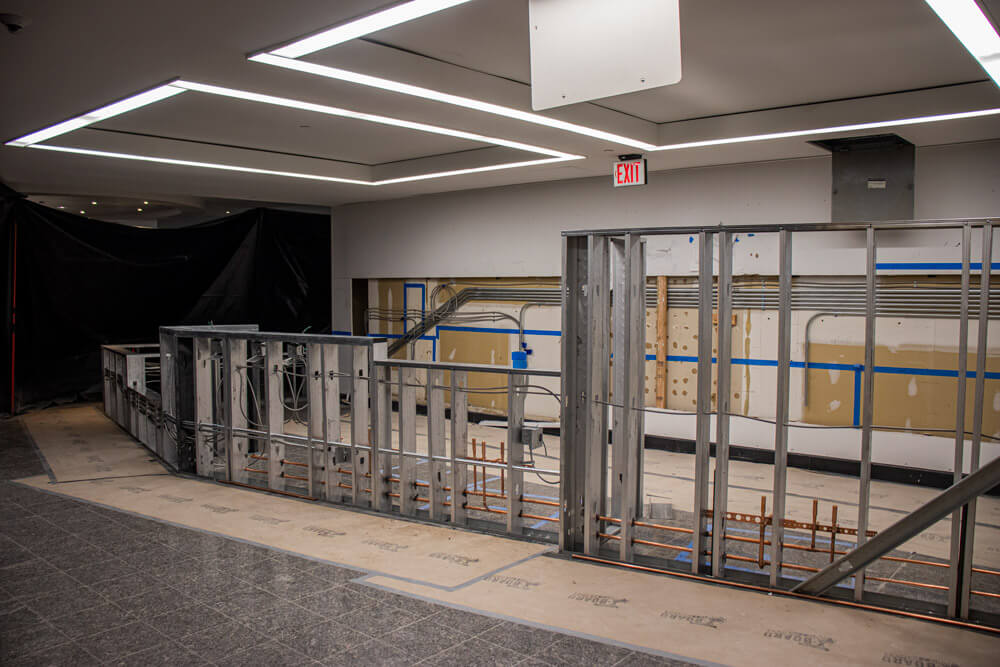 Yellowstone is a highly experienced and deeply passionate team that embraces the entire process of designing and building spaces. They are inspired by their clients' expertise, culture, and vision, and they create environments that reflect their clients' values. Find them at www.yellowstone.build
For more information about leasing the restaurant space at the 777 Building or other opportunities in Ann Arbor commercial real estate, contact Karen O'Neil at 734-665-6500 or koneil@oxfordcompanies.com, or fill out a quick form HERE.