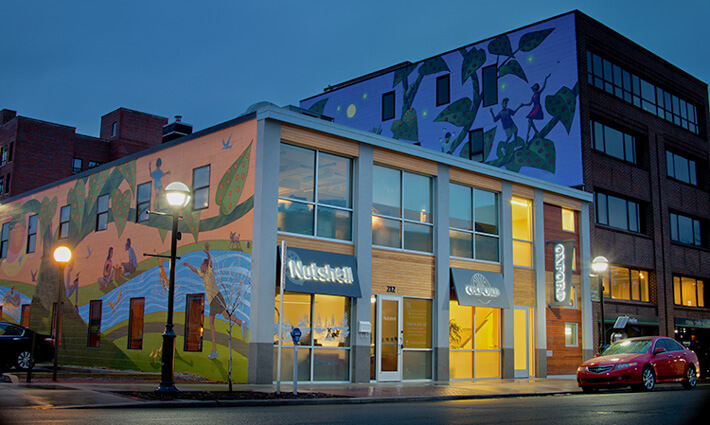 4 Top Features Startups Look for in an Office Space
4 Top Features Startups Look for in an Office Space
How to match your startup clients to the perfect working space
As a real estate broker for businesses, you're well-versed in the needs of organizations large and small. You know how much Ann Arbor commercial office space to recommend based on their size, what kind of conference room will impress the board members, and how many bathrooms they'll need per floor.
However, many startups have priorities that differ from traditional companies. With fewer employees and a worldview that emphasizes innovation and collaboration, they want offices that can provide a balance of cutting-edge technology without the hierarchal or sequestered feel of more corporate environments.
If you're trying to find an office commercial rental space that is the perfect match for this kind of client, here are four features that can help you close the deal.
1. Technological capacity
Startups are nothing if not tech-savvy. This means that your Ann Arbor office office for lease will need to have the capability to keep up with the technical demand of a plugged-in workforce.
That said, the technological requirements of many offices have changed. Newer businesses are less likely to be encumbered by legacy hardware, such as dated server racks or old computer equipment. Instead, their reliance on cloud technology will put a premium on high-speed wired internet and clear connectivity for Wi-Fi. Outlets are another chief concern—both their quantity and location.
However, startups are also interested in solutions that can cut down on the various cords and cables that clutter tech environments. This is especially important in the conference room, where cables for telephones and projectors can be unseemly. A clean, efficient work space with cleverly-hidden tech features can go a long way toward impressing an interested startup.
2. Flexible spaces
Modern Ann Arbor office spaces are moving away from cubicles and toward collaborative environments. This reflects the more flexible work policies favored by the tech industry, which include a greater openness to remote work and generous bring-your-own–device policies. With more employees working from home for part of the week and from their own laptop even in the office, workspaces need to accommodate the portable lifestyle.
One such approach is to create lounge areas, where employees can sit comfortably while they work on their laptops or discuss group projects. Such spaces can also incorporate movable elements and modular furniture that make the room easier to re-arrange to suit the needs of the moment.
Conference rooms are another space that is seeing more flexible usage. From board meetings to team brainstorming sessions to quiet work zones, many startups expect to use their conference space for more than just conferences. And they expect it to be equipped for video conferencing and presentations as well.
3. Natural Lighting
Office spaces of old were filled with rows of fluorescent lights as a matter of course. However, many scientific studies have since proven what many of us suspected all along: fluorescent lighting doesn't just look bad, it makes us feel bad, too. The limited range of fluorescent lighting can upset our circadian rhythm, leading to sleep problems and weariness. Meanwhile, the slight flickering of fluorescent bulbs can lead to eye strain, migraines, and increased anxiety.
Because of this, most new businesses these days prioritize commercial office rental spaces with natural lighting, including large windows and full-spectrum lightbulbs. High-quality lighting has a direct effect on employee productivity and well-being, and can even make a space feel larger and more inviting.
Be sure to point out any Ann Arbor office space features that might contribute to lighting, such as sky lights or tall windows. And if the space doesn't have good lighting already, discuss how this issue could be addressed to suit your client's needs.
4. Work/ Life Balance
Most businesses know that attracting top talent is a key for success. However, startups are in a more flexible position to provide top amenities. For some businesses, this involves an on-site gym or child care center. For others, it may mean healthy snacks in the kitchen, or attractive commuting options.
The office location also has a major impact on work/life balance. Affordable parking and accessible public transport can help employees manage a commute. And an attractive downtown neighborhood with a variety of restaurant options can be great for working lunches, coffee meetings, and after work socializing.
Let you clients know what is possible with their commercial rental space.
Many of the features we've discussed can be added to an Ann Arbor retail space for lease before a client moves in. However, many businesses remain unaware of the many ways they can customize their office environment before they move in. Suggesting ways in which they can achieve their ideal space can help close a hesitant tenant.
It's easiest to wire an office for high-speed Internet before it's full of desks, chairs, and employees. And if your client wants a more open co-working environment or a private library corner, it's usually possible to move or eliminate a wall, provided it's not load-bearing.
If you need help showing off the possibilities of one of our commercial office for rent to your clients, we can help. We work with a team of designers and builders that can streamline the redesign process for your clients. Contact us today to get started.