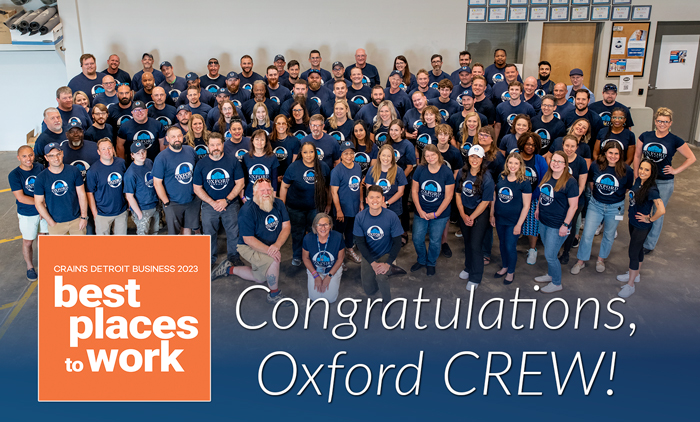 Oxford Named one of the Best Places to Work by Crain's Detroit Business!
We are thrilled to share that we've earned the distinction of being named one of the 2023 Best Places to Work in Southeast Michigan by Crain's Detroit Business! A celebratory event took place on August 24 at the Cambria Hotel Detroit Downtown during which the rankings were revealed, and we were honored to discover our placement among the outstanding companies recognized.
The Best Places to Work in Southeast Michigan list is a competitive, elite group of organizations in the Detroit region that are ranked based upon employee feedback. Oxford's ranking on this list is a result of its team's responses to a 77-question internal Employee Engagement and Satisfaction Survey, which records data related to compensation, benefits, culture, and other factors that make up an employee's experience at our organization.
"We could absolutely not be prouder of this award," said Jeff Hauptman, CEO of Oxford Companies. "Our CREW is the beating heart of our business and providing them with a phenomenal work experience is paramount to growing our business, caring for our customers and community, and attracting and retaining top talent. Being a Crain's Detroit Best Places to Work, alongside these other outstanding companies, really shows that we're succeeding in our quest to be a top employer in our area."'
The full list of companies who earned a spot on the Crain's Detroit Business 2023 Best Places to Work in Southeast Michigan can be found HERE.