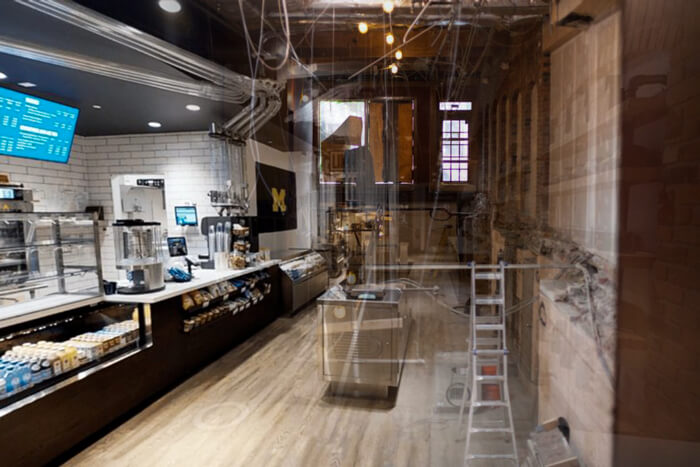 4 Ways to Ensure your Client is Satisfied with Their Space
Signing a lease is the first step. Here's how to keep your client happy in the long run.
Brokers work on commission. That gives them a lot of incentive to match their clients to a suitable Ann Arbor office rental space quickly. A short turn-around time means the broker receives their commission faster, and they can move on to other clients. The longer a client takes to find a business space, the more hours a broker clocks before they get paid.
However, successful brokers know that putting in extra hours is usually worth the investment in the long term, if it leads to a more satisfied client. This is because the strength of their careers depends on how satisfied their clients are with their new office rental space. A happy client will provide referrals to other clients, and may even return in a few years when they're ready to relocate or expand. Pushing a client into the first available space may close a deal in the short term, but it is more likely to cost a broker business in the future.
But moving a client into their ideal space poses challenges that extend beyond the immediate office hunt. Your client may be happy in the first months, but what if they blame you two years from now when they run out of commercial rental space? Or, what if they run into trouble with their landlord and want to break their lease?
The best insurance against a dissatisfied client is to work closely with your client before settling them into their new office space Ann Arbor, learning about their current needs and future goals, and doing your homework on the properties you send their way. You can't guarantee that everything will go perfectly, but you can keep an eye out for red flags. Here's how to start.
1. Make sure they ask the right questions.
If this is the first lease your client has signed, then it's likely they don't know what they don't know. They know a lot about their business and its needs, but they don't know what to ask about the space they're moving into.
It's your job to make sure they ask the right questions. Talk to them about their parking requirements, or if they have special security needs. Find out if the properties they're interested in are up to code and meet ADA guidelines for accessibility. Ask the landlord about what utilities are included in the rent, and what modifications can be made to the layout. In short, your experience in commercial rental space real estate needs to anticipate your client's needs.
2. Help them think ahead.
Business owners often struggle to envision possibilities for their Ann Arbor office space. They decide against a rental space because they don't like the position of a wall, not realizing that the wall can be easily moved or eliminated. Or they may get hung up on the carpeting, even when they know they plan to replace it with engineered hardwood. In these situations, a designer or architect can help create a more solid vision for your clients to help them see what their office might look like after a renovation.
Your client will also need to think about their rental space requirements, and how they can create a floorplan both they and their employees will love. For better or for worse, many offices are moving toward a more open layout that allows more employees to fit into a smaller space. Your client may be inclined to adopt this office design in order to save on rental costs, but such a strategy may leave them little room to grow in the future.
Changing floor plans aren't the only factor in shrinking office spaces. While open offices usually require less square footage per employee, changes in technology have also reduced space requirements for many offices. With more documents stored on the cloud, businesses can reduce or eliminate storage space for in-house server decks, as well as other outdated pieces of office equipment. That's space your clients can either repurpose for other needs, or else do without as they move to an office with a smaller floor plan.
3. Walk them through the details.
Leasing agreements are far more complicated than a simple agreement to pay a certain amount of money for a given period of time in order to occupy a space. They involve many sub-clauses that govern how tenants can use a space, whether they can sub-let, the rate of rent increase, and the terms under which a tenant can break a lease. These contracts also stipulate the rights of tenant and landlord, including what each owes the other. It's an important but complicated document, much of it couched in technical legal language that clients often find bewildering.
Many clients are tempted to skim these documents, either because they already assume they won't entirely understand them, or because they're eager to sign and move into their new space. However, when they do this, they risk finding themselves trapped in a bad deal for years to come.
Do your clients a favor and walk them through the lease contract. This will give them a chance to ask you any questions they may have, and it can help clarify any points of confusion. Your clients will be grateful to know their rights to a space, and it will put you both on the same page with regard to the terms of the lease.
4. Work with property managers you trust.
Worried that a poor landlord will impact your client's assessment of you? Work with landlords and property managers you trust to provide excellent service. Landlords affect your client's experience in an office space Ann Arbor in a number of ways, from the way they respond to building repairs to the tenants they attract.
A reliable property manager offers a clear way for clients to contact them for emergency issues with power, plumbing, and HVAC. They maintain the outward appearance of their property as well as shared spaces such as hallways, stairwells, and lobbies. They have security systems in place, and do not hesitate to discuss safety concerns with tenants. And they perform due diligence background checks on other tenants to verify that other occupants are financially viable and have good references from previous landlords.
Make sure your clients land in safe hands by doing your background research on potential property managers as well as the space they rent. Otherwise, you may find yourself negotiating terms between your client and their landlord as the lease falls apart.
Talk with Oxford Companies about Your Rental Space
We have extensive experience working with brokers and we understand the importance of prioritizing tenant care. Our design and build team can work with your client to help them envision the possibilities of their new space, then seamlessly create that space according to plan. And once your clients have moved in, we offer 24-7 emergency maintenance and a dedicated point of contact so that our tenants know who to call if they have problems with their rental space. Contact us today, or click here to browse the properties available to rent.