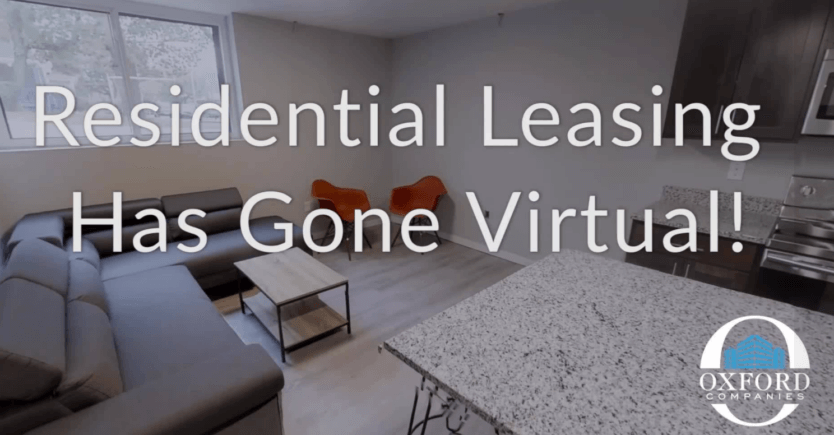 5 Reasons to Rent a Home with Oxford
Oxford Knows Ann Arbor Student Housing.
Ann Arbor is a terrific place to live, with top-notch arts and culture, the world-class University of Michigan, a vibrant and eclectic shopping scene, and hundreds of parks and open spaces to explore. Here at Oxford Companies, we aim to live up to our community's high standards for quality – offering clean, well-maintained multifamily buildings and student housing, and outstanding service to our tenants. Here are just a few reasons you should consider an Ann Arbor rental house or apartment with Oxford:
1. We're serious about safety.
Even before the COVID-19 pandemic began in early 2020, we had extraordinary standards for safety for our tenants and staff. Our maintenance staff is undergoes frequent safety training, and they're certified in First Aid, CPR, and the use of AEDs – plus mold awareness, OSHA/MIOSHA and EPA Approved Asbestos Awareness. We've always maintained high expectations for our CREW's management of safety issues, so when the pandemic began affecting our community, we enacted even more protocols to keep our tenants and staff safe. New practices include a staggered move-in process to encourage physical distancing, screening our staff for symptoms and providing them with proper PPE (and requiring them to use it), and enhanced cleaning techniques.
You may have noticed that our 2020 leasing season has gone 100% virtual as well. Not only is this new process safer, but also more convenient for everyone interested in leasing with Oxford.
2. Great service is part of our culture.
You might have heard that we call our staff "the CREW" – but what you might not know is that CREW is actually an acronym for "constant improvement, respectful and accountable, exceed expectations, and work together". These values come together for a culture that is founded on great service to our customers, tenants, partners, vendors, and community. To this day, Oxford strives to make Ann Arbor a more enjoyable, vibrant place to live, work, visit, and go to school – and you'll feel that in your interactions with our staff.
3. We've got locations wherever you want to be.
If you want to live in Ann Arbor, then Oxford has a place for you. Prefer the peaceful, tranquil north side of the city near the Huron River? We have houses just steps from parks and trails. More of a downtown dweller? Our University of Michigan campus area housing and Old West Side apartments could be the perfect fit. Prefer the Southside of town? You'll love our Ann Arbor rental homes with easy access to I-94 and the Briarwood Mall.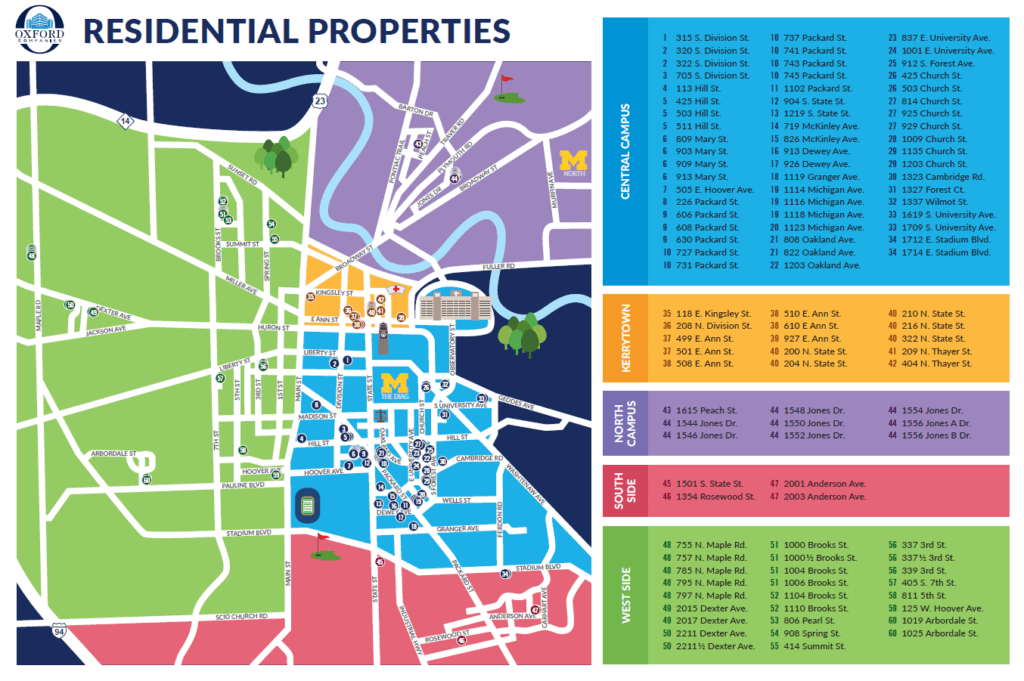 4. It's a 21st century leasing experience at Oxford.
Gone are the days of writing checks for your rent, trying to track down someone in the leasing office for help, or filling out paper forms for every little thing. At Oxford, we want to make leasing with us as easy and stress-free as possible, so we offer online payment options, downloadable forms, email and social media communication, and online maintenance requests. And if you think of anything else that we could improve to make your leasing experience more streamlined, let us know! We're always excited to hear your feedback.
5. Our tenants love us! Here's what they have to say:
"Everything with the house has been good so far which is very nice during these times when you don't leave home often. Looking forward to the rest of the year." – Eli, September 2020
"Apartment is quiet, recently renovated, and was clean and tidy when we moved in. Maintenance is timely and helpful with fixing any issues as well!" – Sarah, September 2020
"I'm really enjoying the community! The house has been really enjoyable and we've been utilizing the outdoor space a lot especially given the current situation." – Jennifer, September 2020
"Overall, I am really enjoying the property I am currently renting from Oxford. I have found my home to comfortable and functional." – Stephanie, September 2020
"I have only lived here a week but I am very impressed with the responsiveness of the Oxford team to my questions and to maintenance issues! Love it so far!" – Patricia, September 2020
"Maintenance comes super quick, and is really helpful! Overall, the apartment is really nice and well kept. I'm really enjoying it so far! Thank you!" – Leah, September 2020
"Oxford has been amazing so far! The maintenance requests and repairs are always timely and their customer service is always willing to help with any problems." – Adam, September 2020
"So far my experience has been wonderful. I appreciate the responsiveness of Oxford when it has come to maintenance requests. I really enjoy my apartment and its level of energy efficiency." – Lindsay, September 2020
"Maintenance responded very quickly! They were super polite and fixed everything we requested. Apartment was very clean upon arrival. No complaints so far!" – Selena, September 2020
Search for your new apartment or house by clicking HERE.
Still not convinced? Give us a call! We'd love to tell you more about what it means to live in one of Oxford's residential properties and how we can help to find your perfect Ann Arbor rental house.
Follow Oxford Residential on Facebook and Instagram for frequent updates.
Looking for office or retail space for lease? Click HERE.