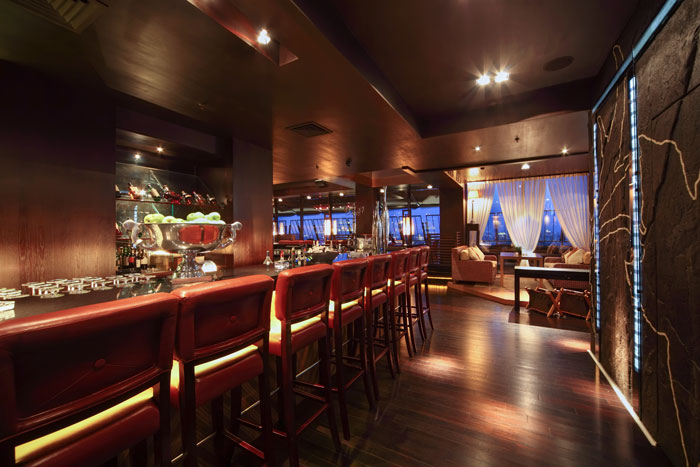 Leasing a Restaurant Space: 7 Things to Consider
Searching for the perfect restaurant space to lease? Here are our top questions to ask.
We'd all like to think that the key to running a perfect restaurant lies in the quality of its cuisine. But more often than not, it's the location that makes the restaurant—not the other way around.
A space situated off the beaten track might be the perfect discovery, but it's far more likely to get passed by in favor of the more convenient location. And space on a busy thoroughfare might seem ideal, but not if the rent price blows your budget out of the water. And that's all before factoring in such considerations as the maximum seating layout or the parking situation.
In the all-important quest for the perfect space, it can be a challenge to remember to ask all the right questions. But before you start negotiating price, here are 7 questions to bear in mind as you decide whether an Ann Arbor restaurant space will meet your needs.
Leasing a Restaurant Space in Ann Arbor
1. What kind of floorplan options does it allow?
Back in the day, most restaurants followed general floor plans based on their aesthetic. Large family diners favored larger tables, small bars featured booths, and fine, white-napkin establishments prioritized small, intimate arrangements.
These days, creative styles are more on-trend. A mixture of group seating, booths, and small tables can accommodate a wider variety of visitors, preventing a restaurant from boxing itself in as a space only suitable for specific events. Because of this, restaurant spaces that allow for flexible, innovative layouts have a chance of grabbing interest and establishing a loyal following.
2. How much seating is available?
The maximum rent a restaurant owner can afford is a delicate balance between operating costs, menu pricing, and restaurant capacity. Even a modest-seeming rent figure can be untenable if the restaurant space is too small to hold the requisite number of guests. And while different floorplans can maximize seating space in different ways, cramming in too many tables can lead to a noisy, unpleasant, hard-to-navigate environment.
Talk to an architect about seating, and look over some concepts to see what your possibilities are. This will also help you conceptualize the space better, so that you can work toward a more accurate budget.
3. Is there patio seating?
Speaking of flexible spaces and seating plans, there's nothing like a patio to expand your dining space, particularly on a warm summer day when no one wants to eat indoors. While patio seating may be seasonal, it's also an attractive addition to your seating options. Even better, a patio area located near a pleasant environment can be the decisive factor between your restaurant and a competitor's on a good day.
4. Is it located in a well-trafficked area?
Local population and traffic conditions play a significant role in a restaurant's success. Most diners make their selection based on convenience. They're looking for a spot that's close to where they are or where they're going. Lots of nearby residences also lead to regular customers, adding to the restaurant's stability. Restaurants along a common work route benefit from the same factors.
Meanwhile, locations near other popular destinations have their own appeal. Downtown spots attract a strong lunch crowd, as well as evening restaurant-goers looking for a place to eat on a night out.
5. Is there enough on-premise parking?
Unless you're located in a downtown area with high foot traffic, you will need to take available parking into consideration when you look at your new space. Too much on-site parking and you're overpaying. Too little, and you may lose customers who aren't willing to go to the extra effort of searching for a spot on an empty stomach. Fortunately, you should be able to calculate your parking needs based on your seating capacity. So long as you do the math beforehand, it shouldn't take you by surprise.
6. What does the competition look like?
The presence of other restaurants in the area isn't a bad sign for your business, even if it does mean competition. On the contrary, the presence of restaurants points to high demand, and a known restaurant corridor can increase the likelihood of discovery.
However, if you're planning to open a particularly unusual restaurant that happens to be similar to another restaurant nearby, it may be wiser to consider a different location. A unique restaurant concept can be a draw if it helps you stand out from the crowd, but a drawback if it has to split the curious or adventurous eaters with another maverick location.
7. Does the space come with a liquor license?
Liquor licenses can cost tens of thousands of dollars to acquire, and the number issued to an area is restricted by the local population. Many restaurant spaces come with a liquor license factored in as part of the price. This can cut two ways, depending on whether you plan to sell alcohol at your restaurant. On the one hand, you no longer need to worry about the availability of the license. But on the other hand, it comes at a significant expense.
While it's possible to negotiate this cost with the restaurant owner, some restaurant owners prefer to forgo the license. In that case, the owner of the space may be reluctant to sell, knowing they won't be able to recoup the license cost. Either way, you'll need to discuss the matter with the broker or landlord so that you know what you're paying for.
Are you looking for a flexible restaurant space in the Ann Arbor area?
We have a multi-use restaurant space currently available on Ann Arbor's south side, on the corner of State and Eisenhower in the space formerly occupied by Max & Erma's. Click here to view on Google Maps. With a maximum seating capacity of 200 diners, 65 spaces of dedicated parking, an outdoor patio area, and a liquor license, it's the perfect spot for an innovative new restaurant.
If you're interested in leasing a restaurant space in a popular location across from the Briarwood Mall, we would be happy to send you more information and schedule a walk-through. Contact Oxford Commercial today.