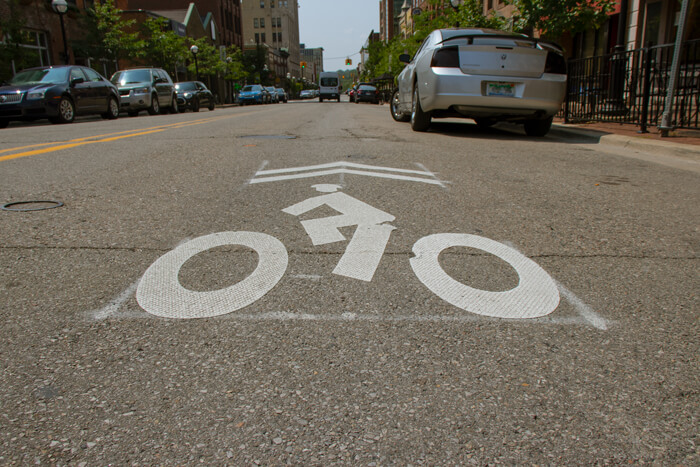 7 Tips for Bike Commuting in Ann Arbor
Tired of your morning commute? Why not bike to work?
One of the advantages of living and working in the Ann Arbor area is the city's commitment to offering a high quality of life to residents. As anyone who lives in the area knows, downtown traffic and parking can become tricky, and Ann Arbor has been looking for ways to relieve some of the congestion. Their "getDowntown" is a big part of this effort, and bike commuting Ann Arbor is a practice they are actively encouraging.
Accordingly, Ann Arbor has worked hard to become an incredibly bike-friendly community, with 79 miles of bike lanes and over 900 downtown bike parking spaces. These spaces include 431 bike hoops, six on-street bike racks, and 26 secured bike lockers. Ann Arbor has also received numerous awards for its efforts to make the city more bike-friendly and to promote an active lifestyle.
Biking into work not only helps you get your exercise in for the day, which is part of a healthy lifestyle, but it also gives you an endorphin boost, helps wake you up in the morning, and saves money on gas. Whether you're already a committed cycler who wants to live and work in a cycling-friendly city or someone who's just starting out and wants to give it a try, here are some tips to follow for bike commuting in Ann Arbor.
1. Follow bike safety rules.
Bikes must follow traffic rules the same as cars: bike in the direction of traffic, follow all traffic signals and keep to the right of the lane. Cyclists should also take care to signal when they're turning and avoid swerving into traffic or between parked cars. It's also smart to wear a helmet.
Ann Arbor also requires all cyclists to wear reflective gear and use headlights after dark. Cyclists can ride on the sidewalk but must yield to pedestrians. This means biking slowly and walking the bike through crosswalks and at any point where the foot traffic becomes particularly crowded.
2. Report potholes to the city.
Ann Arbor wants to keep its bike lanes safe, and that means keeping them well maintained and free of potholes, broken pavement, or unsafe shoulders. If you notice a problem with a bike lane, you can report it to the city using their online page or their A2 Fix It app.
3. Install a bell on your bike.
Bells are important for signaling to cars, pedestrians, and other cyclists on the road. If you're worried that a car can't see you, a ring on your bell can bring you to their attention. More commonly, bike bells help alert pedestrians to your presence if you're biking down a shared path. Bikes are pretty quiet, so it's easy for people not to realize you're coming up behind them, especially if their headphones are in. A quick ring on the bell can help avoid an accident.
4. Keep your bike in good working order.
Flat tires are common, so keep a repair kit on your bike for when you need a quick fix. If you notice frequent flats, consider investing in reinforced, flat-resistant tires. Bikes also require some basic maintenance just like any other machine. Keeping your bike tuned up will help it from breaking down at an unexpected moment, and will making riding easier.
5. Know the best routes.
As we said earlier, Ann Arbor has 79 miles of bike lanes. When these fail, the city offers suggested bike routes which include roads with wide lanes, low traffic volumes, or low speeds. Finally, they also have some shared-use paths for non-motorized vehicles. Ann Arbor offers a map of their bikeway system which you can use to plan out your routes ahead of time.
6. Use city parking facilities.
Parking your bike downtown is a lot easier than your car, if you know where to go. Commuters can rent a bike locker for $60/year, which will allow them to store bikes at most of the main downtown parking structures when they come in for work.
For those who bike less frequently, there are plenty of other places to park your bike for the day. These include covered bike parking at every downtown parking structure, bike hoops and racks, and temporary on-street parking. Check out the city map to see where the most convenient parking spaces are located.
7. Not ready to commit? Try bike sharing.
If you don't already own a bike and want to become more accustomed to city biking before you buy one, why not take advantage of Ann Arbor's bike sharing program? Members can buy access to designated city bikes for a day, a month or a year.
They're only intended for short-term use and must be returned to a drop off point within the hour. Still, as a membership-based public transport service, they offer a convenient alternative to waiting for the bus, and provide excellent access around town and to campus locations.
Bike commuting can make an Ann Arbor location a perfect choice for your business.
Ann Arbor has no shortage of passionate bikers. It's also a popular choice among business owners and employees alike. A city location means more employees will be located within biking distance than if an office were located further into the countryside, and many commuters enjoy not having to exercise after a long and stressful commute home in stop-and-go traffic.
So, if you're sold on bike commuting Ann Arbor yourself, or if you would like to keep the option available to your employees, Ann Arbor should be a top consideration for your business. Contact us to learn about available office space with good bike access.