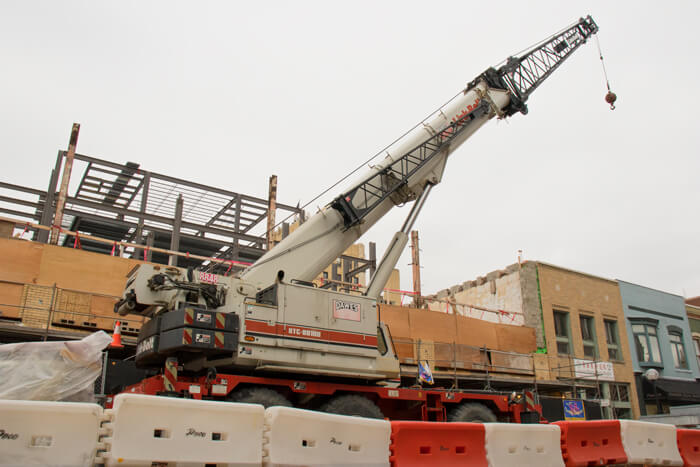 Top Ann Arbor Development Projects to Watch in 2018
Ann Arbor remains a hot spot for real estate development and growth.
For nearly a decade, Ann Arbor has been in the midst of a sustained development boom. It comes at no surprise to anyone paying attention to Ann Arbor housing population growth. From 2010-2016, the downtown residential population has grown from 4,067 to 6,541, and could reach 7,730 by next year. Meanwhile, reports from 2015 showed 13,496 people working in Ann Arbor and indicated that number could grow by another thousand by 2019.
With the rise in downtown residential and working population, it's no wonder that so many properties are under development. And for property investors wondering where to turn their attention, all this activity makes a strong case for Ann Arbor. Here's a look at what's currently under development as of Spring 2018, and what could be coming up soon.
Student Housing Under Construction
Visitors to downtown Ann Arbor are sure to notice the abundance of cranes and the emerging high-rises, particularly in areas near the University. The rise in student population has placed a burden on student housing, and many new constructions are specifically targeting this market. There has also been a rise in luxury condominium developments and mixed use spaces. Here are a few of the major projects currently under construction.
1st and Kingsley, Kingsley Parkside, and Kingsley Condominiums
Kingsley has seen several new condominium developments in the past few years, all lead by local developer Tom Fitzsimmons. Kingsley Condominiums is nearing completion, with several units already sold.
315 S. Main St.
Right next to Jolly Pumpkin, this new commercial space is expected to add business to Ann Arbor's Main Street district. The building will add both retail and Ann Arbor office space to the downtown area.
The Yard on South Main, 615 S. Main St.
Initially called The Residences at 615 S. Main, the new six-story apartment structure is expected to be ready for residency in time for the Fall 2018 semester. It will include 229 luxury student apartments with 588 bedrooms, as well as ground floor retail space. The structure will be reusing bricks from an old, 19th-century buggy factory that used to be located there.
Hub Ann Arbor, 603 E. Huron St.
The new 12-story high-rises on Huron St., a product of Myefski Architects and Chicago-based developer Core Spaces, may be finished as soon as May. While the building primarily targets university students, developers are also hoping to attract graduate students and young professionals. The building will contain 124 high-end apartments and 310 beds.
611 E. University Ave.
Construction has begun on the new 13-story high-rise in the South University district and is expected to provide 91 apartments and 343 beds, primarily targeted to University students. The plans also include retail space on the first floor, and parking on the first through third floors.
Montgomery Houze, 212 S. Fourth Ave.
Construction work is underway on the site between Liberty and Washington to restore a historic façade of what was once the Montgomery Ward department store and add new apartment units to the existing structure.
Commercial Real Estate In Development
While many development projects are underway, just as many are in the planning stages. While the Ann Arbor City Council deliberates, here's a quick look at some of the development projects in the works.
Collective on 5th
Myefski Architects and Core Spaces, the same team behind Hub on 603 E. Huron, have also proposed a 17-story mixed retail, office, hotel, and apartment complex above the downtown Library Lane parking structure. Currently known as Collective on 5th, the project has moved slowly while the city waits for IRS approval on the sale the city-owned lot.
The Glen, between Catherine and Ann
First proposed back in 2015, plans have been slowly moving forward for a 9-story, mixed-use development near Ann Arbor's Old Fourth Ward. Most of the delays have been due to concerns about the additional traffic the construction might bring to the neighborhood. If built, The Glen would include 162 hotel rooms, 24 apartments, a ground-floor restaurant, retail space, and a 4-level underground parking garage with 252 spaces.
309 N. Ashley St.
The proposed condos at Ashely and Miller, once again from builder Tom Fitzsimmons, plan for a 5-story mid-rise of 19 units. The project also includes tentative plans for 36 on-site and 27 underground parking spaces.
1140 Broadway St.
The Ann Arbor City Council has approved plans to build a 3-building apartment and condominium complex that will bring 600 housing units to Broadway and Maiden Lane, as well as some ground-floor retail space. While the project was met with objections from many neighborhood residents, the council voted 7–4 to move ahead. The plan includes extensive parking for both cars and bikes.
Espresso Royale, 1101 S. University Ave.
Not to be confused with the high-rise about to be build next door, Espresso Royale has also submitted plans to expand upwards, adding three floors of apartments above its coffee shop and office space.
2050 Commerce Blvd.
On Ann Arbor's west side, a new 267-unit, market-rate apartment complex has received initial approval from the city planning commission. If development moves forward, it could add another 335 bedrooms to the area, most geared toward professionals rather than university students.
1420 S. Maple Road
Plans for Midtown Ann Arbor Condominiums are still in their early stages, but could bring an additional 256 condos with 620 bedrooms to Ann Arbor's west side. The condos would be a mix of 1–3-bedroom units, and will not include rental housing Ann Arbor.
New real estate developments are a sign to investors that demand is still high.
By all indications, the Ann Arbor property development boom is still going strong, especially when it comes to student housing and luxury condos. While new developers should always move with care so as not to over saturate the market, all signs currently point toward continued development. Stay tuned, as we'll continue to deliver updates on the progress of these developmental plans, and any new proposals that may emerge for 2019.