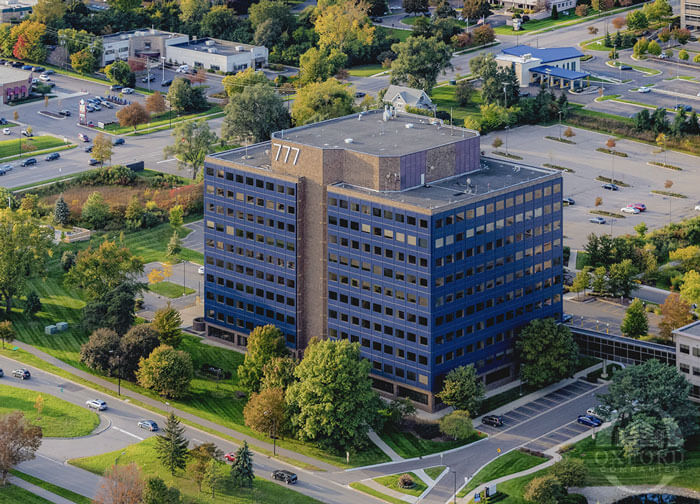 Up to 28,000 SF Available off Eisenhower in Ann Arbor
Up to 28,856 SF available at E. Eisenhower Plaza on Ann Arbor's south side.
The iconic building located off Eisenhower Parkway has Ann Arbor office space to rent suitable for a mid-sized company or a corporation seeking a new company headquarters. For years, Eisenhower Plaza—known locally as the 777 building for its prominent numbering—has been an emblem of Ann Arbor's south side. Built in 1975, the ten-story building is one of the tallest in the vicinity, making it a familiar landmark to Ann Arbor residents.
Renting space in the familiar Ann Arbor location is an attraction for many businesses interested in moving to the area, or who wish to expand their local footprint. However, recent upgrades and renovations to the 777 business office rental space make it a prime spot for more reasons than its being a well-known location. Here are a few more reasons you should give this space your consideration.
Office Suite features Class A finishes, ample parking, and on-site café and more.
The Ann Arbor office space available to rent from the 777 building offers a variety of amenities and upgrades that should be attractive to businesses. To start, the second-floor suite has elevator access and has been renovated to include Class A finishes throughout. Rental of the space also includes lower level storage for extra supplies and equipment.
The office spaces available include several large open spaces that can accommodate a range of layouts, as well as smaller spaces that can be used for private offices, conference rooms, or team collaboration spaces. They are wired for fiber Internet from multiple providers, ensuring high-speed access with redundant backups if needed.
On-site food options include a first-floor café and food trucks. The office also has dedicated property management staff and 24–7 security. There is plenty of parking available, both covered an uncovered, as well as nearby ride-sharing lots. Occupancy of this space also comes with the opportunity for monument signage.
Ann Arbor's south side a hot spot of business growth.
In recent years, the south side of Ann Arbor has become a center for economic growth in the city, offering more space for large businesses to expand than in the downtown area. Furthermore, since acquiring the 777 building in 2018, Oxford Companies founder and CEO Jeff Hauptman has discussed plans to develop the building and the surrounding area into an alternative downtown, with more small shops and restaurants, and more pedestrian-friendly zones.
Current factors that stand in favor of the 777 building include its proximity to both I–94 and Ann Arbor's downtown district. Easy highway access offers a shorter commute without having to deal with downtown traffic during peak congestion in the morning and evening, while still being a short drive down State St. to reach the University of Michigan's Central Campus.
Eisenhower Parkway also offers several restaurants and shopping centers that are a convenient lifestyle bonus. The most prominent of these is the Briarwood Mall, which hosts a range of shopping stores from clothing to electronics.
Other strip malls nearby include Cranbrook Village, at the corner of Eisenhower with Ann Arbor–Saline Rd., which is anchored by a Whole Foods Market, and Concord Center Shops, which includes a World Market and an Olive Garden, as well as the more up-scale Mediterrano.
There are also several large hotels in the area which would be perfect for hosting out of town visitors, or for renting for conference events if need be.
Schedule a tour of the Eisenhower 777 building today.
Ann Arbor continues to be a hub for economic growth and innovation in southeast Michigan. With the University of Michigan nearby and the ongoing tech industry boom, it's no surprise that demand for high-quality commercial office space to rent continues to rise.
To get a sense for the size of this business space, its layout, and whether it will meet your specific needs, we recommend giving the suite an in-person walk-through. Doing so will help you better understand whether the space can accommodate your employees and help you see the local amenities for yourself.
For a well-finished commercial office space in such a prime location, we don't expect this window of opportunity will remain open for long. If you are interested in renting this space, we recommend acting quickly. Download our lease brochure for more details and contact us to schedule a tour of the suite.