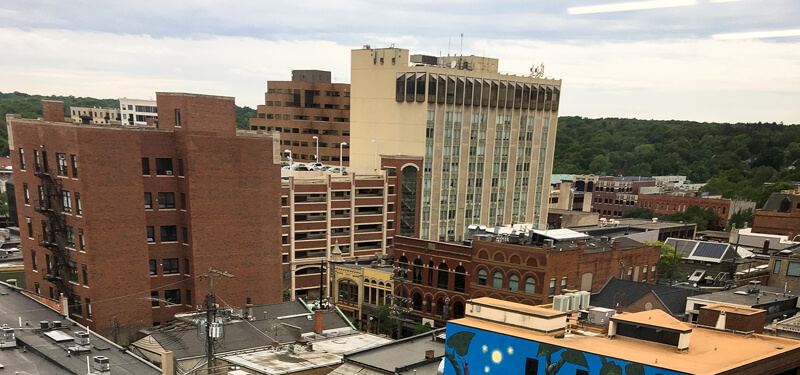 Should Your Business Move to Downtown Ann Arbor?
If you have already established your business in Ann Arbor or the surrounding area, the desire to relocate downtown can often linger as a daydream for yourself and your employees. How could it not? With the personality, convenience and charm of a small town, paired with the amenities and culture of a much larger city, it's easy to think move to downtown Ann Arbor as a catalyst to building your best business.
You're not alone in thinking this, because it's easy to get caught up in the best that downtown has to offer. Being within walking distance to diverse food and drink offerings means that you can make a great impression on clients, and the proximity to one of the most prestigious universities in the nation means that you should easily attract top talent. All of this with a contemporary loft overlooking Main St to call your office? It's only logical to think that relocating to downtown Ann Arbor will have you and your employees absorbing the surrounding energy and ultimately contributing to the thriving economy.
But before you contact your commercial brokerage partner about downtown's vacancies, there are a few points we think you should be aware of.
Space
While the location of what exactly constitutes move to downtown Ann Arbor may be debatable, the amount of commercial real estate space the vicinity offers tends to remain the same. According to a recent article by Concentrate Ann Arbor, there are just two projects underway which promise commercial office space within the greater downtown area. The first of these is a redevelopment of 210 S. Fourth into a six-story building with ground-floor retail options, while the second is at 315 S. Main, slated to be six stories, with ground-floor retail space for lease and Ann Arbor office space above.
Residential space, however is a different story, as there are several construction projects either underway or scheduled for the near future. Most of these projects are just outside of the Main and Liberty corridor, such as the six-story, mixed use/ 245 apartment build-out at 615 South Main.
This means that your best bet in relocating to downtown is through filling a current vacancy, or waiting until a space becomes available. The right commercial brokerage partner will be able to help you navigate downtown vacancies. Click here to contact Oxford Commercial.
Parking
Anyone who has visited downtown Ann Arbor knows that parking is a popular topic of discussion. As with any downtown environment, parking is held at a premium and will likely be an additional expense for your business to consider. Current daily rates are $1.20/ hour and $1.60/ hour for structured and street parking respectively. When it comes to providing parking for your employees, monthly structure passes may be your best bet, with passes ranging from $150-$165/ month at downtown's structured lots.
Traffic
If there is anything move to downtown Ann Arbor is known for, it isn't easy-on, easy-off freeway access. While M-14 East can be accessed via Main Street, both the on/off ramps and the freeway itself can become easily congested during peak traffic hours. Although when compared to the downtown's of other, larger cities, Ann Arbor's traffic could be considered easy, however, some of your employees may become annoyed with the added time to their commutes.
Alternatives
While we don't want to discourage any business to move to downtown Ann Arbor, we would like to bring up a logical alternative, that being, Ann Arbor's south side. Keep in mind that when we say "south side," we're generally referring to the area surrounding Briarwood Mall.
The south side of Ann Arbor simply has more office space than that of downtown. And with buildings that are both newer and larger, build-outs and custom office solutions can be more easily accomplished, especially with the right real estate partner. Click here to contact Oxford Design/ Build.
There is no cause to worry about the south side's amenities compared to that of downtown, either. There are more food options than you may think, and they're not all chain restaurants. A few of the south side's newest restaurants include Sozo Japanese Grill (located in Briarwood Mall), and Black Rock Bar and Grill (located just north of Ellsworth). Additionally, large (and free) parking lots and easy-on, easy-off freeway access can be a big selling point in allowing your customers and clients ease in visiting you. Also, more roads with more lanes equals less time spent sitting in traffic.
Whether it be down the street or across town, we know that the decision to relocate your business in Ann Arbor may leave you with more questions that answers. Oxford has been helping business owners in similar situations for the past twenty years, and we're eager to help more just like you. Contact Oxford today.