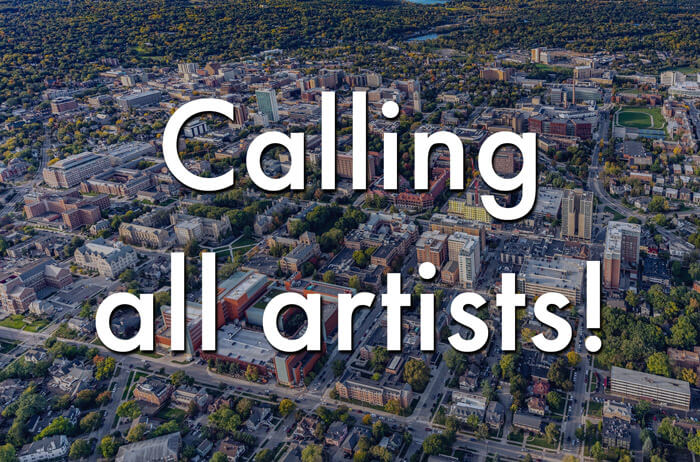 Oxford Mural Commission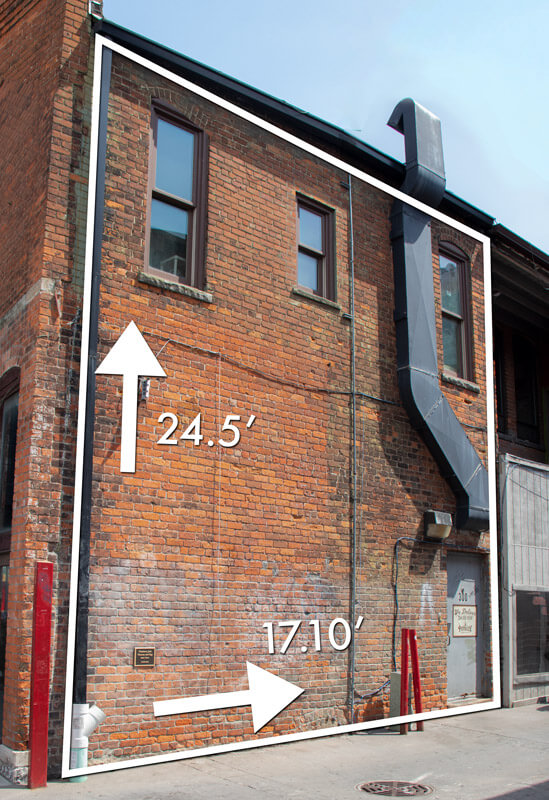 Project Description
Oxford Companies has a deep commitment to Ann Arbor real estate and the arts! We are continuing mural projects to create a dynamic and place-making contribution to the city landscape, to create community and civic pride for citizens, to attract visitors to the city and to make a name for Oxford as a supporter of the visual arts. We were a three-year sponsor of "Off the Wall Gallery," a project of original works on banners by Michigan artists that bedecked downtown and changed quarterly. The major mural at 500 N Fifth on their corporate headquarters is the first of our mural projects.
The mural program is being continued on one of our properties in downtown Ann Arbor. 
Site Information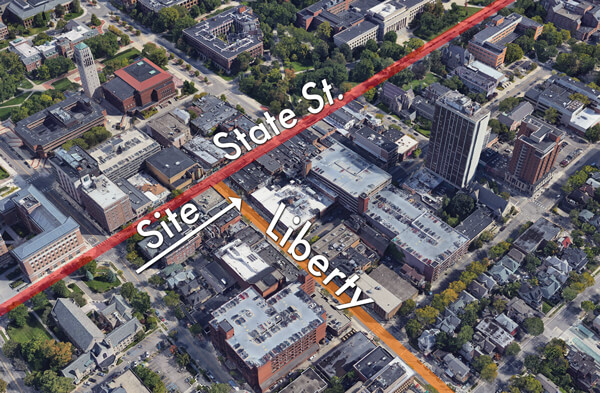 The site is relatively modest in scale but highly visible and offers an exciting challenge to the creative community. It is on Liberty Street on the back side of the building that has the iconic Ann Arbor murals of authors on the side. Liberty is a highly traveled pedestrian street adjacent to the UM campus.
The photograph and site dimensions are included here to inform applicants and to create an understanding of the expectations for the work. Note that we offer the muralist some unique advantages in that they can make available scaffolding and other tools, as well as professional consultation necessary to "reach the heights" and prepare the surface for the mural.
An urban landscape can be dry and featureless, but with spectacular murals, a building can take on educational or historical value or become a realistic illusion for all to enjoy! All artists are encourage to apply.
Theme: The convergence of Town and Gown: healthy harmony between the two…  This location (near the intersection Liberty and State St.) is where the University life and City life converge.
Eligibility
The competition is open to any artist currently residing in Michigan.  The selected artist must be able to execute the project in the months of October & November.
Preparation
Oxford will fully prep the wall to assure an excellent surface for optimal completion of the mural.
Selection Process
Phase 1: The initial selection of artists will be made from digital images that reflect their personal style and ability. Artists will be selected by a panel of professional artists and representatives of Oxford. From the initial entries, three to five artists will be selected for Phase 2.
Phase 2: The 3-5 artists will be asked to submit a color sketch of their proposed work that addresses the theme in whatever way they choose. A narrative description will also be requested. Artists will be paid $150 for their sketch.
Applications: Complete the application located here and email it and any other attachments to marsha.chamberlin@gmail.com. Make sure to include everything requested.  Incomplete applications will not be considered.
Calendar
September 1: Phase 1 application due
September 10:  Selected artists will be notified
October 5: Proposed working sketches due from finalists
October 10: A formal acceptance and contract for the commission will be issued based on the sketch.
Agreement
Submission of an entry to this competition shall constitute agreement with all conditions set forth in this prospectus.  Oxford Companies reserves the right to reproduce accepted work and use it in its publications and electronic communications.
For Further Information

Contact Marsha Chamberlin (marsha.chamberlin@gmail.com), project manager for Oxford Companies and the source of the most up-to-date information. She can also be reached at 734-717-6742.
Ms. Chamberlin is an experienced art manager with 31 years as President/CEO of the Ann Arbor Art Center. Since retiring from that role she has served as project manager for Oxford Companies, the City of Ann Arbor and First Martin Corporation.
Thanks to all, and good luck!