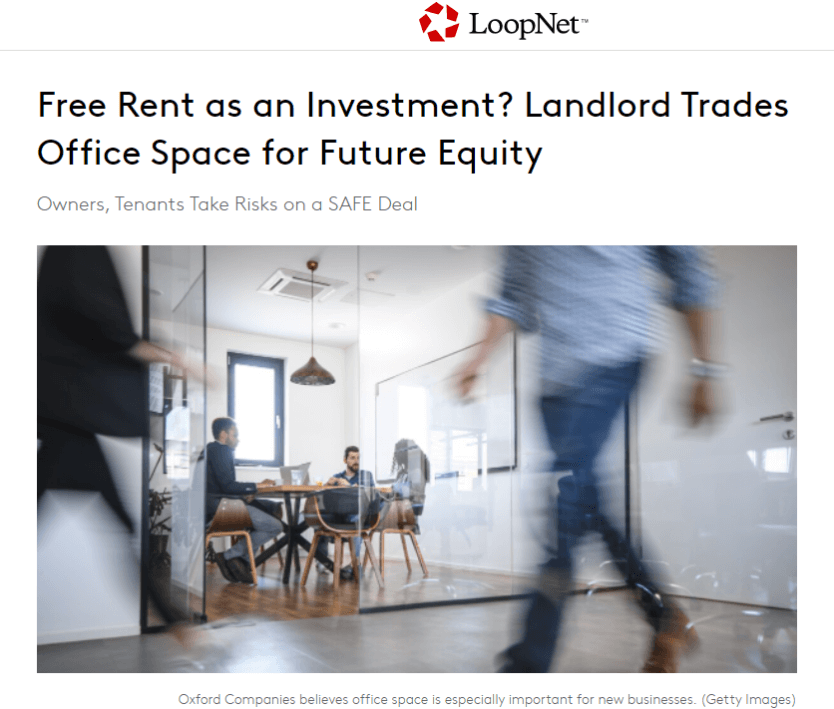 "Equity for Rent" Initiative Media Accolades
When it comes to Ann Arbor commercial real estate, the prospect of free rent is a compelling one! Startups, like the ones who often work with accelerators and incubators like Ann Arbor SPARK and TechArb, often don't have cash on-hand to use for downtown Ann Arbor office space – and that's where OXIO SAFE comes in.
Oxford Companies knows that our Ann Arbor economy and the local startup community are intertwined, and that helping our entrepreneur community grow and thrive will benefit all of us. We also have outstanding, conveniently-located, beautifully-designed Ann Arbor office spaces throughout the area. So, we've announced that our popular Oxford Instant Office program now has a new, optional component – a simple agreement for future equity. Interested startups can sign an OXIO lease and forego rent payments for six months up to a year, in exchange for equity in their business. Innovation drives value, and Oxford's values include putting our Ann Arbor commercial real estate portfolio to good use!
The local Ann Arbor commercial real estate journalism scene was particularly interested in this new initiative, as were several regional and national publications as well. Check out the roundup below of media features and mentions that Oxford generated when we shared the good news about the new OXIO SAFE program.
Concentrate: "Oxford Companies offer free office rent in exchange for equity in tenants' businesses"
LoopNet: "Free Rent as an Investment? Landlord Trades Office Space for Future Equity"
Lucy Ann Lance WLBY: "OXIO SAFE – Innovation Drives Value"
FYI, CTN Ann Arbor: "OXIO SAFE – Creating Unique Opportunities for Startups in Ann Arbor"
MLive: "Ann Arbor company launches program trading free rent for startup equity"
REBusiness Online: "Oxford Cos. Launches Equity-for-Rent Office Program for Startup Companies in Ann Arbor"
Click on Detroit: "Equity for Rent initiative launched for Ann Arbor area startups"
Interested in free office space for your startup? Click HERE to learn more, or send us a note via THIS quick form.