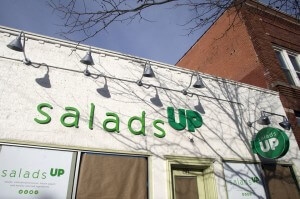 Featured Tenant: Salads Up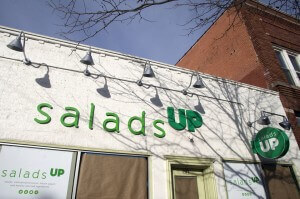 A new restaurant offering various salad options in downtown Ann Arbor, opened last December at 611 E. Liberty Street, just west of South State. The salad shop is owned by Robert Mayer and Max Steir, from New Jersey and New York, who met during their freshman year at the University of Michigan and graduated in 2013. Salads Up is their first restaurant.
Salads Up offers a variety of seasonal salad mixes and homemade dressings, and about 40 different local, organic fruits and veggies to add to the salads. Mayer said he and Steir focus on making quality products available, along with rotating offerings based on seasonal availability. In addition to the various vegetarian options – such as quinoa, kale, tofu, beets and a few dozen others – there are meat-eater-friendly offerings like chicken and shrimp, which pair well with their fan-favorite Sriracha vinaigrette.
Oxford Companies and Salads Up
Oxford real estate property management has enjoyed Salads Up catering recently when our Health and Wellness committee organized a staff lunch featuring a delicious spread of wholesome organic veggies, chicken and other toppings paired with fresh bread. We sampled the Shallot Balsamic and the Cucumber Dill dressings and we talked about how good it was for days!
The 1,200 square foot restaurant seats 25. The fresh green and white décor is accented by reclaimed wood and has an appealing vibe. They make use of energy efficient design and eco-friendly products, so you can feel good about eating here for many reasons. Check it out online at saladsup.com or on Facebook.