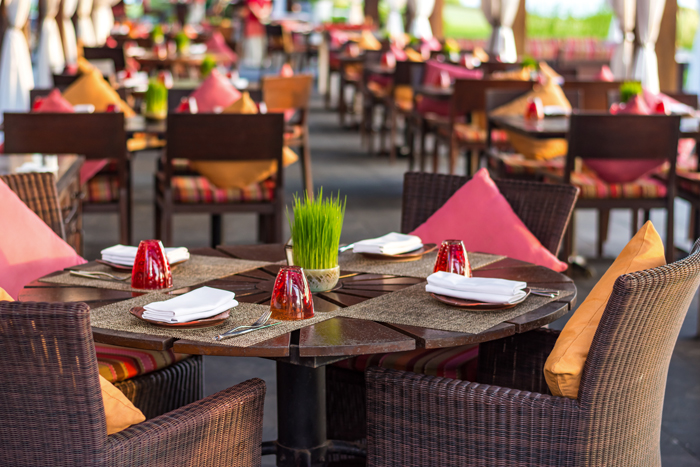 How Restaurants Can Help You Broker Office Space
Knowing your way around the local restaurant scene could help you broker an office deal.
Many factors go into a client's final selection of an Ann Arbor office space. From the size of the space to the parking options, clients have to weigh dozens of factors against each other to reach a decision for their business. Some of those factors (such as office size) are measurable and easy to define. Others, particularly the "quality of life" factors, are more complex.
And yet, the subjective factors are just as important than the quantifiable ones—if not more so. For the average American, who arrives at the office by 8 in the morning and stays until 5pm, the forty-five hours a week they spend in the office constitute the bulk of their week. Being able to spend that time in a friendly, welcoming environment goes a long way toward helping employees enjoy their jobs and live happy, healthy lives.
Restaurants are a big part of that work experience. While they may seem a secondary consideration at first, a broad selection of restaurant options (or lack thereof) can have a significant impact on the lives of those working in nearby businesses. And as a property broker, your knowledge of those restaurants can help your clients envision what working in that neighborhood might be like.
For clients who are on the fence about a particular location, introducing them to the local restaurants might help sway their decision. Whether for a main meal, midday coffee, or after-work drinks, here are seven reasons a good selection of local restaurants could help you close an Ann Arbor office space.
1. They provide exciting places to eat.
Probably the primary reason anyone likes eating out is the quality and variety of food. While many of us pack lunches most days of the week, going out to a restaurant is a treat that allows us to enjoy a good meal that we wouldn't otherwise get at home. This is especially true of restaurants offering food from around the world, most of which would be difficult for someone outside of that culture to prepare correctly. For adventurous eaters, a new restaurant offers a chance to explore new flavors, which can make coming into work more exciting.
2. They're convenient.
Time is another factor at play for employees looking for good lunch options. Packed lunches may save us some money (depending on our grocery shopping habits), but they can also become a nuisance to prepare. Many of us also fall into a routine when packing lunches, which can be boring after a while. For some workers, the convenience of getting lunch from a nearby restaurant offsets the cost of buying rather than packing their midday meal.
3. They're good places for business meetings.
For time-pressed decision makers, lunch meetings are often seen as an excellent way to accomplish several things at once. Clients and business partners can relax, socialize, and discuss business, all while enjoying a nice meal. Even for staff team meetings, a working lunch is a more satisfying way to get work done. Plus, people are known to be more positive and make better decisions after a meal.
4. They add variety to the day.
Sometimes, we just want to get out of the office, stretch our legs, and get a change of scenery. Many of us enjoy the option of a nearby spot for a quiet lunch, or a nice café for a work break from the office. Even if it's just a five-minute walk to the nearest take-out place and back, the chance to get away from the desk and get some fresh air can be a powerful motivator. It can even improve productivity and help us get work done.
5. They support different lifestyles.
Having a large selection of restaurants to choose from means that coworkers with varying dietary requirements are more likely to find a place that caters to their needs. A location with only a few chain restaurants nearby probably won't have options for vegetarians or for those on a special diet. But a city like Ann Arbor, which is known for its restaurant selection, offers vegan friendly fare, as well as halal and kosher options. There are even restaurants that focus on gluten-free diets or that tap into the new paleo trend.
6. They strengthen coworker relationships.
When you spend all day in the office with someone, having an opportunity to bond outside of work can be a great way to unify an office. Increasingly, more of us are finding some of our closest friendships in the offices where we work. And for good reason: we spend all day with our coworkers, and they share an inside knowledge of our office life. Grabbing dinner after work can solidify a friendship, and make work a more enjoyable environment for everyone.
7. They build a work/life balance.
Most of what we've listed above add up to one major factor: good restaurants help employees balance work with everyday life. Whether that's by giving them a break from their routine, helping them spend quality time with friends and coworkers, or providing an out-of-office spot to finish up a project, having good restaurants nearby makes offices a more appealing place to work.
Get to know Ann Arbor's restaurants.
If you're hoping to attract clients to office space Ann Arbor, you could hardly have chosen a location with better dining options. Ann Arbor boasts a restaurant selection that caters to almost any palate. From Cuban-inspired street food to a steaming bowl of Pho, your clients and their employees will have an exciting array of possibilities to choose from.
So, if you're having trouble closing a client on an Ann Arbor office space, why not take them out to lunch? It might be just what you need to seal the deal.