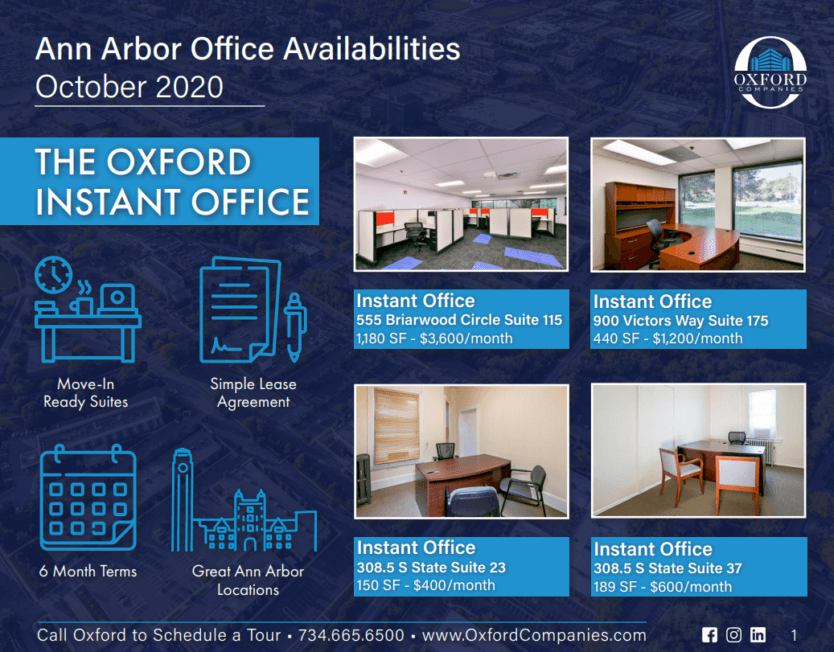 It's the October Availabilities Guide – Instant Offices and Health & Safety Optimized Suites
The Oxford Instant Office has been getting tons of attention, with great coverage from news outlets like Concentrate and WDIV/Click on Detroit – and we couldn't be more proud! This initiative puts businesses' needs front and center, with new options like short-term leases and furniture included.
However, we've also got a bounty of traditional commercial rental spaces available as well, many of which are optimized with amenities that make health and safety a priority – like space for social distancing, dedicated entrances and restrooms, etc. You'll find both office and retail space for lease. In the availabilities guide linked below, look for the orange badges!
View the new October Availabilities Guide by clicking HERE. 
Give us a call at 734-665-6500 to discuss the perfect location for your organization – or email Karen at koneil@oxfordcompanies.com to learn more.