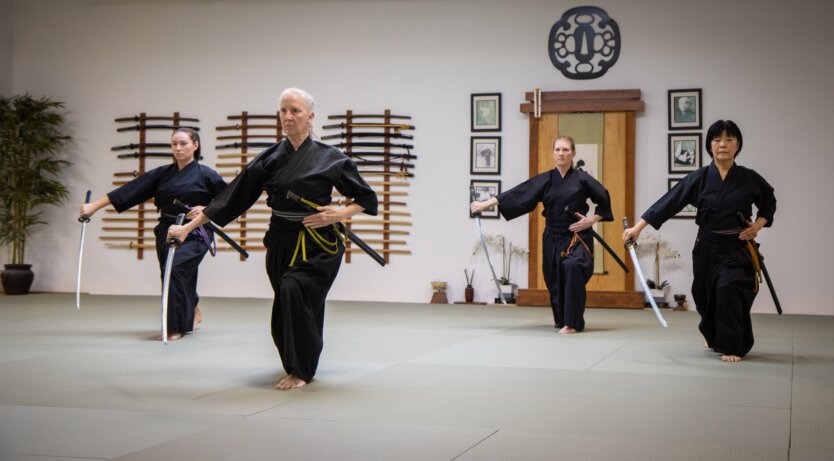 Japanese Martial Arts Center (JMAC) in Ann Arbor Finds New Home
Since the founding of JMAC in 2006, they have been offering training and classes rooted in traditional Japanese martial arts. To stay true to their traditional practice, they often bring in high profile martial artists from Japan, where many of their students have also visited. 
As JMAC has continued to grow, they found that their previous spaced lacked both the square footage and the multiple training areas they needed. Their previous location was also in a high traffic area, making it difficult for students to get to class during rush hour.
Their new location, at 2875 Boardwalk Drive, is now more easily accessible, with lots of parking. Located near the State & Eisenhower intersection, and also not far from community favorites like RoosRoast and Revel & Roll, this spot is quick to find for folks coming in via I-94 and also just a few minutes from downtown Ann Arbor. 
The studio itself, which is around 3500 square feet, now allows ample space for training and is equipped with sprung floors, higher ceilings, and plenty of natural light.
To create a customized space to fit JMAC's needs, they worked with Ann Arbor-based architectural firm OX Studio and Yellowstone Integrated Architecture & Construction to create an environment that was cohesive with their use of training and visitor space.
Suino said he enjoyed being involved with the process from the very beginning.
"I liked being able to sit down [with OX Studio] and see what things would look like, from the layout to the colors," Nicklaus Suino, JMAC founder and Program Director, explained.
The new location is part of a newly renovated fitness center that also houses the A2 Aviary, Intelligent Exercise, and much more.
"It's great to be part of a new fitness community and have the opportunity to work with our neighbors in ways that will benefit us all," said Suino.
Interested in learning more about leasing a studio or space near JMAC? The Southside of Ann Arbor is full of hidden gems and community favorites, and Oxford has space for lease.
Send us a note HERE to learn more.