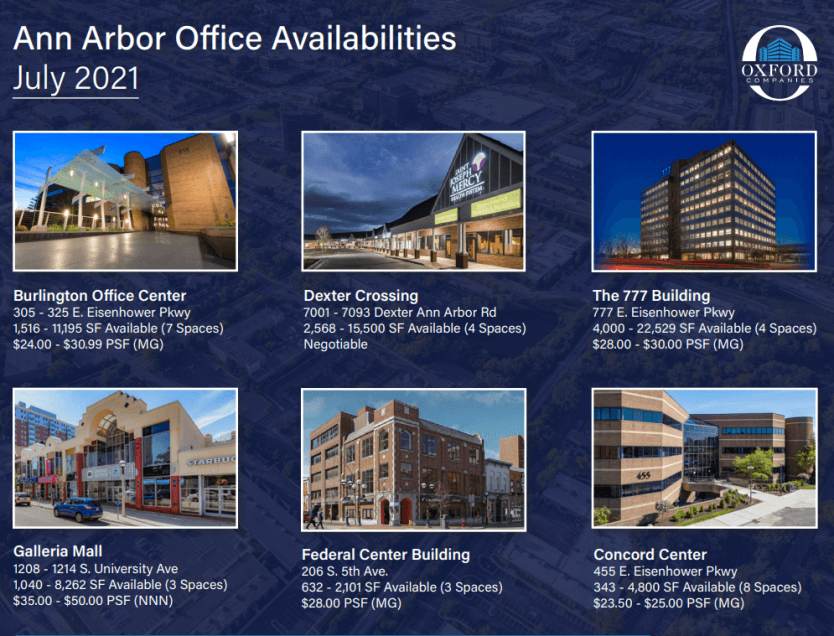 July Office Availabilities Guide
Summer is heating up, and so are leasing activities at Oxford!
We're excitedly welcoming new tenants frequently to our various office buildings throughout Ann Arbor – but we still have plenty of availabilities as well. If you're in the market for an Ann Arbor office for lease, you're in luck – here's our latest guide to office openings in the Oxford buildings around the city.
The iconic 777 Building in Ann Arbor's Southside neighborhood houses some of the best offices in the city, and proximity to I-94 as well as lots of great dining and shopping. Burlington's gorgeous suites are in the same area of town, just minutes from both the hidden gems of the Southside and the downtown area. The Concord Center is home to high-traffic destinations like Contempo Salon Studios and Mediterrano – and boasts plenty of great parking. All three have an Ann Arbor office for lease that could be perfect for your organization.
We also highlight in the guide the many units available that are optimized for health and safety. Thinking of social distancing? We have an Ann Arbor office for lease that can accommodate extra space – as well as other amenities like private restrooms, dedicated entrances and exits, and more.
Our Oxford Instant Office program continues to excel in providing a simplified, streamlined leasing process for small, single-occupant spaces as well as larger, expansive suites for bigger teams. If you're in the market for an Ann Arbor office for lease that fits your needs – consider a simplified lease agreement, shorter terms, and other inclusions that come with an Instant Office.
For more available office spaces – view the entire guide HERE.