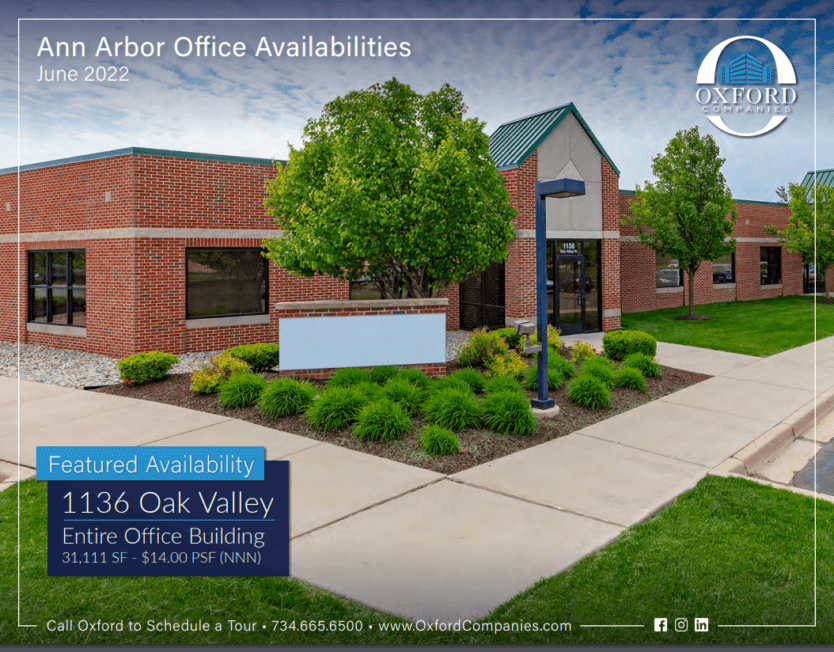 June Availabilities Guide
Our most recent availabilities guide is here!
Oxford Companies offers the best Ann Arbor office space options, from Downtown to the Southside and beyond. We've got sprawling single-occupant buildings for larger organizations, and we have small offices just big enough for one desk – and everything in between. And, at Oxford, we understand that there are a variety of factors that go into selecting the best Ann Arbor office space, like health and safety, location, parking, signage, and landlord relationships. It's never been more important to work with partners that you trust.
Here's what one of our tenants at the 777 Building had to say recently about the lease we finalized with her organization. "We've been excited for the way Oxford embraced our business," said Anna Pierre of The Thrivery. "It's obvious that Oxford sees our relationship as a partnership that's valuable to both of us – they've demonstrated that."
If you're in the market for a new Ann Arbor office space, you'll want to check out our newest availabilities guide that came out this month. Our featured availability for the month is 1136 Oak Valley Drive, which is an entire office building in a serene location on the Southside of the city. You'll also find stunning photos of Forest Cove, an office park in a pristine and natural area just a few minutes from Downtown, as well as many other Ann Arbor office space options.
Looking for your perfect Ann Arbor office space? Call Karen O'Neil at 734-665-6500 or fill out a quick form HERE. Our tenants rave about Karen and the impeccable service she provides, and she's always excited to help organizations find the right office.