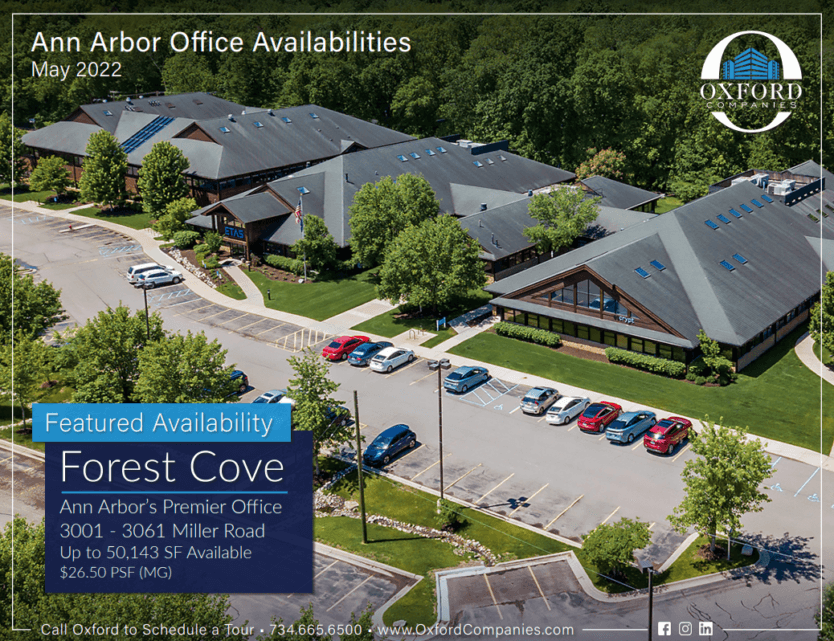 May 2022 Office Availabilities Guide
Welcome to the Oxford Companies May 2022 Availabilities Guide!
We're delighted to share these available options in Ann Arbor office space, with amenities like private entrances, high-end furnishings, convenient freeway access, ample parking, abundant natural light, private courtyards and more. Suites are located throughout the Ann Arbor area in locations like Forest Cove, the Northeast Corporate Center, the iconic 777 Building, Galleria Mall, and others. This is the most comprehensive Ann Arbor office space guide out there!
We know that health and safety is at top of mind for many organizations, and our "orange badge" availabilities denote those suites that offer particular amenities like space for physical distancing, dedicated restrooms, and other features that optimize a safe Ann Arbor office space.
Oxford's commercial leasing team, including our new CREW member Tyler Nichols, looks forward to sharing these exceptional office availabilities with you. Call us to schedule an Ann Arbor office space tour at (734) 665-6500, or fill out a quick form HERE.
Click HERE to see the Guide.