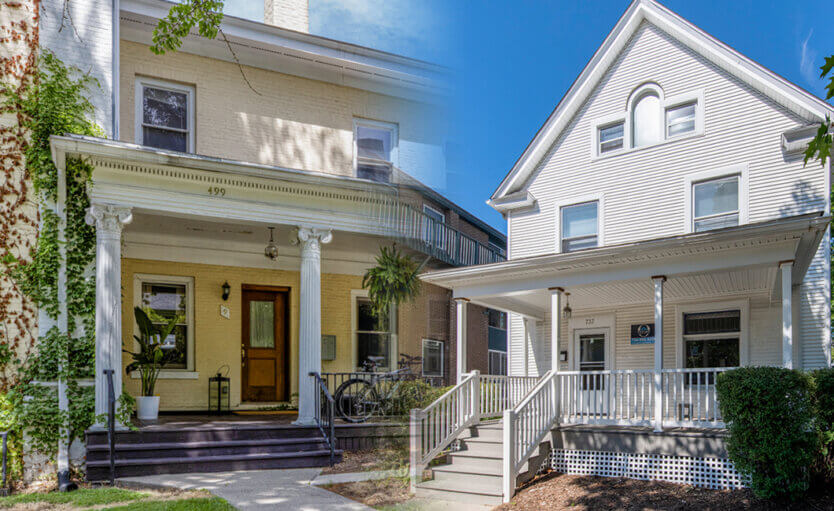 Meet Katie Vohwinkle: The Leader Behind Oxford Multifamily and Campus Housing
Property Management is a service business. When you put something as precious as a personal investment into the hands of others, an investment that could be about your livelihood or the financial stability of your family's future, you want to know who's hands you are entrusting with that future. In that spirit, we'd love for you to meet Katie Vohwinkle.
Katie joined Oxford Companies' CREW in 2016 and has taken our multifamily and campus housing property management team to an entirely new level – it's truly the envy of all Ann Arbor real estate companies. She has built an amazing team that works well together, and she's built great relationships with our residents and our property owners. Katie and her team are always looking for ways to improve Oxford's level of service to all of our stakeholders. We had a conversation with Katie about all of this, and here are some highlights.
17 years. I started working for a residential rental community part-time in Grand Blanc while I was in college. I was a leasing consultant. Then after college, I continued working in the industry. I've worked all over Michigan, at a Detroit Luxury high rise, a community in Farmington Hills, and at properties going through renovations. The first community I worked at when I was twenty years old had 757 Units. Then, I was helping to manage 1500 units at age 21. I just continued to grow and learn from there.
What are some tenets you live by in your work?
It always comes back to treating people how you want to be treated. How I treat my teams (my people, my friends) and being the leader that I've always wanted to have. Early on, I had a leader that I would still consider a mentor – I strive to be that for someone else. That mentor was a gift – I want give that to others. What I admire about her is that there is not too much bark, but she's strong. She will admit when she's wrong. She was never too important to do any job, get her hands dirty, explain anything. That's the kind of leader I strive to be, and I hope I am.
Tell us about your team.
I have the most amazing team. I've worked with great teams in the past, but this one is so special.  I brought some people along with me to Oxford from other places we've worked together.  It's always good when people will follow you.  And, they've really come together – they're a great team. They support me and the overall team goals, and they are not competitive. It's all about the team's success.
What are some strengths Oxford has over other Ann Arbor property management companies?
First, we have Jeff Hauptman. I know that may sound corny but it's true. He's not like any other CEO I've ever worked for. He cares. He's human. He will try to keep people happy and healthy. It sets Oxford apart. People are happy to work here, so that makes us even more focused on being successful for our clients. Secondly, the multifamily and campus housing team is very real.  We treat the owners, properties, and tenants like they are our own. We truly have their best interest in mind. It's not about what's best for Oxford, but for them. We speak to them like they're our colleagues and we discuss what we would want if we were in their shoes.
What are a couple of the most valuable lessons or insights you've learned from your clients?
Everyone that comes into your life teaches you a lesson. Some owners have pushed back on me and asked more of me. They make me a better manager. I may respond to a question but if I don't give enough detail or enough "why", I've learned to understand what they need so I can provide it. Over the years, we've changed processes because of the great input and feedback we get from our customers AND tenants. We survey them, too, and use their feedback to adjust and improve – for example, how we accept payments, how our move-in process goes, and how we communicate with them. We've improved all of those processes because we're genuinely open to feedback.
What are some of the biggest challenges of leading an Ann Arbor property management company?
There are challenges in every job. One unique piece in Ann Arbor is our relationship and work with the parents of our residents. In off-campus student housing, you might be dealing with six tenants in a house, and also six (or more!) sets of parents. From a communication standpoint, this can be challenging. Another thing unique to Ann Arbor is the unusually strict certificate of occupancy requirements and active historical society. But we've built good relationships with all of these folks, and learned how to navigate and make it work for all of us.
If someone came to you and said they wanted to buy rental property in Ann Arbor, from your experience with leasing and operations, what would you tell them to look for in a property?
Anything with real estate always comes down to location. Some locations struggle because they don't appeal as much to the students, so consider who you want to lease your property. Also, it's important to know what the city has approved for occupancy – a 6-bedroom house might only be approved for 5 people.
What do you think brings owners the most value in commercial housing investment? 
Renovations definitely give you the most bang for the buck because of all of the new high rises that traditional campus housing competes with.  Also, updates to campus housing properties often give students an experience closer to what they are accustomed to (their families' homes). There's good payback – renovations allow you to increase your revenues and the market supports those higher rents.
These days, what are tenants in Ann Arbor looking for in a rental apartment or house?
Like I mentioned, they want updated units – kitchens, baths, etc.  Parking is a big thing.  Wi-Fi included is big. Laundry on-site (and at low cost) is huge.
What would you want to say to Property Owners or Future Owners about how you would work with them as their Property Manager?
I would say it goes back to keeping things very real and personal. I'm not afraid to have the tough conversations and answer the tough questions. This is their investment, their money – so it's important to be real with them. We are a big company – sometimes owners find our fancy leases and management agreements intimidating, if they came from another management company or were managing their properties themselves. We know that earning trust is key, so we're happy to get potential partners in touch with other owners we work with so they can get honest reviews. These relationships take a lot of time – some of the owners that we've recently started working with began our conversations months or years ago. We understand. It's worth in the investment of time – to build that trust. I get that.
Interested in discussing property management services with Katie? Click HERE to fill out a quick form, or send her an email at kvohwinkle@oxfordcompanies.com.
Looking for housing? Click HERE to view available units.