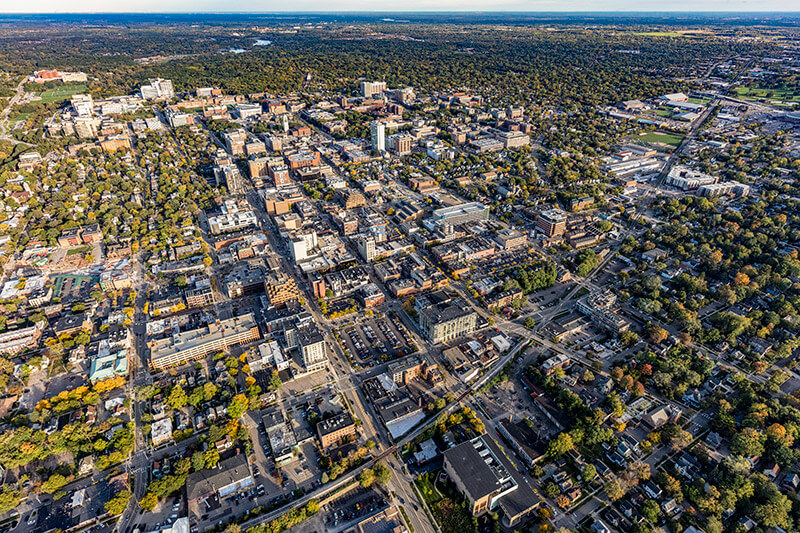 New Ann Arbor Construction Developments for 2019
Ann Arbor continues to be the center of new development, with more mixed-use high rises on the way.
As most Ann Arbor regulars know, the last few years have seen a construction boom in the downtown area, with most projects being a number of high rises to provide luxury housing for University of Michigan students. This comes as no surprise to anyone familiar with the continued growth of University admissions. With the number of students rising every year, housing in Ann Arbor is under considerable pressure to keep up. While upcoming construction projects in downtown Ann Arbor continue to focus on student housing needs, there are also several developments moving forward that target affordable and mixed-use spaces, as well as projects not designed for student housing.
19-story high-rise proposed behind Michigan Theatre.
Chicago developer CA Ventures and Bloomfield Hills-based Cerca Trova have teamed up to deliver a proposal for a new mixed-use high-rise to replace smaller rental properties on the block of 514-604 E. Washington St. This would include 241 new apartment units, including 19 reserved for qualifying low-income residents, and 121 parking spaces. The building is planned to include a lobby and 6,000 sq. ft. of retail space.
The project also includes a six-story building for workforce downtown houses and apartments behind Sava's Restaurant, which would be accessible via a walkway off Washington St.
Plans for 13-story "Vic Village South" revealed.
The latest in a series of student housing buildings formerly known as The Collegiate is under review by the city. The new building at 1100 S. University Ave. would provide hundreds of more beds for University students, as well as up to 15 affordable housing units. The new construction would replace a series of one- and two-story buildings on the block, raising the density of the area.
Meanwhile, construction on the 12-story Vic Village North across the street is nearly complete and is expected to be open for students in August. Plans have also been approved for a 13-story Vic Village East a block over, but construction on this may be bumped until Vic Village South is underway. No word yet on a Vic Village West.
28-bed affordable student housing on Hill St.
A new construction project on 132 Hill St. will replace the current structure, which is an old home built in 1922. The house has been uninhabited for several years and has fallen into severe disrepair, with missing windows, a collapsing garage, and a deteriorating foundation.
The student housing slated to replace it will be built in a style similar to the new Ann Arbor rental housing across the street at the corner of Hill and Adams. It will consist of four six-bedroom apartments and one four-bedroom apartment and will target a more moderate price point than the luxury apartment buildings going up downtown.
18-bed, four-story apartments near Elbel Field.
Another student apartment building is proposed for 327 E. Hoover Ave. The design shows a four-story building with balconies overlooking Elbel Field, and a rooftop terrace complete with green spaces and a large solar panel array. The plan also offers 885 sq. ft. of ground-floor retail space.
Large, mixed-use development planned at 425 S. Main Street.
The section of South Main Street between Williams and Packard is under redevelopment. The current proposal features a block-long, mixed-use building that would add 235 apartments and 11,315 sq. ft of retail space for lease to the street, as well as underground parking and several thousand square feet of landscaping. Currently, the property is occupied by a large asphalt parking lot and the Edison Center, owned by DTE Energy.
Ann Arbor Office space at 315 South Main Street nearly complete.
Construction is in its final stages at the new property in the historic Main Street district. The development, which brings several floors of Ann Arbor office space as well as ground floor retail, is slated to be complete in June.
Midtown Ann Arbor Condominiums wins approval.
The proposal we wrote about last year for a 256 condominium complex spread out over 17 buildings has won approval from the city council. The plan includes a mixture of one-, two-, and three-bedroom condominiums in a mixture of apartment and townhouse styles. It will also include a dog park, pump room, and community house.
The Glen near the University of Michigan medical campus is back on track.
The nine-story, mixed-use complex proposed near the intersection of Glen Avenue and Anne St. is scheduled to break ground in 2019 after a delay last year. The building is expected to be used as a hosting space for U of M events and will include 162 hotel rooms and a 252-space underground parking garage, as well as 24 apartments. Contact us to learn more about University of Michigan apartments!
Trinitas Ventures appeals Ann Arbor City Council's ruling for the lot on 2601 Pontiac Trail.
Not all student housing ventures are winning approval, including one development proposed for a new building along Pontiac Trail, which would have been two miles from the central campus area. Ann Arbor City Council rejected plans in a unanimous vote after an outpouring of complaints from neighborhood residents, citing that the proposal did not meet the city's zoning code pertaining to the protection of natural features.
Trinity Ventures is seeking legal counsel to challenge the ruling, and the City Council has responded by retaining legal counsel of their own. The complaint is currently in the hands of the Washtenaw County Circuit Court.
Ann Arbor construction developments continue to be a hot topic.
New construction developments in Ann Arbor have always been hotly contested topics, with some residents welcoming the boom and others anxious that the change is happening too quickly. However, several significant lots within the city remain undeveloped, with plans for their use a perennial source of conflict between developers, residents and the City Council. The only thing that seems a certainty is that 2020 will bring another round of luxury high rise student housing—and another round of debate.