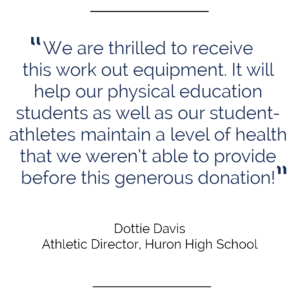 Oxford Companies donates over $100k worth of athletic equipment to Saline and Huron High Schools
The equipment was left by One on One Athletic Club shortly after Oxford purchased Boardwalk Commerce Center on the south side of Ann Arbor. Oxford Companies representatives contacted the local high schools to see if they were interested in taking any of the pieces of equipment for use in their schools free of charge. Saline and Huron High Schools were the first to respond and accept the offer.
"We are thrilled to receive this work out equipment, it will help our physical education students as well as our student-athletes maintain a level of health that we weren't able to provide before this generous donation! Our students are excited for this Fall as they know they have really cool workout machines to use," said Dottie Davis, athletic director at Huron High School.
"We are hopeful that it will add more adults to our community adult exercise class that is offered through our Ann Arbor Recreation and Education classes, as well."
Jeff Hauptman, CEO of Oxford Companies and Huron High School alumni, has a passion for providing support to the Ann Arbor community. From the downtown Ann Arbor mural campaign to park sponsorships and supporting several non-profits each year, it's part of the Oxford Companies culture.