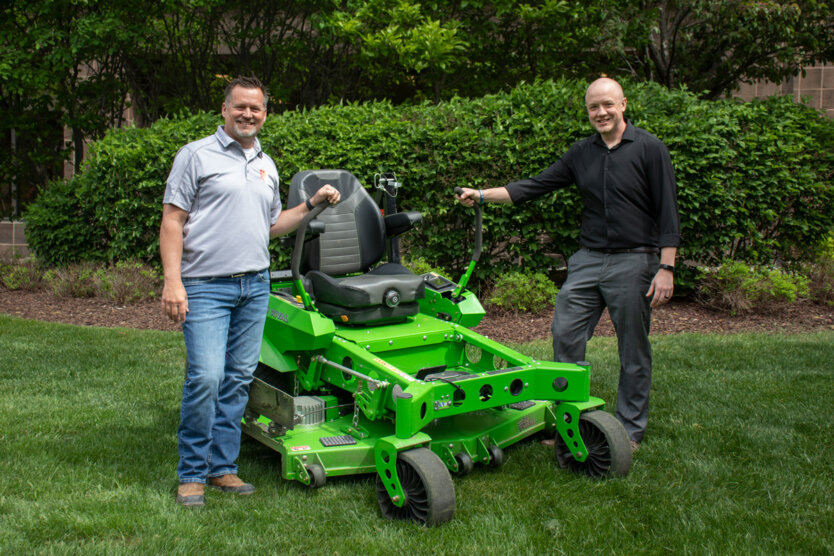 A&H Lawn Service & Oxford Partner to Electrify Landscape Equipment
(pictured above: Tim Austin, President of A&H Lawn Service, and Oxford's Director of Commercial Property Management, Mike Van Patten)
Here at Oxford, we're always looking for new ways to integrate sustainability into our work. We were delighted when A&H Lawn Service, one of our longtime partners, said they'd work with us on a gradual initiative to shift to electric lawn equipment for use on our properties. As an Ann Arbor-based commercial real estate organization, we are inspired by our community to continuously focus on reducing emissions and waste, increasing efficiencies, and finding more meaningful partnerships with vendors that share our values.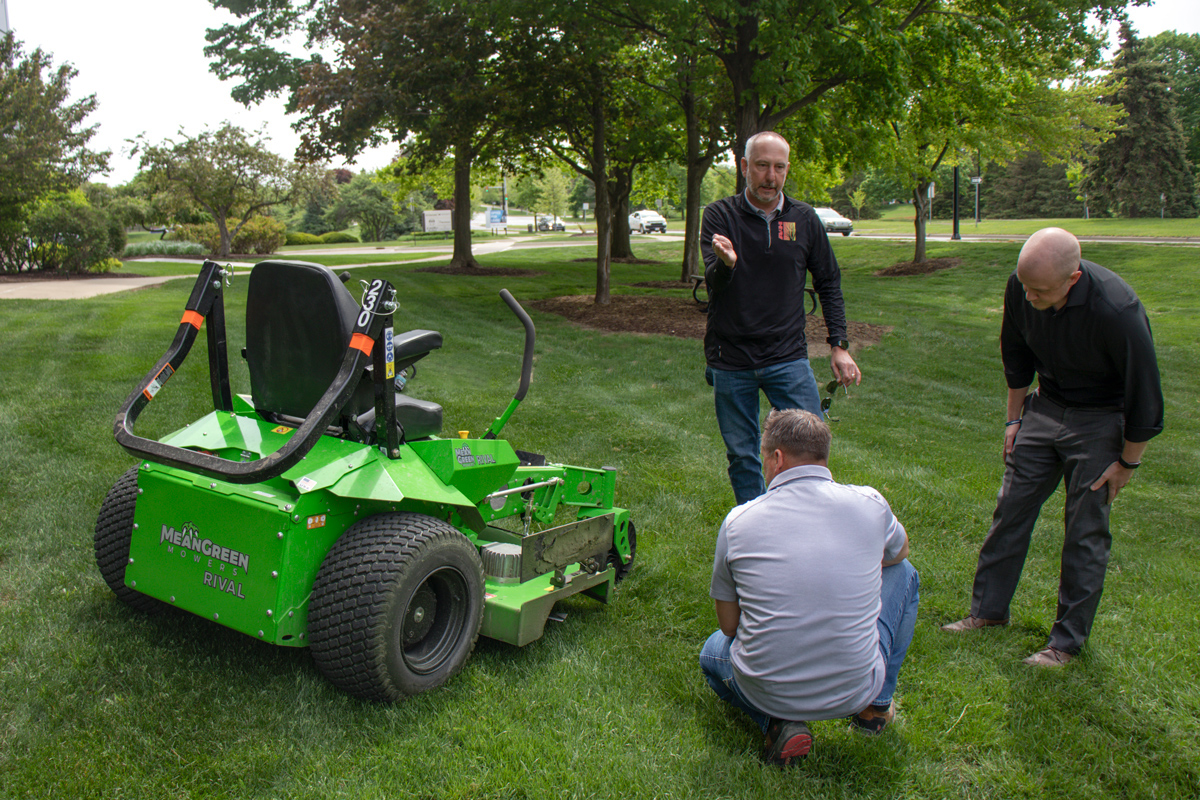 When it comes to mowing the expansive lawns at our commercial buildings, historically, lawn maintenance companies have used gas-powered equipment to keep commercial grounds looking sharp, clean, and lush. Mowers, trimmers, blowers, etc – they've all been gas-powered. Electric equipment hasn't really been feasible for the past decade when it comes to equipment used at larger properties like ours – so despite A&H keeping an eye on sustainability goals and potential options for electric equipment, making the transition has been a difficult task to undertake. When we reached out to them to inquire about electric equipment, they jumped at the chance to get a partnership going.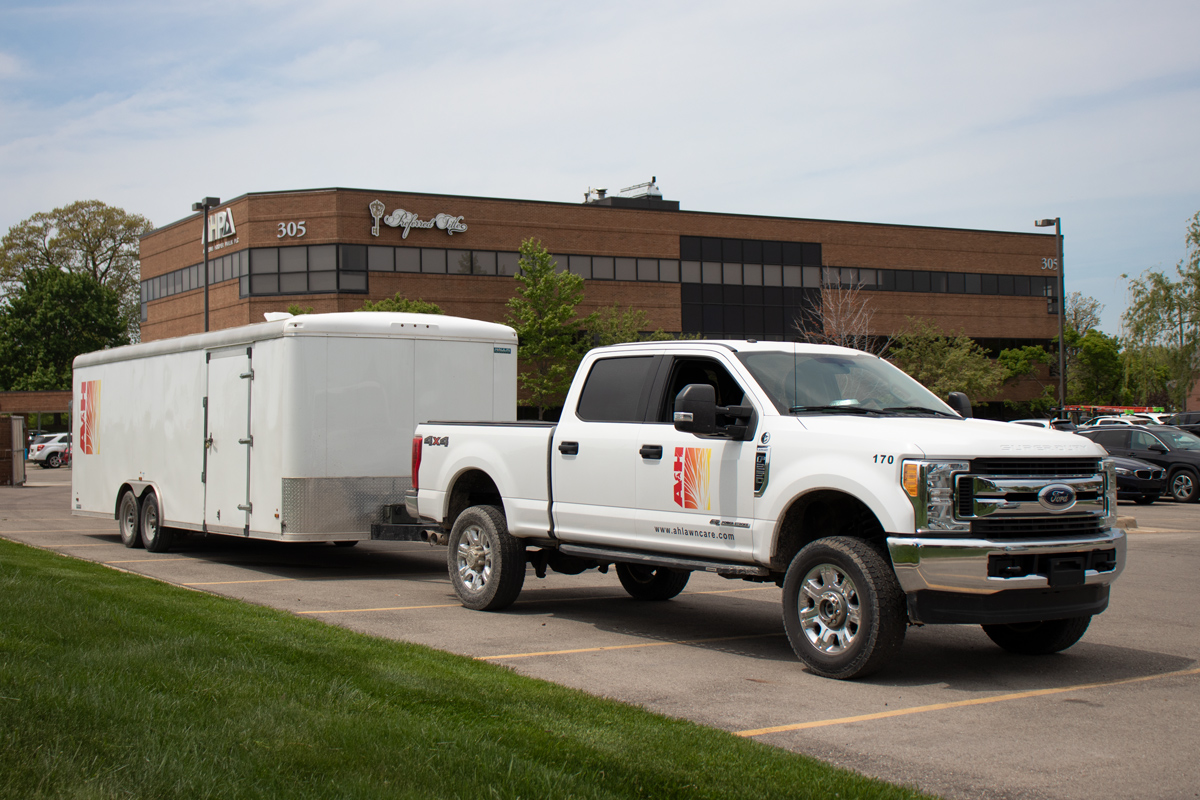 Exclusively for use at Oxford commercial properties, this 2023 season has seen a new partnership between Oxford and A&H on the purchase and integration of 1/3 electric equipment. And, we're committing to an additional 1/3 of equipment replaced next year, with the final 1/3 integrated in 2025. That means that the cutting, trimming, and blowing that the A&H team does for Oxford's commercial properties will be fully electric in the next three years, including string trimmers and zero-turn 60" commercial grade mowers.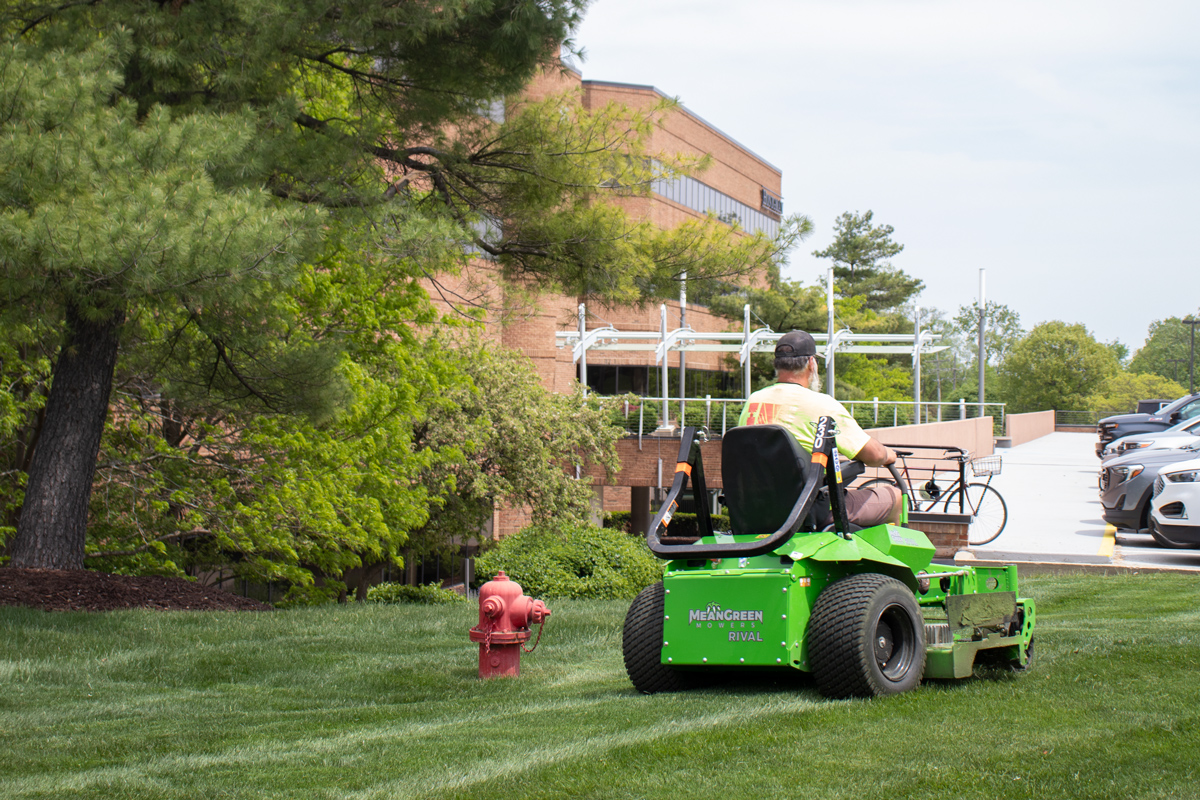 "We want to maintain our relationship with Oxford for the long haul, and invest in this relationship," says Jim Hoeft from A&H Lawn Service. "Our mission statement includes a belief in constant improvement and innovation, so there's a huge overlap in our respective organizations' priorities and values. This is a logical partnership for us and we're all-in on integrating sustainable initiatives into our work, in a way that makes sense for everyone involved."
Interested in learning more about how Oxford cares for commercial properties (both inside and out!) around Ann Arbor? Visit our Property Management page.
Thoughts on this initiative? We always love to hear from you. Fill out this quick form!
***A&H is currently not using electric equipment for spring and fall cleanup services until further notice.