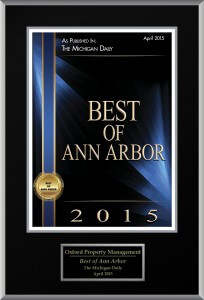 Oxford Recognized as Best Landlord Runner Up in Michigan Daily
Oxford Recognized as Best Landlord Runner Up in Michigan Daily
Each April, when the flowers begin to bloom and graduation looms ever closer, the Michigan Daily takes a step back to appreciate the best that Ann Arbor has to offer. 
Featuring old mainstays, new additions and everything in between, this year's "Best-Of" list serves not just as a handy guidebook, but also a record of where Ann Arborites are eating, drinking and hanging out in 2015.
Oxford Property Management ranked as runner up for "Best Landlord" in the annual contest. Restaurants, stores, services and bars most cherished in the hearts of University of Michigan apartment students and Ann Arbor residents alike are voted "best of", results are tallied and announced in April. Whether you are a new student,  or a long-time alum hoping to reconnect with your alma mater, this list will be a good place to start. Check out the full list of winners here.