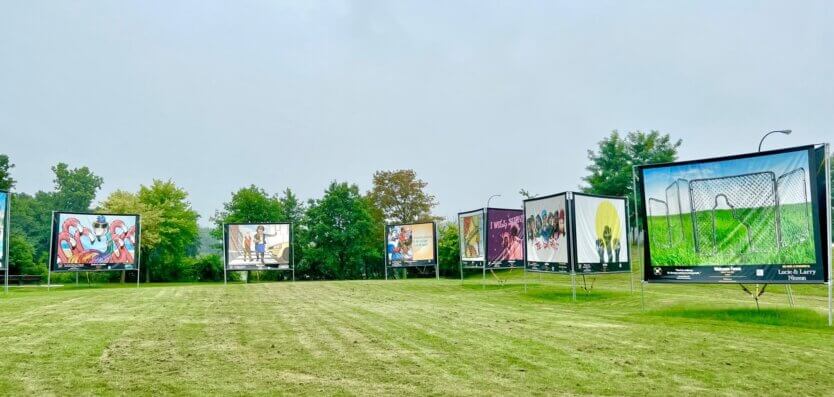 Oxford Companies Sponsors "Embracing our Differences" Art Exhibit
Oxford Companies, the largest Ann Arbor commercial real estate organization, is proud to sponsor the Embracing Our Differences art exhibits currently on display in Washtenaw County. They're installed at Gallup Park (Ann Arbor), the Leslie Science and Nature Center (Ann Arbor), and Riverside Park (Ypsilanti). If you haven't stopped by to take in the sights of one of these breathtaking installations, what are you waiting for?
Omission
Asha Jordan
Ann Arbor, Michigan
When you arrive, you'll immediately notice the huge, colorful panels erected throughout the exhibit. The designs and musings from artists both local and international incorporate themes such as inclusion of people with disabilities, racial justice, celebration of the LGBTQ+ community, honoring trailblazers of past and present, and many more. The pieces are in varying styles and use a range of mediums, and all of them were included to help "expand consciousness and open the heart to celebrate the diversity of the human family."
Princess
Zakiya Newell
Ypsilanti, Michigan
Embracing our Differences Michigan is a local nonprofit organization founded by Nancy Margolis (pictured below) and a small team of Ann Arborites in 2021. The community has enthusiastically embraced Nancy's vision for the organization and earned the support of dozens of philanthropists, local companies, and fellow nonprofits. Embracing our Differences Michigan is now governed by a Board of Directors and supported by an Action Committee.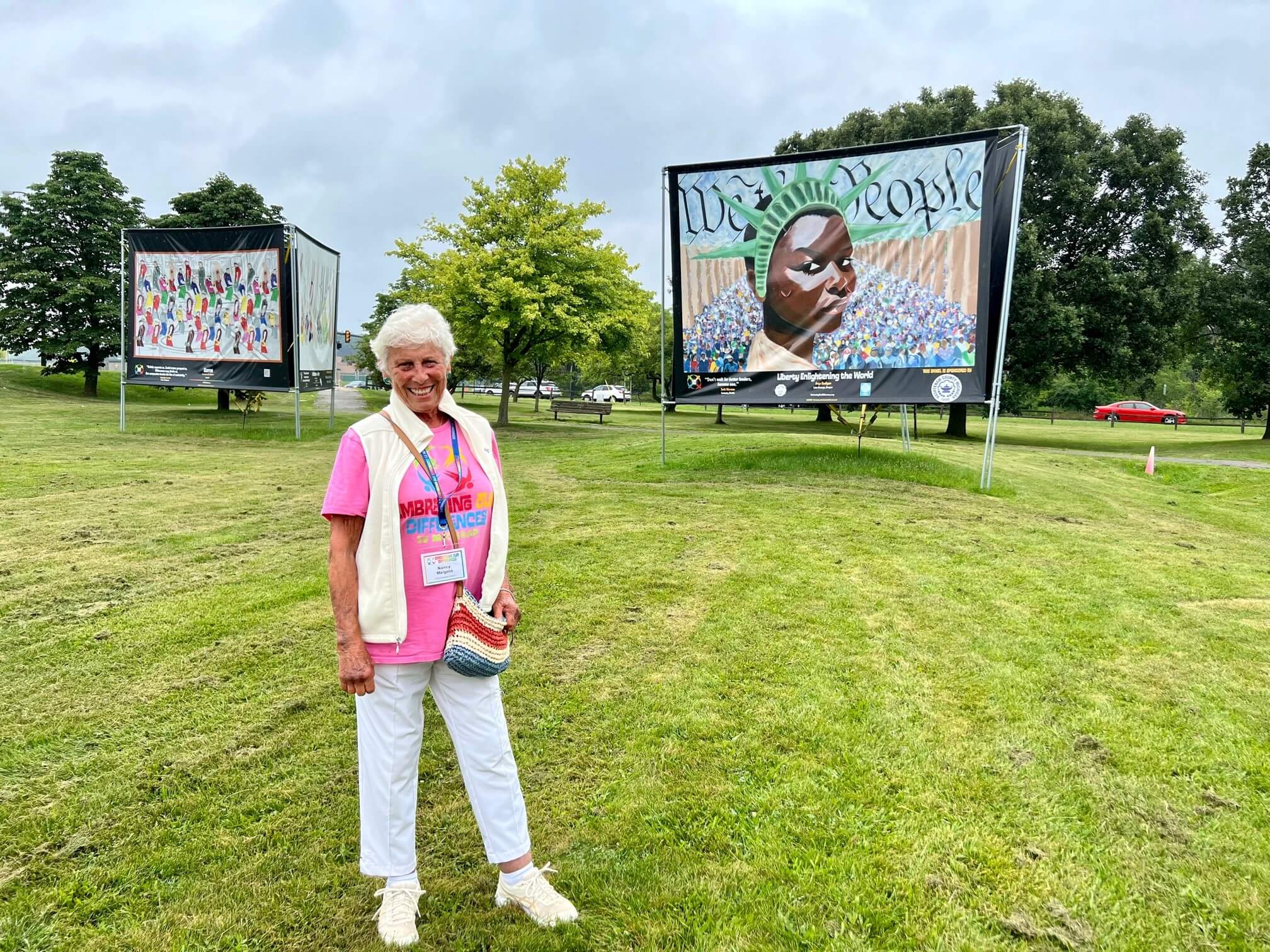 (Above: Nancy Margolis pictured at the Gallup Park installation)
The current exhibits are on display until the end of September 2022. Plans are underway for a second set of installations to be revealed in 2023. Get out to visit these incredible pieces of art while you can!
Opal Lee
Sabrina Kliza
Ann Arbor, Michigan
Oxford is an Ann Arbor commercial real estate organization with a commitment to celebrating and honoring diversity. Our active Diversity & Inclusion Council's mission to root out systemic racism and discrimination in our company and community is supported by efforts we make to engage with the Ann Arbor area community and aid the important work of the folks behind Embracing or Differences Michigan. In addition to sponsoring this exciting artistic endeavor, we also support the Ann Arbor Area Community Foundation (and specifically the African American Endowment Fund) and many other community organizations.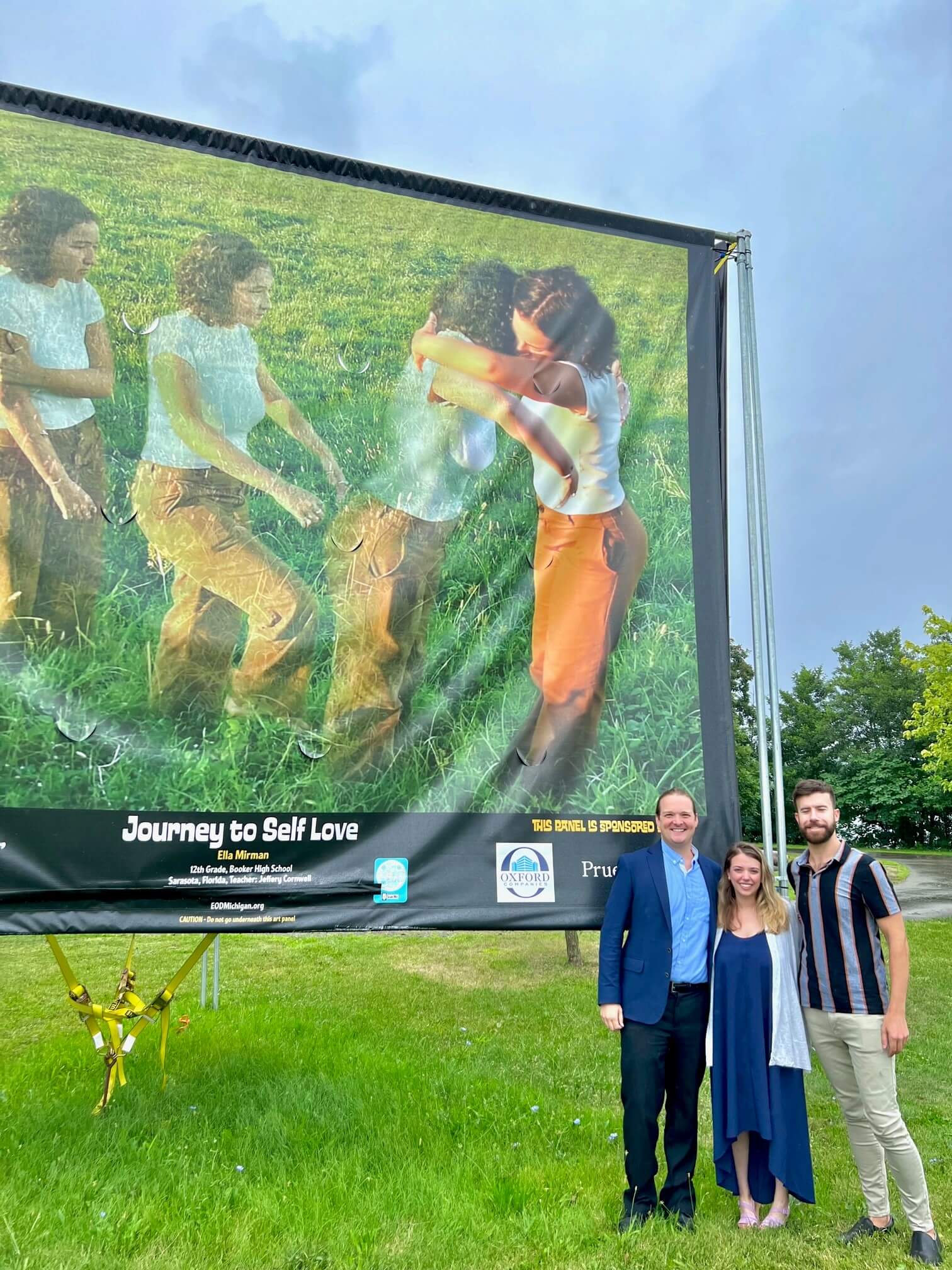 (left: members of the CREW visited the exhibit at Gallup Park and spotted our Oxford logo)
Thinking of a community initiative that you'd suggest our Ann Arbor commercial real estate company support? Send us a note HERE.
Interested in learning more about joining the Oxford CREW and our mission of serving and strengthening our community through our work? Click HERE to view open positions.