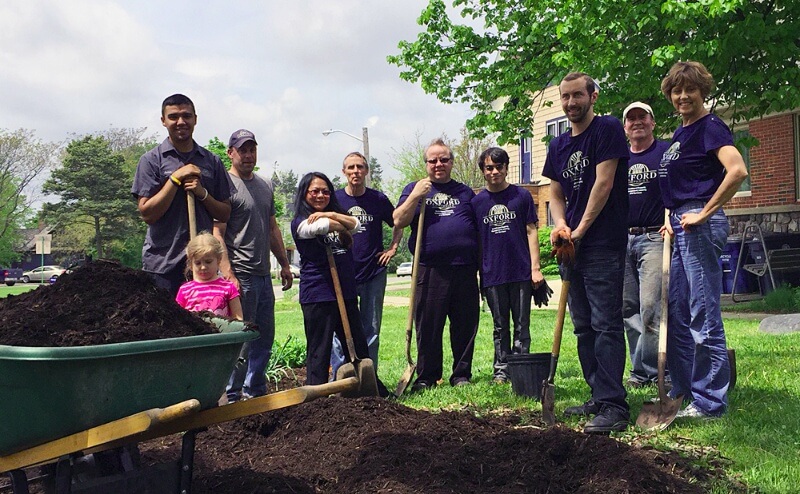 Oxford Volunteers Spruce Up Gardens at Hanover Square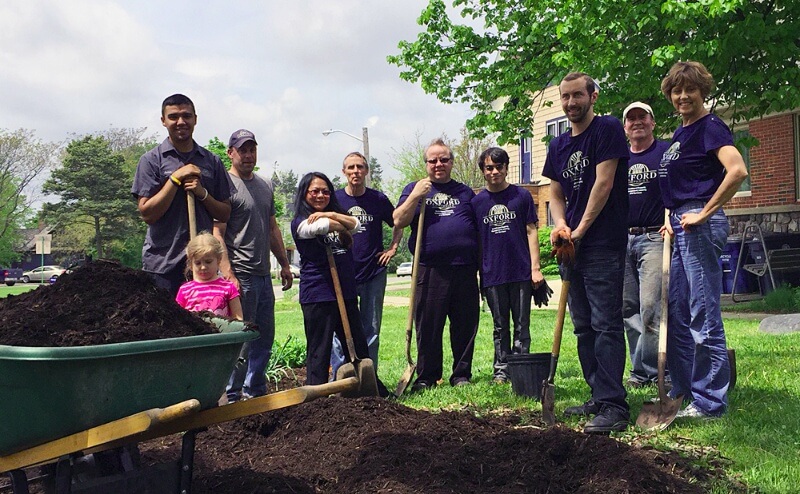 Last fall in 2014, Oxford real estate property management adopted the Hanover Square Park at the corner of Division and Packard Streets downtown through the Ann Arbor Parks and Recreation's "Adopt-A-Park" program. We began with a clean-up and bulb planting last November, and planned out our major work for the spring of this year. All the rain and cooler temperatures made for a pleasant day of weeding, digging, planting and mulching on May 15 when we gathered to plant several gardens with perennials and annuals.
A large, circular raised bed was begging for attention as weeds had flourished there for several years. We followed a plan designed by Beckett & Raeder for this garden where a combination of grasses, shrubs and flowering perennials will grow to transform the corner to a thing of beauty later this summer. Several other beds at the park were filled with annuals that will bloom all summer long. It took 5 yards of mulch to finish the job which will help to cut down on weeds and aid in water retention. Since there is no water source at the park, once summer heat takes hold, we will be watering regularly.
Partnering with the city to beautify Hanover Square is one of several ways Oxford property management supports and connects with the community. We are proud to play an active role in caring for Ann Arbor's first downtown park.