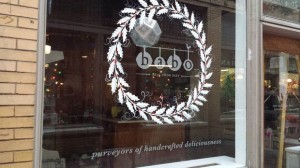 Oxford Welcomes Babo: Real Food Fast
The market is located at 12 Nickels Arcade, Ann Arbor, and is a smaller version of Babo: Farm Fresh Meals to Go, which also opened recently at 2825 Boardwalk Drive.
Babo: Real Food Fast is a grab-and-go with salads, sandwiches, juices, chips, cookies and other fresh foods made each day at their Boardwalk production facility.  "We don't have coffee because Comet Coffee is nearby", said Josh Maron, the store manager. "And grabbing something fresh and healthy to eat is a new, popular choice for the area. Business has been great!"
This new Babo: Real Food Fast location is one of a few new shops to open in the Arcade. Throughout its 90-plus years of existence, Nickels has been home to dozens of businesses that have become local, intimate settings for one-of-a-kind shops that appeal to students and townies alike. Maison-Edwards Tobacconist and the University Flower Shop have been constants among the Arcade's collection of unique storefronts, joined more recently by relative new comers Comet Coffee and Mix, a fashion boutique offering women's clothing and accessories. Oxford Property Management is pleased to manage this historic and architecturally beautiful commercial rental property.