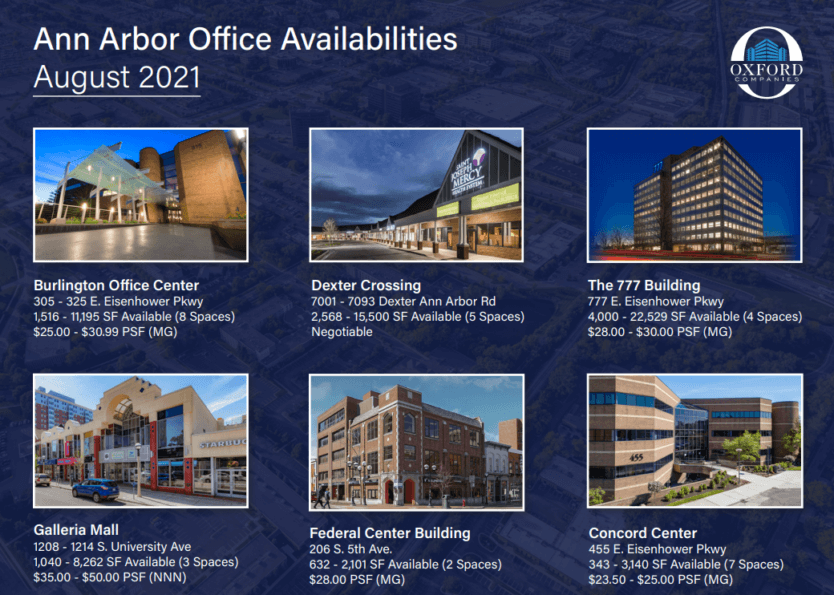 Oxford's August Ann Arbor Availabilities Guide
Every month, we compile the best Ann Arbor commercial real estate availabilities in the Oxford portfolio – and this August, we've got some beauties for you to peruse. We've got sprawling office suites in high-end buildings like the 777 Building in Ann Arbor's Southside neighborhood, convenient Ann Arbor downtown commercial office space in locations like the Galleria Mall and Federal Center Building, and move-in ready Instant Office units that give any Ann Arbor coworking space a run for its money.
View the new August Availabilities Guide HERE.
Health and safety at top of mind for your organization right now? We thought it might be – so we created our Orange Badge listings to show you the Ann Arbor commercial real estate spaces available with amenities like dedicated restrooms, suites designed for social distancing, private entrances and exits, and other features that reduce risk for your team. If an Ann Arbor coworking space seems like a good option but you're concerned about health and safety, consider the Instant Office program – it offers terms as short as six month in case your situation changes, and many units are furnished with everything you need to get to work.
Give our outstanding leasing team a call to discuss your Ann Arbor commercial real estate needs – we look forward to helping you! Get in touch with Karen O'Neil at 734-665-6500 or koneil@oxfordcompanies.com or fill out THIS quick form.