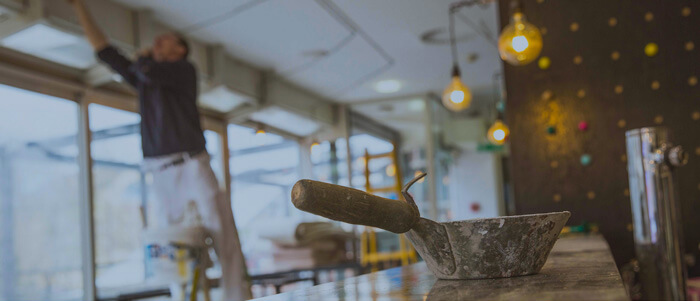 How to Get the Best Results from Your New Office Renovation
Make your office renovation a success, whether you're moving or updating your current space.
Is it time you renovated your office? Like many businesses, you may have reached a point where your Ann Arbor office space no longer meets the demands of your business. Maybe the space feels cramped and dated. There's an awkwardly-placed wall, or a lack of convenient electrical outlets. You thought you could do without a kitchenette when you first moved in, but you've regretted the decision ever since. It may be that nothing is significantly wrong, but there are enough small irritants to leave you feeling dissatisfied.
A renovation of your Ann Arbor office space can boost employee productivity, engagement, and collaboration. It can modernize your brand and show your clients that your business is moving ahead. Most importantly, an office renovation allows you to address practical concerns with your office environment, such as poorly-used space or a lack of certain amenities.
However, many renovations don't go as planned, leaving business owners with bloated budgets, disrupted business, and a space that may be only a marginal improvement upon the original. With so much at stake, it's understandable that business owners approach renovation projects with apprehension.
The good news is: it doesn't have to be that way. You can have an office space in Ann Arbor that meets your needs without having the renovation project collapse around you. Here are a few tips to help ensure a successful office renovation.
Decide if you need to move or update.
Renovations are easiest to accomplish when they happen at the beginning of a lease. This gives you the flexibility to create your ideal office environment before you move in. It's also the time when your ability to negotiate with your landlord is at its strongest. Depending on what you need from your new space, your landlord may be willing to make certain updates for you.
As you consider your new Ann Arbor office for rent, think about your most critical requirements:
Do you need a dedicated conference room?
How much space do you want to plan for each employee?
Are you interested in an open floor plan, or do you need more private offices?
Does your IT department have any technical upgrades to suggest?
What about kitchen and bathroom updates?
That said, not every office renovation requires a move. Some of your most pressing needs can be addressed by a renovation of your current space. Your lease may even contain conditions requiring your landlord to perform various upgrades over the duration of your tenancy. If not, then you should ask about renovations before you renew your lease.
Know where your employees will work during the construction period.
If you plan to stay in your current space, you will need to plan renovations around your ongoing business operations. This means identifying temporary work environments for your employees as the renovations disrupt their space. Alternatively, you may want to prepare for more of your employees to work remotely while construction is underway, or you can research short-term co-working spaces in your area.
For businesses who need to renovate multiple floors, plan for construction to happen one floor at a time. This will allow employees on one floor to temporarily move to another while the renovations take place.
If you are expanding your current office space, it will be easiest to complete the new space before beginning renovations on your original offices. The expansion can act as a temporary swing space for your employees during the construction of your old space, and the construction crew will move faster if they don't have anyone to work around.
Work with a vertically-integrated brokerage partner.
An office renovation involves several teams, each of which are responsible for moving their part of the project forward. Unfortunately, many office renovation projects go awry when communication breaks down between these groups. From the architect, to the builder, to the interior decorator, coordinating these teams can be a full-time job. Without someone overseeing the project from start to finish, progress is all too likely to grind to a halt somewhere in the middle, leaving you with a half-finished office and without the information you need to complete the job.
This is where a brokerage team can save your project. Not only can they help you find the right office business space for rent, they can oversee the construction work so that the project transitions smoothly from one team to the next. A good brokerage team will have worked with architects and construction crews on other projects, and can offer recommendations. You are also more likely to have an accurate estimate from teams that have worked together before.
Don't forget about post-construction finishes.
Furniture and other decorative elements have a big impact on your finished space. Whether you want to create a comfortable reception area for office visitors, arrange bookshelves to section off a space, or create a more collaborative working environment, the right furniture will be critical for bringing your vision together.
Our experience working on renovation projects is that many business owners underestimate the customization options available to them when they go to select office furniture. A good interior designer can help you plan your space and can work with a furniture vendor to select pieces that fit your needs.
Talk to us about your office renovation needs.
If you are looking to move into one of Oxford's office spaces, we can work with you to complete renovations in a timely manner. Our brokerage and construction teams can help you find the right space, assemble the right design/ build team, and see your renovation across the finish line. Contact us to get started.