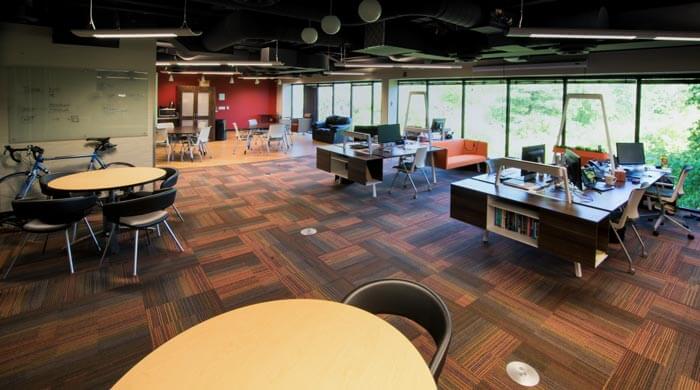 Safely Returning to Your Ann Arbor Office Space
As more tenants reopen their businesses, what can you do to prevent a COVID-19 outbreak in your workspace?
The last several months have shifted the norms for many businesses, including us at Oxford. For anyone eager to re-occupy their office, another has expressed their preference to work from home. The most urgent challenge businesses now face is balancing re-occupancy with social-distancing and proper steps towards good health.
Once your business has developed a plan for re-occupancy, we encourage you to turn it into a conversation with your employees. Communicating updated policies and providing guidelines will help set expectations and effectively navigate potentially tricky situations. To help you get started, we've identified a few actionable steps your business can take:
Develop Staggered Work Schedules
Many of our tenants, including those with large workplaces, have developed staggered work schedules for their employees. This not only helps them practice social-distancing, but also reduces contact on high touch-point areas.
An effective way to implement this strategy is to have workers alternate shifts by week, rather than by day. By doing so, only part of the workforce is in the Ann Arbor office space over the course of a week. If one employee should later test positive for COVID-19, this practice will limit the scope of your contact tracing.
Follow CDC Guidelines
The importance of wearing masks, washing hands and using hand sanitizer cannot be overstated. Masks prevent asymptomatic carriers from inadvertently spreading the virus through small droplets produced by speaking, coughing and sneezing. Frequent hand washing and hand sanitizer use can help reduce transmission by killing any germs picked up from surfaces before they reach a person's face. Properly practiced, these measures can be an effective countermeasure to spreading viruses.
Regularly Clean High-Touch Surfaces
Bathrooms, countertops, conference room furniture and door handles are among the most frequently touched surfaces in any office. Depending on who cleans your office, you may have to discuss changes with your property managers or with your cleaning staff directly. A simple and effective way to get started is to have cleaning wipes readily available throughout the office so that your employees can handle wipe-downs themselves on an as-needed basis.
Rearrange Your Office Environment
The open floor concept, now a prominent design in many offices, has been linked to potentially higher virus transmission. With fewer barriers between work areas and employees working closely together, illness spreads quickly around offices.
In the short term, offices can cut down on virus transmission using staggered work schedules and spreading workstations apart. A practical yet long-term solution would be to create more private work environments with walls or screens. These help block germs from traveling through a work environment while also reducing the noise levels and environmental distractions that can lead to increased stress.
Whether a remodel is an option now or down the road, Oxford's award-winning Design+Build team can develop office concepts that meet evolving business demands. 
Have A Policy for Contact Tracing
In the event that an employee tests positive for COVID-19, it is imperative to inform anyone who may have shared a work environment with that person. Anyone who worked directly or shared an office with that employee should follow CDC guidelines for self-quarantining
It is important for employees to realize they may be carriers even if they don't feel ill. Working from home will help ensure that even an asymptomatic carrier doesn't spread the disease after coming into contact with another sick coworker. Encourage any employees who feel ill to avoid coming into the office by working from home or taking a sick day.
Creating Healthy Office Conditions for Your Business Now Can Outlast the COVID-19 Pandemic
Businesses can do their part to combat the COVID-19 pandemic by enacting sensible office policies that keep employees safe as they do their jobs. Some of the changes necessitated by the pandemic might become policies that businesses embrace long-term.
At the very least, modifying open layouts can prevent the next seasonal flu from rapidly spreading through the office, and can even create a more productive work environment for some employees. And given the likelihood of offices moving toward a hybrid arrangement of at-home and in-office workers, businesses should consider how they're creating work environments as well—such as designing more team spaces or office pods for employees who are only in a couple of times a week.
However businesses plan to use their Ann Arbor office space, Oxford Companies is ready to guide them toward the optimal solution. We can help you determine your coworking space needs, and our design and build team can help renovate your space to fit your new floor layout. No matter your needs, we're here to support your business as we move toward a post-pandemic office culture.