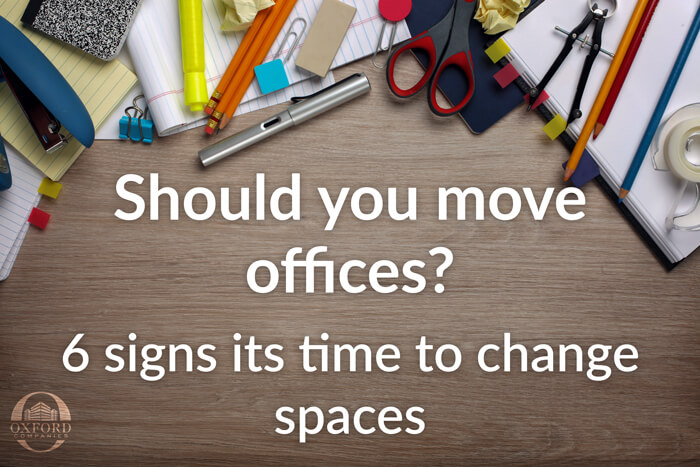 Should You Move Offices? 6 Signs It's Time to Change Spaces
Transitioning to a new office commercial rental space is a big decision. Here's how you know it's time.
For many business owners, the thought of moving offices can be both anxious and exciting. A new office may hold the promise of possibility, but can also be a gamble if it doesn't work out. While your current office commercial rental space may have its faults, it also holds fewer surprises. Even so, few businesses can stay in the same place forever. Markets change, businesses grow, and eventually, the old space no longer suits its purpose. If you're wondering if the time is up in your current space, here are seven signs you may be ready to move.
1. Your lease is about to expire.
While there may rarely ever be the perfect time to move, a lease expiring is a better reason than most. To give yourself enough time, be sure and take note of when you are up for renewal up to one year ahead of time. The extra breathing room won't hurt when it comes to thinking about your business's needs, or when touring several commercial rental space options.
2. Your office size no longer matches your requirements.
Is your office too large, too small, or just right? Most businesses feel the need to move when their current space begins feeling cramped—employees are sharing desks, conference rooms don't have enough seating, and the tight space causes the office to feel cluttered. Many businesses adopt short-term solutions to these problems by opening a second office location or renting space on another floor of the same building. It may work out, or it may highlight the need for a larger and more unified campus.
Sometimes space needs to move in the other direction: a business transitions to a more efficient floor plan, adopts a remote work policy or experiences a round of layoffs. Suddenly, their office feels empty, and the extra room feels like wasted space. Whatever camp you fall into, an office that isn't the right size for your business costs you money, either in lost productivity from crowded coworkers, or by paying for unused commercial rental space.
3. You're hiring.
Your office might be the right size for now, but if you're anticipating significant growth within your organization, it's important to think ahead. If you sign a multi-year lease in your current space before a projected increase in your business, you may find yourself trying to crowd new hires into your location while training them at the same time. Moving to a new office not only gives you the room you need to accommodate new hires, but it can also help attract up-and-coming talent.
4. You're unhappy with your landlord or the state of your office building.
A poor landlord can cause problems for your business beyond the occasional minor irritation. Usually, a lousy tenant-landlord relationship can be an indication of other issues as well, such as a poorly-maintained facility. If you find that complaints to your landlord go unresolved, it may be time to establish a new relationship with someone you can trust.
5. You feel limited by your location.
Does your current location cut you off from your ideal clients? Are you missing opportunities to grow your business? Do you feel out of the loop? Location is as crucial for businesses as it is for homes. Proximity to clients, attractions, and other businesses matters to you and your employees alike.
Most offices function best when supported by other amenities in the area, such as nice parks, trendy shops, or excellent restaurants. A building with a large parking place isn't as valuable if it takes half an hour make it to the nearest copy store, and an office without any on-site parking can be frustrating for your visitors. Finding the right location can be a juggle between landing a new client or attracting top talent.
6. Your office does not represent your brand.
You can change a lot about an office by refreshing the color scheme, modifying the floor plan, or updating the furniture. But some structural elements are harder to change, and if that has an impact on how you, your employees, and your clients perceive your business, it may be time to move.
You may want a space with more natural lighting, raised ceilings, or exposed brickwork. Or perhaps you need a more comfortable reception area for visitors or a larger conference room that can support a more prestigious conference table. Whatever the reason, your office space tells a story. Make sure it's the right one.
Thinking you'll stay put after all?
Most businesses can cope with one or two of the items listed above, so long as their rental space has enough benefits to compensate. Furthermore, once some business owners take a look at the market, they may decide that the other options aren't tempting enough to be worth the move. In that case, it's fine to stay where you are and look for different ways to address whatever downsides bother you most. But if you've seen several of the above signs for a while, that's a strong indication that your current office space has reached its limit. It's better to start looking now, rather than allow your situation to enter a crisis.
If you need help finding new Ann Arbor office rental space, we can help. Contact us to schedule an appointment where we can discuss your needs and begin your commercial property search.