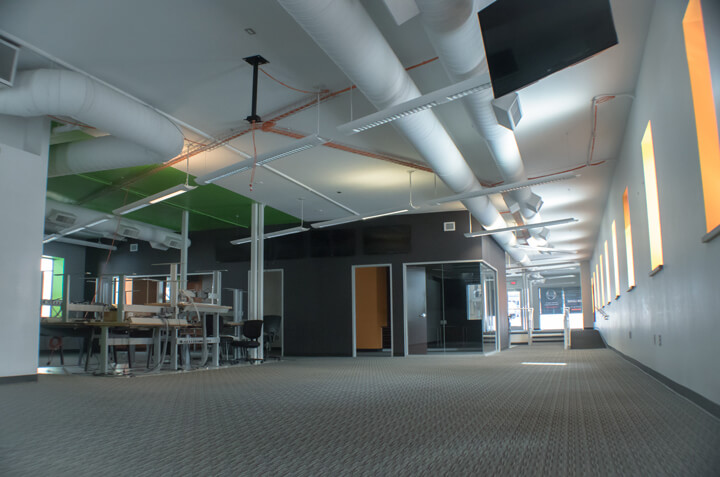 5 Questions to Ask when Touring a New Office Location
Here's how to ask the right questions when choosing a new office location for your business.
Touring a new office location is an exciting moment for any business. It is an opportunity to for your business to transform for the better. Whether it means moving out of that old space that was too big for your needs and felt like a cumbersome financial burden to your business, or updating your offices to match your recent successes, finding the perfect space is a big move forward for your company.
However, there are several questions you should ask your prospective landlord while on your office tour. You should take time to consider questions that pertain to your specific situation before your office tour. But if you're too stumped, here are a few to help you begin.
1. Can I build out this space?
More and more frequently, office spaces have become part of a business's brand. Business owners are looking beyond location, square footage and price, and are instead paying close attention to floor plan and interior design. More than that, many businesses recognize the psychological impact space can have on the happiness and wellbeing of employees. If this sounds like you, then you may have a vision for how you want your office space to look that doesn't match the office space you see while touring your new location.
Don't panic. Talk to your landlord about options for building out the space before you move in. If you're renting part of a shared space, ask about the neighbors on the floors above and below you, as well as an who might share your floor. Find out if you will need their permission to install new cabling, or if your construction work will have to happen outside of normal business hours. And discuss your place with an architect and builder before you begin so they can construct models to help you envision the space before you begin.
2. Will I have options on adjacent Ann Arbor office space?
If you're hoping to get a good deal by signing a long-term lease, you'll have to consider the future growth of your company. But estimating how many employees you might have in three to five years can be difficult. You don't want to pay for more space than you need, nor do you want to fill the space and have no room to grow with several years left on your contract.
One possible way to solve this problem is to talk to your landlord about leasing options in adjacent business office rental space. Ask if you can include terms in your contract which grant you first opportunity on adjoining spaces in your building. If you're lucky, one may open up just when you need it.
3. What's the surrounding neighborhood like?
You may love a space and be ready to sign and move in, but before you do, think about the larger area. Will you enjoy working here? Are there local parks and recreation areas? Is there a convenient grocery store for you and employees to pick up items for office parties or on your way home from work? What about lunch options and coffee spots?
Your satisfaction with your new office space may wane once the everyday realities of living in that location set in. If you and your employees have nowhere to go when you need a break from the office, the new space will quickly feel limited and claustrophobic. The neighborhood surrounding your office is just one way to improve work/life balance for you and your workers.
4. Who are my neighbors?
We all know the impact neighbors can have on our happiness. Most of us have had bad neighbors, or heard nightmare accounts from friends and family about theirs. We may also have been fortunate enough to form valuable and lasting friendships with our neighbors.
These experiences apply to businesses just as much as they do to homes. A disruptive neighbor can impact your business and cause problems with your clientele, while a good neighbor can bring more business to your area.
Your new office location neighbors can also give you an inside opinion on a commercial rental space before you sign, so don't hesitate to introduce yourself ask a few questions. Are they happy with their decision? Have they had any problems in the past, and how were they resolved? Your future neighbors can alert you to any problems they've had, and it will give you a chance to learn about them before you take the space next door.
5. What is security like in this new office location?
You want your offices to be safe for everyone who enters them. Office security is also important for your business documents, as many compliance regulations stipulate certain security protections for sensitive information. Talk to your landlord about security cameras and alarms, both inside the building and outside or in the parking lot. Also ask about building alarms and if there has been a history of theft or vandalism in the neighborhood.
Some office spaces employ security staff in the reception area as well. Ask your landlord about their security protocols. What do security officers require from visitors before allowing them entry? Is someone on the premise 24/7, or only during the day? Do security officers patrol the premise at night, or do they monitor security cameras? These are all important things to know if your business handles sensitive information, particularly financial information or personal information that can be traced back to your clients.
Don't forget to ask the important internal questions.
These are all important questions to ask your future landlord. But internal questions are ones you need to discuss with your business partner and your employees. Does the new office location work for your team? If you choose a space with a significantly longer commute, you may find some of your core employees looking for a new job. What about your customers? Will this location be convenient for them?
Finally, how does this space reflect on your business? An opulent or over-trendy space may impress some, but it may cause potential investors to question your fiscal responsibility. On the other hand, an unattractive space may case potential clients to question the financial health of your business.
If you need help asking the right questions and finding a new office location space that answers all your needs, talk to Oxford Companies. We can help you find the right space, answer questions you haven't even thought to ask, and connect you to a design and build team that can create the offices to match your vision. Contact us today to get started.