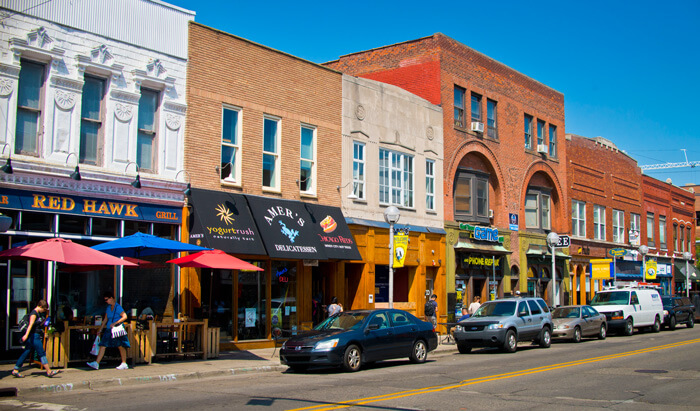 How U of M Helps Small Businesses Thrive in Ann Arbor
For businesses looking for a vibrant community to start their business, the University of Michigan helps make Ann Arbor an excellent choice.
Ann Arbor may be best known as the home of the University of Michigan, an internationally prestigious institution, and one of the foremost research universities in the United States. However, while many small college towns remain just that—defined and often overshadowed by the universities that put them on the map in the first place—Ann Arbor has also established itself as a thriving business center.
For businesses looking for a lively, competitive space to launch their new venture, this makes Ann Arbor a compelling option. It's rare to find relatively small cities with the resources and amenities usually found in much larger ones, but those that do have a knack for attracting and sustaining businesses for the long haul. Here are a few reasons why.
Recruiting talent.
There's nothing like a job fair for meeting the next generation of recent graduates. For many college towns, the lack of a job market outside of academia leads recent graduates to search for jobs elsewhere. But many U of M grads finish their degree and decide they would rather stay.
This reinforces a positive feedback loop, in which recent graduates stay to build businesses which then attract more recent graduates. For many small businesses, having a qualified talent pool to draw from can give them the edge they need to grow in a competitive market.
Hub for local conferences.
The university doesn't just attract talent—it also attracts thought leaders from industries across the country who come to Ann Arbor for events and conferences. These conferences provide important networking opportunities for business leaders, and can also help employees gain new skills or grow their industry expertise.
Whether these events are hosted by the University or by another organization, they provide a means for businesses to meet other businesses, professionals to engage with their peers, and investors to learn about rising stars in the area. And even if you don't attend conferences yourself, your business may indirectly benefit by association.
Availability of rental space to host events.
Universities take up a lot of space, and some of it goes unused. This provides ideal locations for businesses who want to organize their own events. These may include training seminars for staff, an annual gathering of all nationwide employees, or major fundraising events for non-profits.
Whatever the occasion, university facilities expand the possibilities for event hosting, meaning local businesses don't have to compete for limited venues. With spaces to rent that range from classrooms to full conference halls, the University of Michigan can accommodate almost any event your business needs.
Providing economic stability.
While no area is recession proof, universities provide more stable foundations than most industries. This has certainly been true of Ann Arbor, which weathered the most recent economic downturn admirably. And, unlike other sectors, where a staple industry could be bought out and relocated at any time, universities tend to stay put.
As the largest employers in the area, this kind of stability is hard to overestimate. With faculty and staff enjoying reasonable job security, and with a steady stream of students ready to spend money on housing, food, and entertainment, many businesses are able to get through economically lean times with significantly less disruption than in other areas.
Boosting local prestige.
Finally, having a well-established university in town puts Ann Arbor on the map for many businesses. While many businesses thrive in smaller communities, those hoping to appeal to national—or even international—investors may have a harder time attracting attention if their companies are located off the beaten path.
On the other hand, growing a business in an area known for growing and nurturing small businesses can bring confidence to many investors. It lets them know that the area isn't short of resources and that it's the kind of place that can successfully recruit talent.
Is your business ready to make Ann Arbor its new home?
All in all, having the University of Michigan as a cornerstone for the area doesn't just lead to a surplus of college students for three quarters of the year. It also provides a nurturing ground for new businesses who benefit from the talent pool, the networking opportunities, the local amenities, and the good reputation.
If you're looking for space to move your business, we at Oxford Companies can help. Contact us today to learn about available office space for rent, in and around the Ann Arbor area.