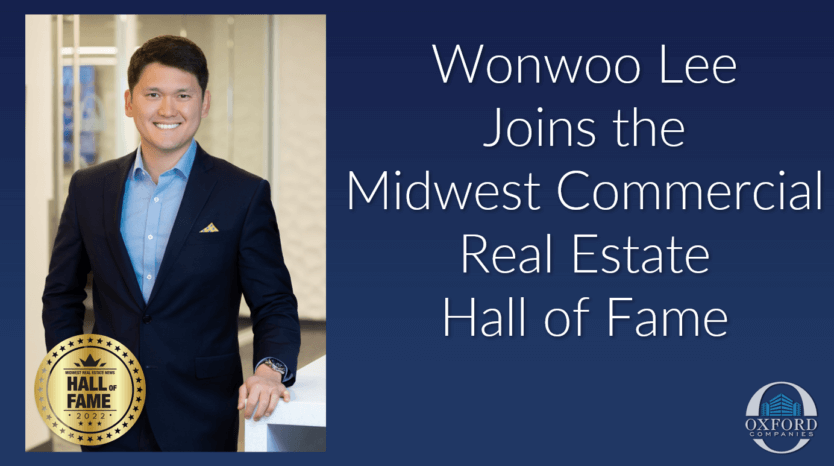 Wonwoo Lee Joins the Midwest Commercial Real Estate Hall of Fame
Congratulations are in order for Oxford's Wonwoo Lee, who was named to the Midwest Real Estate News' Commercial Real Estate Hall of Fame for 2022!
Wonwoo serves as Oxford's Chief Real Estate Officer, and his efforts are instrumental to the success of our organization. He's completed more than $500 million in real estate transactions in commercial leasing and investment sales and won the CoStar Power Broker award in 2020, recognizing him as a top office leasing broker in the Detroit region. Wonwoo is native Ann Arborite, a graduate of Ann Arbor public schools and the University of Michigan (multiple times), and demonstrates true commitment to furthering a more equitable and prosperous future for our city.
"Wonwoo oversees the asset management of the largest commercial real estate portfolio in Ann Arbor, and Oxford wouldn't be what it is without his hard work and dedication to integrity and excellence," said Jeff Hauptman, Oxford's CEO. "Wonwoo positively contributes to the CRE industry's reputation because of his collaborative, friendly spirit and his genuine desire to make our community a better place for all of us."
In addition to his position at Oxford, Wonwoo serves on the City of Ann Arbor's Planning Commission at the appointment of Mayor Christopher Taylor. In this role, Wonwoo reviews and applies Ann Arbor's Unified Development Code for proposed developments in the City. He also serves as a Transportation Commissioner for the City of Ann Arbor, furthering efforts to drive economic development, strengthen non-motorized transit, and promoting accessibility as a metric in public policy.
"I most enjoy building meaningful relationships with the community and improving our built environment," says Wonwoo. "Solving complex real estate issues with diverse stakeholders is challenging and rewarding. I love making deals happen and putting space to productive use with the creation of jobs, placemaking, and effective adaptive re-use."
If you see Wonwoo here at Oxford's headquarters in the 777 Building, or around Ann Arbor at various events and meetings, be sure to give him a hearty congratulations on this achievement. We're tremendously proud of his accomplishments and appreciate all that he does for our organization and community.
Well done, Wonwoo!
Learn more about the Oxford CREW here.
Questions? Comments? Drop us a note!