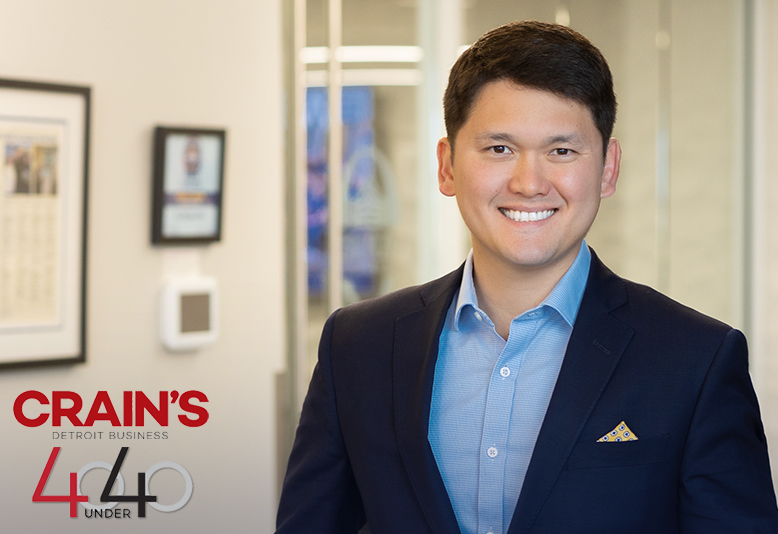 Wonwoo Lee Named to Crain's Detroit Business 40 under 40
Oxford Companies is thrilled to announce that Wonwoo Lee has been selected for Crain's Detroit Business's prestigious "40 under 40″ list for 2023. This recognition celebrates individuals who have made significant contributions to the business community, exemplifying extraordinary leadership, innovation, and dedication.
Lee serves as the Chief Real Estate Officer of the largest commercial real estate portfolio in Ann Arbor, and has completed commercial transactions totaling more than $500 million. His remarkable track record in commercial real estate and public service have earned him a well-deserved place among southeast Michigan's top emerging business leaders.
A long-standing resident of Ann Arbor and a three-time graduate of the University of Michigan, Lee is dedicated to advancing economic development and improving Ann Arbor's built environment. Lee serves as the Chair of the Planning Commission and Transportation Commissioner for the City of Ann Arbor, as well as serving on Ann Arbor's Comprehensive Plan Subcommittee. He is serving his second term as President of the Balmoral Park Condominium, and is a member of SPARK's Business Development Committee. Lee also has guest lectured at the University of Michigan Ross Business School on real estate development and city planning, and is currently assisting a capstone project in Quantitative Methods in Social Sciences (QMSS).
Lee's passion lies in placemaking and solving complex real estate challenges, particularly when these efforts uplift the community as a whole. His collaborative work with UMS and the city of Ann Arbor in hosting the Plastic Bag Exhibit helped to bring world-class artists to Ann Arbor, and further discussions on society's reliance and consumption of single-use plastics. His work continues to balance the tensions between economic feasibility, environmental sustainability, and social justice.
"Wonwoo is one of the hardest working and most thoughtful people I know," said Jeff Hauptman, CEO at Oxford.  "40 under 40 showcases the Detroit area's best and brightest, a designation to be proud of. This is a testament to Wonwoo's outstanding contributions to the real estate industry and his commitment to making a positive impact on our community."
Lee continues to advance economic development in our region, and is actively navigating the evolving nature of commercial office real estate, while fostering meaningful placemaking. His commitment to accessibility, equity, excellence in real estate and public service, make him a well-deserving honoree of the "40 under 40" distinction.
"I'm truly honored but the credit goes to those around me – without the incredible support from my family, friends, mentors, and talented coworkers, none of what I do would be possible," said Lee. "We need to continue to champion excellence in the built environment – and that means more equitable, beautiful, accessible places that help to provide meaningful opportunities for all those in our city."