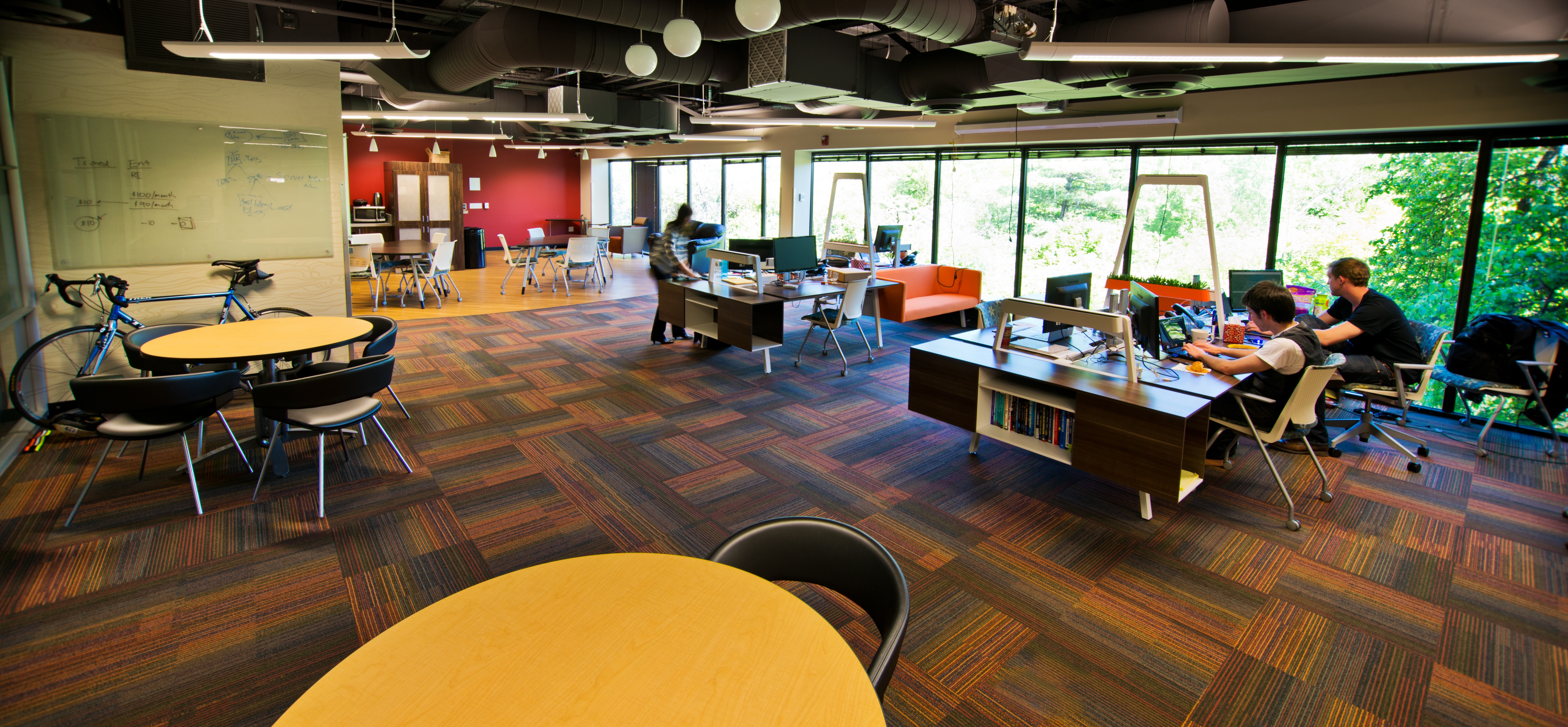 6 Workspace Changes to Enhance Employee Productivity [Part 2]
Pictured: Right Brain Networks 
When you own a business, you might ask yourself the following about your work environment and employee productivity:
What does my workspace say about my company?
What do my employees think as they sit down to do their jobs day-in and day-out?
Does my workplace enable staff to work at peak performance?
How do clients feel as they walk through our space?
Over the years, companies that ask these questions have been noticed for their dedication to employee productivity. They are seen as organizations that care. That alone has the power to draw the best talent and increase workforce retention rates.
Just ask Wegmans, a mid-Atlantic grocery store that has made Fortune's list of best companies to work for since the list started in 1998. This year, Wegmans scored fourth place out of 100 nominated businesses.
Their secret sauce is simple enough: invest in employee training, empowerment, education, and experiences to reduce turn-over rates. And the results are awesome.
Fortune reports that 95% of Wegmans employees state that their facilities contribute to a good working environment. In addition, the turnover rate for full-time employees averages around 5 percent. Compare this to Wal-Mart's turnover rate, which Reuters reports averages around 43.6 percent.
The lesson is universal for all business owners: The environment you build plays a vital role in your organization's culture, production, and success.
In our last blog, we shared 6 tips on how to build a better workspace. Now, it's time to explore the top 6 ways to optimize your workspace for employee productivity:

1. Bring in air purifiers
Did you know that removing pollutants can improve the performance of the tasks you do every day, like typing and solving mathematical problems? By reducing pollen, allergens, and other respiratory irritants, air purifiers can create a healthier and more productive staff.
2. Add music to the mix
Set the tone for the work environment — no pun intended. Melodious sounds help encourage the release of dopamine in the reward area of the brain. Music is also a great way to encourage bonding between employees who like similar styles and artists.
3. Keep a consistent temperature
It's been scientifically proven that being too hot or cold can adversely affect work performance. An ergonomics study at Cornell University found that chilly working conditions led to more errors and hourly labor cost increases of 10%.
71 degrees is the optimal working temperature, but many offices suffer from uneven heating and cooling environments. Keep thermometers around the office and work with your heating and cooling experts to get a consistent temperature so your whole office can reap the rewards.
4. Implement walking desk stations
Humans weren't meant to sit for 8 to 10 hours a day. Avoid the uncomfortable squirming by bringing in walking desks. They're not just trendy. They are good for your employee productivity and promote health and creativity.
5. Modernize communication tech set-ups
Having the ability to screen-share, display presentations, and video chat is essential in a modern office today. Create set-ups that are easy to use and reliable in order to keep your employees connected.
6. Ensure noise levels are within 48 and 52 dBA
A study performed by Cornell University found that any noises louder than 52 dBA can be distracting. In addition, employee productivity subjected to prolonged high-volume workspaces are at an increased risk for illness, higher hormone levels, stress, lower morale, and even an increase in fatigue. To keep noise levels within the ideal volume zone, try using: acoustic panels, screens, rubber mats, or other noise-insulation technologies.
Overall, there are a lot of ways to invest in creating a great workspace environment for your employee productivity to thrive.
Even the smallest changes can have a big impact, because companies that choose to invest in creating the best spaces possible for their employee productivity to reap the rewards in the long-run.
If these small improvements aren't going to answer your greatest workspace concerns, then it may be time to explore some fresh-start options. But there's no need to go in alone. When the time comes to start looking into office upgrades, consider working with a local partner who has a strong network of options and locations for you to choose from.