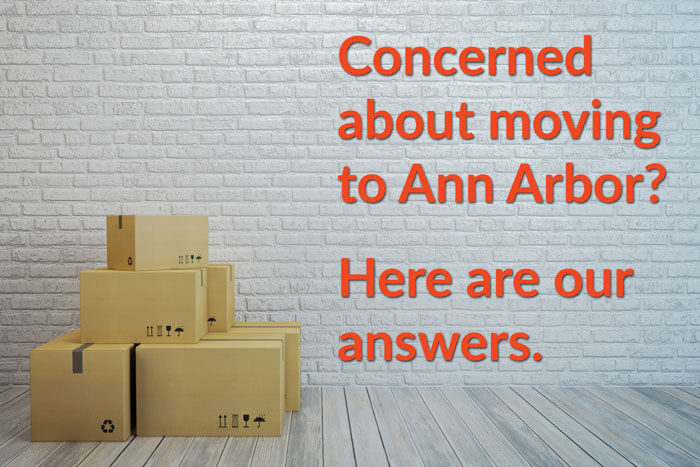 Answers to Top Client Concerns About Moving to Ann Arbor
Ann Arbor has been a thriving city for businesses for years. With several large tech companies with more than 400 employees in the area, not to mention an active downtown restaurant scene and the draw of a prestigious university, many businesses view Ann Arbor as a desirable location to bring their business.
However, with demand high, many companies also worry that the cost of doing business in Ann Arbor will be beyond their means. Space is also a concern, as are the additional burdens Ann Arbor's growing population places on traffic, parking, and community resources. Despite everything Ann Arbor has to offer, many wonder if the benefits justify the costs.
To help businesses make their decision, we've broken down the top three pain points for businesses considering the Ann Arbor area, as well as the top three benefits. Read on to judge for yourself whether moving your business to Ann Arbor is the right call.
Pain Point 1: Cost and availability of space.
It's no secret that space in the downtown area is tight. With an office vacancy rate of only 3.6%, there isn't much space for large companies. However, that doesn't mean businesses are out of options. Downtown Ann Arbor still has space for small to midsized businesses, as well as flexible co-working space for startups.
Meanwhile, outside the downtown area, vacancy rates in Ann Arbor's West and South sides are at a healthy 10.7% and 10.1%, respectively. With large office spaces Ann Arbor still within a short commute of the city center, businesses gain the benefits of a location with room to grow as well as access to downtown amenities. So while working in a walkable downtown has its charm, moving your business to the edge of downtown can lead to considerable savings in rent.
Pain Point 2: Parking costs.
Reduced parking costs are another advantage of moving out of downtown. Most Southside offices include parking lots, making access easier for employees and visitors alike. For large employers, this can be a significant draw.
That said, some downtown spaces come with parking access, and for businesses that can subsidize lot use, several downtown parking structures have affordable parking pass rates. Ann Arbor also has several commuter lots with public transportation to the downtown area, and the city is bike-friendly for commuters in the summer.
Pain Point 3: Commuting time.
Rush hour traffic can be a pain, but then, when is it not? Almost any city will have congestion during peak traffic times, and Ann Arbor is no exception. However, for a city of its size and status, most commute times are pretty reasonable.
Between the three major highways that serve the city, the typical commute from neighboring towns such as Chelsea, Whitmore Lake, Saline, and Ypsilanti to downtown Ann Arbor is an average of half an hour. Traffic conditions can be worse in bad weather or during road construction, and commutes are longer via public transport.
Benefit 1: Local amenities.
Every business has different needs. For those who rely on out of town visitors, Ann Arbor has a small municipal airport and is also within an hour by car from Detroit Metro Airport. There is no shortage of hotels in the area, as well as venues for conferences and event hosting.
When it comes to life outside of work, Ann Arbor has several large city parks, an excellent school system, and several summer festivals that add to the experience. And if you're interested in outdoor activities, the surrounding area has great spots for kayaking, hiking, camping, and more.
Benefit 2: Business opportunities.
Over the past few years, Ann Arbor has developed into a hub of technological innovation. It's not just the downtown Google offices that lend the city that distinction: Ann Arbor also hosts several large local tech startups, as well as a Spark, an economic initiative group which backs local entrepreneurs.
Ann Arbor also has deep roots with the University of Michigan. Not only does the university add to the local talent pool, but it also attracts researchers from around the country to its STEM programs. And the University presence also attracts speakers and leaders from around the country to events. Altogether, opportunities to connect with other businesses, entrepreneurs, and talented individuals abound.
Benefit 3: Downtown environment.
You don't have to have your office space downtown to enjoy its benefits. Almost any location in Ann Arbor's outer districts is within ten minutes of downtown Ann Arbor, making it a natural destination for a business lunch or an after-work event.
Ann Arbor's downtown has a lot to offer residents. Several Ann Arbor restaurants have achieved national acclaim as top spots for food and drink. And with a range of small specialty shops, music venues, and theaters—not to mention the city's well-known sports culture—there's plenty for everyone.
Ann Arbor still has a lot to offer businesses.
It should come as no surprise that we're pro-Ann Arbor – but we have good reason to be. In many ways, Ann Arbor combines the best of small towns and large cities: a small community with easy access to nature, but also with the cultural draws of a city many times its size. Moreover, concerning business opportunities, it can punch well above its weight.
In short, there's a reason why Ann Arbor consistently ranks among the top places to live and work in the country. So, if you're looking for a new place to move your business, contact us to learn about the spaces we have available.