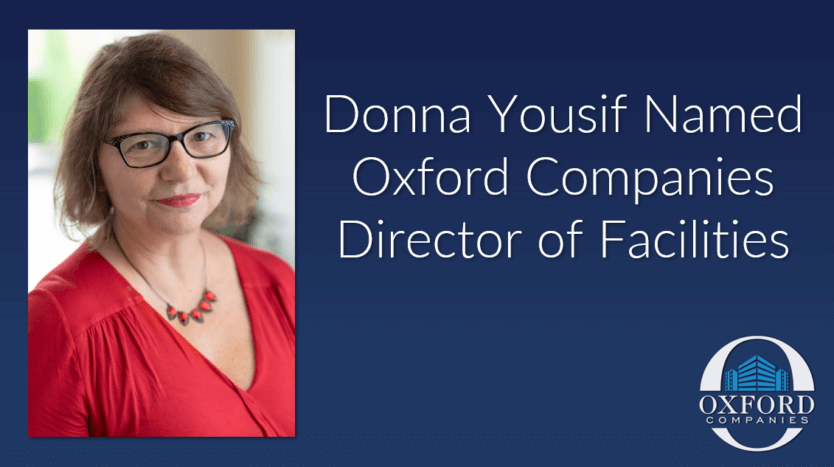 Donna Yousif Promoted to Director of Facilities
Oxford Companies is pleased to announce that Donna Yousif has been promoted to Director of Facilities. Formerly the organization's Service Manager, Donna has been a valued member of our CREW since 2018. She'll continue to oversee Oxford's commercial and residential maintenance and repair teams as she has for several years, and her duties will expand to provide leadership to the HVAC department as well.
"This promotion reflects the meaningful contributions that Donna has made over the past four years", said Joe Mifsud, President of Oxford Property Management. "All of us at Oxford are profoundly fortunate to have Donna on our team, and we're delighted to offer her a hearty congratulations on this well-deserved promotion."
Donna has been working in various property management roles for over 40 years, caring for both commercial and residential buildings. "My favorite parts of this job are the opportunity to help people from all over the world come to Ann Arbor and find a great building to live in, and also working with professionals who are truly the best our industry," she said.
Teamwork is key to what makes Donna so successful here at Oxford, as she brings a sense of collaboration to all of her interactions. She believes in transparency, positivity, and constant improvement – and is a strong supporter of her team. We can't wait to see all the great things Donna will accomplish in her new role.
On a personal note, Donna has two grandchildren and you'll often find her at the park with them when she's not working.
Congratulations, Donna!
Interested in joining Donna's team? We're (currently) looking for a Commercial Building Engineer and Residential Maintenance Technician. Learn more and get the most up-to-date job postings HERE!