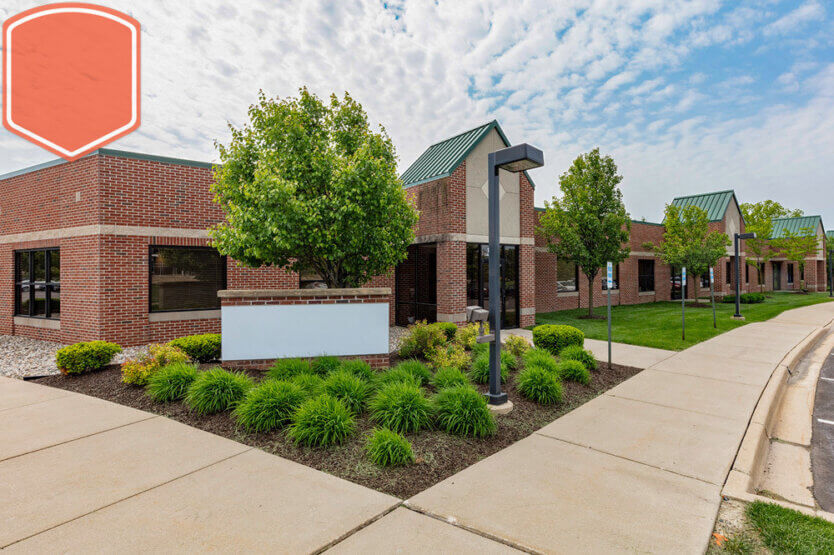 Health and Safety Optimized Ann Arbor Office Spaces
These Ann Arbor Office Spaces are Health and Safety Focused.
Oxford currently has several office spaces for rent in Ann Arbor that are optimized for tenant health and safety. The size of these availabilities ranges from small locations of 722 SF to large offices of more than 33,000 SF. These health and safety optimized spaces include combinations of the following amenities:
Dedicated entrances
Private amenities
Customizable floorplans
In our Commercial Office Space Search section, you'll see an orange badge to identify these optimized units.
Availabilities in the Valley Ranch Business Park
Ann Arbor's Southside is a growing business district with a range of office spaces and numerous amenities. Office spaces for lease in the Valley Ranch Business Park are surrounded by well-landscaped grounds with mature trees and easy access to retail and grocery stores—all within a ten-minute drive of Ann Arbor's downtown.
Water Tower Place, 1194 Oak Valley. Up to 13,723 SF. This property is perfect for a mid-sized business interested in a quiet office location with good highway access and plenty of nearby shopping amenities.
The Summit Office Center, 1168 Oak Valley. 33,600 SF. The entire building is available to businesses who need a sizable office space or are looking for room to grow.
The Gables Office Center, 1136 Oak Valley. 32,400 SF. A serene location offering scenic views, this office center is perfect for businesses interested in establishing an Ann Arbor headquarters.
Courtyard Building, 3948 Ranchero Dr. 13,978 SF. This office space features attractive landscaping and private suite entrances and is adjacent to the Valley Ranch luxury housing complex.
Courtyard Office Center, 3940 Ranchero Dr. Up to 13,132 SF. Located next to the courtyard building, this office space is perfect for mid-sized companies.
The Ponds, 3891 Ranchero Dr. Up to 3,052. True to its name, this property is situated on a scenic lot with several nearby ponds adding to the view.
Availabilities in the Atrium Office Park
Set between I-94 and Eisenhower Parkway, the Atrium Office Park is also located in Ann Arbor's Southside. With several hotels within walking distance, these spaces are convenient for any business hosting frequent out-of-town visitors. Briarwood Mall and a variety of popular restaurants are just a short walk across State Street.
This office area has several availabilities. Each building has an attractive exterior, ample parking, and private entrances. Downtown Ann Abor is little more than five minutes away, and with immediate highway access, Detroit Metro Airport is within half an hour.
825 Victors Way. 4,214 SF.
Atrium I, 900 Victors Way. Up to 4,100 SF.
Atrium III, 950 Victors Way. Up to 7,657 SF.
Atrium IV, 1100 Victors Way. Up to 8,197 SF.
Atrium V–VI, 1200-1300 Victors Way. Up to 21,187 SF.
Availabilities in the E. Eisenhower Corridor
Located one block east of the Atrium Office Park, this office area is an excellent spot for businesses that focus on networking with other strategic partners. Like the Atrium Office Park, these offices are at the center of Ann Arbor's Southside, with easy access to major roadways and hotels.
Eisenhower Commerce, Building 3, 1300-1390 Eisenhower Place.  6,285 SF. Surrounded by natural landscaping and quiet wooded areas, this location Is ideal for a high-tech business wishing to establish itself within a stone's throw of the university.
Eisenhower Corporate Park, 2725-2805 S Industrial Highway. Up to 9,959 SF. Featuring high ceilings, a flexible floorplan, and high-speed internet, this space is ideal for businesses seeking a new corporate headquarters.
955 W. Eisenhower Circle. 1,248 SF.
Availabilities in North Ann Arbor
On the north side of Ann Arbor, the Forest Cove office complex is only a short drive down Miller Road to reach downtown. The complex offers generous parking and features a small wetland area amidst quiet woodland surroundings. You would never know the highway is a minute away.
Forest Cove A–­B Buildings, 3001-3035 Miller Rd. Up to 20,816 SF. The beautiful wooded exterior and tall windows of these buildings are just the start of the unique, high-end finishes on this office space.
Within walking distance of the Westgate Shopping Center, the Maple Office Center is ideal for small commercial businesses. Convenient access to groceries, shopping, and restaurants add to the appeal.
510-532 S. Maple. Up to 4,248 SF.
Contact us for a scheduled viewing of any of these Ann Arbor office vacancies.
We are currently showing our availabilities in the Ann Arbor area. Masks are required, and we ask all our viewers to maintain social distancing precautions. If you would like to view one of our health and safety optimized office spaces for lease, contact us to schedule a viewing. We look forward to showing you around!