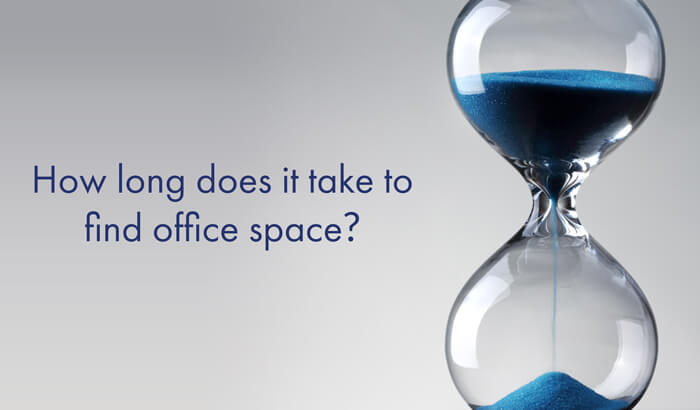 How long does it take to find an Ann Arbor office space?
Your lease is running out, and you need to move. When should you start looking?
Your business is doing well, your company is growing, and your old lease will be up by the end of the year. So, when's the right time to start looking for a new space?
Many businesses start the process expecting to be fully moved in a month or two. They underestimate the time it will take them to identify their needs, schedule walkthroughs, negotiate contracts, and build out the space according to their vision. And if the deal falls through at any one of these stages, they could find themselves beginning all over again, which can really throw off the overall time it takes to find an office space Ann Arbor.
While it's hard to estimate the time you'll spend looking for new office space, the overall time will mostly depend on the size of your company. The smaller your business, the more agile your team can be, and the faster you can move from one space to another.
Realistically, the only businesses who can expect to be fully moved in under three months are those with only a handful of employees. Mid-sized businesses with twenty or thirty employees should plan on closer to six months, while businesses nearing a hundred employees often take a full year to make the transition.
There are many factors involved in an office move, and each of these will add to your timeline. To get a better sense of what you should expect, we broke down each stage and the approximate number of weeks it usually takes.
1. Determine your Ann Arbor office space needs. (1–2 weeks)
Have you established a budget? Do you have geographical restrictions? How much space do you need? As eager as you may be to start looking at spaces, you need to have some of the specifics nailed down first. Otherwise, you may find yourself in a position where your heart is set on a specific building, only to realize it doesn't fit some of your core criteria.
Do a full needs analysis of your business first so that you can separate the "nice to haves" from the "need to haves." You can then take this checklist with you to viewings, and present it to your broker so that they can better help you find what you're looking for.
2. Hire a broker. (1–2 weeks)
Some businesses try to spare themselves the cost of a broker by conducting the entire office search themselves. They may even be under the impression that the broker, rather than working in their best interests, is only trying to push them into a space to close a deal.
If that's the way you feel about your broker, it's time to find a new one. A good commercial broker can help you understand what the going rate is for office space, can walk you through confusing industry terminology, and can use their contacts to find you spaces you might not have discovered on your own.
Most importantly, with a trustworthy broker guiding you through the process, you're far less likely to make a misstep in your office hunt. Your broker could end up saving you thousands of dollars and years of headaches by steering you away from bad property decisions.
3. Search for and compare spaces. (1–4 weeks)
This is the part most people think of when they start looking for a new office space. It's also the most exciting for many businesses, as they get to tour new locations and imagine their possibilities. If you're lucky, you will find an office space Ann Arbor in a few locations that would suit your business. In that case, it's time to start comparing them against each other to see what their pros and cons are.
If you find yourself with no good options, it may be that your list of key criteria is too detailed. Try expanding your "must have" list to include a broader range of properties. Remember that, even if a space doesn't seem to fit your needs perfectly, there's a lot you can alter during build-out to help it meet your vision.
4. Talk to a lawyer and negotiate a deal. (1–4 weeks)
Contracts contain a lot of legal jargon, and even if everyone's doing their best to act in good faith, misunderstandings can still happen. Bringing in a lawyer can lengthen the process because it will mean going back and forth with another party to verify information, but failing to do so could land you in the kind of legal trouble you would rather do without.
Negotiations often involve a lot of back and forth. This is another place where your broker can help. Depending on your situation, they may be able to get you a few months' free rent, or a discount on modification costs.
5. Build out your space. (2–12 weeks)
Very few spaces are move-in ready. At the very least, they'll probably need a new coat of paint. If your office space requires more significant modifications, that time could easily stretch into months.
That said, having your space exactly the way you want it is almost always worth the wait. Don't try to rush the process by moving into a partly-finished office. You'll only get in the way of builders, and your workers will struggle to get anything done in such a productivity-killing environment. If you absolutely have to be out of your old space, look into temporary work from home or co-working opportunities.
6. Move in. (1–4 weeks)
If you're a small business with only a few desks to move and set up, moving can be the work of an afternoon, if you hire help. More likely, even if you are a small business, you'll spend more time than you expect running to and from the store picking up supplies, submitting change-of-address notifications to service providers, and assembling new office furniture.
For larger spaces, moving office equipment, desks, file work, etc. can be a much more involved process. You may have to move one department at a time, or one floor at a time if you have a multi-floor organization.
You'll be in this space for a while, so don't rush your decision.
Office space Ann Arbor contracts typically run from five to ten years. With that much time ahead of you, it's far better to take your time and find a place that truly suits your needs rather than move quickly.
Best of the best
Oxford Companies is the brokerage house behind more than 2.5 million square feet of Ann Arbor commercial rental property and real estate property. Contact us today and see where our expertise can take you.