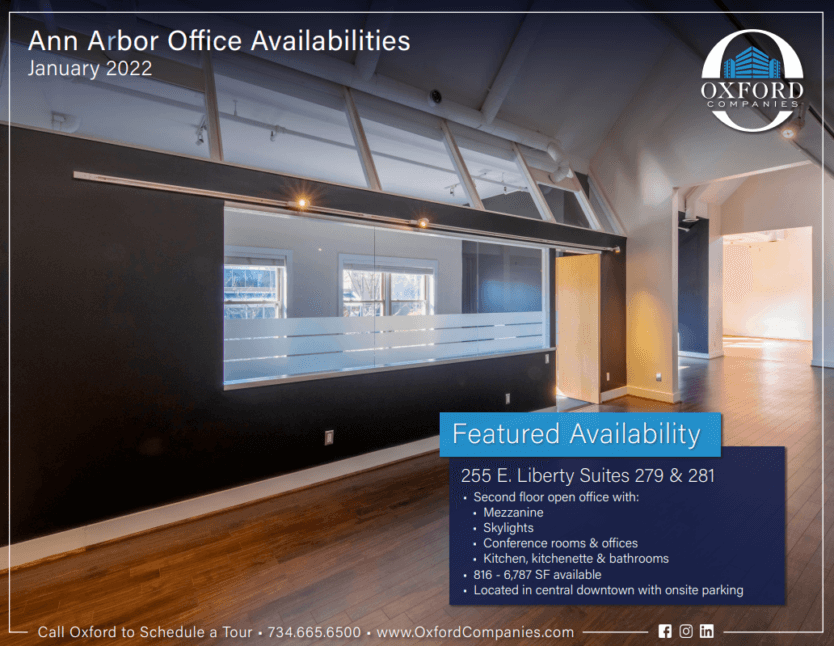 January 2022 Office Availabilities
Oxford Companies is the best organization to help you find a perfect commercial property for lease in Ann Arbor. Just take a look at our fantastic new January Ann Arbor Office Availabilities guide!  It's full of offices throughout the Ann Arbor area that can accommodate teams large and small, with a variety of amenities.
Our "orange badge" availabilities note offices for rent that are especially desirable for organizations focused on health and safety. Amenities like dedicated entrances and exits, private restrooms, and space for physical distancing make these particularly great Ann Arbor office options.
Forest Cove is one of Oxford's most unique office areas, with its natural surroundings and ski chalet look and feel. To learn more about this stunning commercial property for lease in Ann Arbor, click HERE.
Oxford also offers downtown offices for lease in Ann Arbor, like at Galleria Mall near the University of Michigan campus, and at the Federal Center Building on 5th Avenue. Nickels Arcade is another beloved downtown office area that offers Ann Arbor retail space for lease as well.
Organizations that are looking for easy highway access and top-notch amenities should consider the 777 Building. An iconic commercial property for lease in Ann Arbor, 777 is one of the most recognizable office buildings in Ann Arbor.
To read the full Availabilities Guide, click HERE.
Interested in touring one of Oxford's commercial properties for lease? Send us a quick note with THIS form. Or, get in touch with Karen O'Neil at 734-665-6500 or koneil@oxfordcompanies.com.