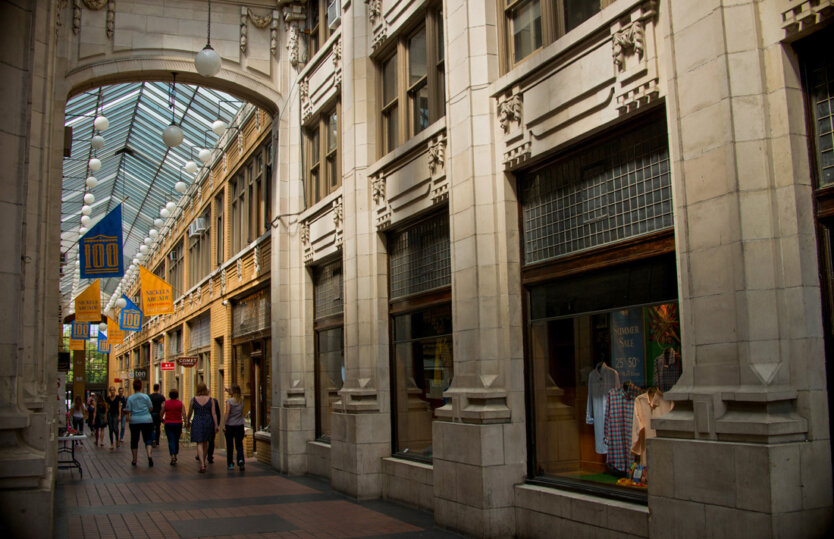 Nickels Arcade: Ann Arbor's Timeless Shopping Oasis
Nickels Arcade: A Journey Through Ann Arbor's Timeless Shopping Oasis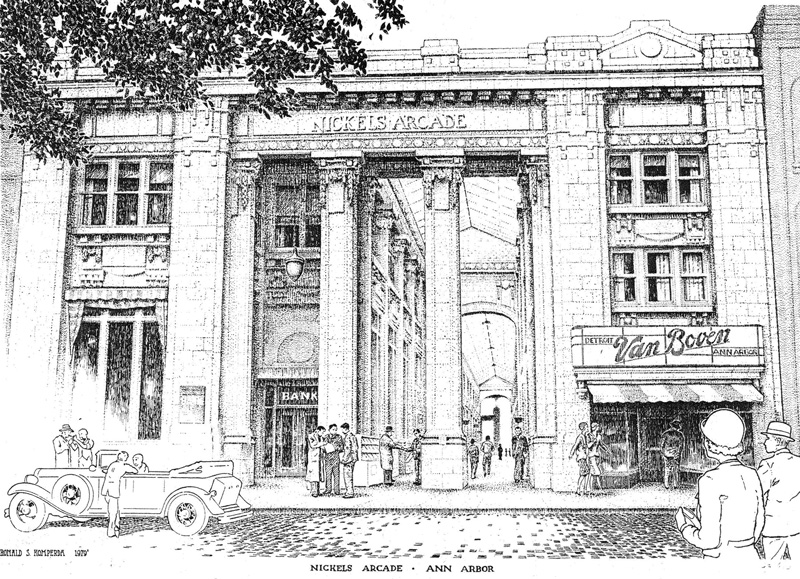 Nickels Arcade is one of Ann Arbor's most historic, iconic buildings. It was a shopping mall before there were shopping malls – home to barbers, clothiers, florists, and other vendors since it opened in 1917. That's right – Nickels Arcade is over a hundred years old, and the businesses there are still thriving. Located in the bustling State Street District of downtown Ann Arbor, the Arcade is home to unique businesses you can't find anywhere else, like Arcadian Antiques, The Caravan Gift Shop, and Van Boven Shoes.
Currently, Oxford is leasing coworking units on the second and third floors of Nickels Arcade as part of our Instant Office program. It's the perfect spot for an organization that would benefit from a downtown location, and the lovely views of the University of Michigan Diag can't be beat.
About the Building
Nestled in the heart of Ann Arbor, Michigan, Nickels Arcade stands as a cherished landmark that exudes historical charm and community significance. Stepping foot into this architectural gem, visitors are transported to a bygone era, and locals take pride in its enduring legacy. Listed on the National Register of Historic Places, Nickels Arcade has been a beloved gathering place for generations, attracting both residents and tourists alike. Spanning an impressive 261 feet, its interior features a mosaic-tiled corridor beneath a stunning greenhouse glass ceiling, crafted by the renowned Pewabic Pottery in Detroit.
Real Estate Appeal & Availabilities in Nickels Arcade
Nickels Arcade is an opportunity to set up shop in a truly unique and strategically positioned space that captures the essence of Ann Arbor's charm.
Located adjacent to the prestigious University of Michigan, Nickels Arcade benefits from a constant flow of pedestrian traffic, creating a bustling hub of activity for both locals and visitors. With its inviting atmosphere and eclectic mix of retail outlets and businesses, this arcade is bathed in natural light, fostering a sense of community within its walls.
The allure of Nickels Arcade extends beyond its charm, making it an attractive destination for businesses seeking prime real estate. With its central downtown location and close proximity to the University of Michigan, the arcade enjoys a steady flow of pedestrian traffic, providing a bustling environment for retail establishments.
Additionally, small offices find their perfect home here, catering to diverse professionals like photographers, therapists, and other small businesses seeking a vibrant and conducive work setting. These cozy spaces within the arcade foster creativity and collaboration, making it an ideal hub for aspiring entrepreneurs to establish their roots in the thriving Ann Arbor community.
View commercial spaces available for lease at Nickels Arcade.
Diverse Businesses in Nickels Arcade
Nickels Arcade is home to a thriving collection of over 20 shops and businesses, each offering a unique and diverse range of products and services. From fashionable clothing boutiques to quaint gift shops and captivating art galleries, there is something to entice every visitor. Some businesses have become cornerstones in the community, having graced the arcade for decades, cultivating a strong sense of tradition and familiarity.
Among its cherished tenants are:
Comet Coffee – A beloved coffee shop, enticing visitors with their meticulously crafted brews and delightful ambiance.
Ten Fine Jewelry – A renowned jewelry store, offering exquisite and timeless pieces that make cherished keepsakes.
Maison Edwards Tobacconist – A haven for tobacco enthusiasts, providing a curated selection of premium cigars and fine tobacco products.
Caravan Gift Shop – A treasure trove of unique and thoughtful gifts, capturing the essence of the arcade's charm in every item.
Arcadian Antiques – A vintage wonderland, housing a curated collection of timeless antiques that captivate collectors and enthusiasts alike.
Van Boven Clothing – A distinguished boutique, catering to fashion-forward individuals with their curated selection of clothing and accessories.
Bivouac – An outdoor enthusiast's paradise, offering a carefully curated range of gear and apparel for all adventurers.
Michelle Lamarand Photography – A creative space, capturing life's precious moments through the lens of a talented photographer.
Bon Bon Bon – A confectionery delight, crafting artisanal chocolates with a whimsical and innovative touch.
Arcade Barbers – A traditional barbershop, offering classic grooming services and a welcoming atmosphere that transcends time.
University Flower Shop – A floral oasis, bringing joy and beauty to the community with their stunning arrangements.
Parrish Fine Framing and Art – A hub for art enthusiasts, providing professional framing services and showcasing captivating artworks.
Each of these businesses contributes to the vibrant tapestry of Nickels Arcade, adding to its allure and embodying the spirit of community that has thrived within its historic walls for generations.
Historical Background and Significance
Rooted in history, Nickels Arcade traces its origins back to 1917 when Tom Nickels, the visionary behind the arcade, inherited a meat market on the site. Honoring his legacy, the arcade bears his name and once featured a striking nickel-plated clock at its entrance. The design of Nickels Arcade was inspired by European shopping arcades of that era, reflecting elegance and sophistication.
Location and Layout
Nestled at a fantastic downtown location in Ann Arbor, Nickels Arcade enjoys the advantage of being adjacent to the prestigious University of Michigan. Its strategic placement garners a steady stream of pedestrian traffic, making it a bustling and vibrant destination for locals and visitors alike.
As shoppers stroll through its inviting mosaic-tiled corridor, the arcade becomes a lively hub of activity, teeming with an eclectic mix of retail outlets and charming businesses.
The greenhouse glass ceiling bathes the arcade in natural light, creating a warm and welcoming ambiance that entices exploration and fosters a sense of community within its enchanting walls. With its unique architectural features and prime location, Nickels Arcade has undoubtedly become a timeless gem in the heart of Ann Arbor.
Community Impact
Nickels Arcade occupies a special place in the hearts of Ann Arbor residents. Its role as a community staple extends beyond commerce and aesthetics, contributing significantly to the local economy. Hosting community events and gatherings, the arcade fosters a sense of togetherness, making it a favored venue for weddings photos and special occasions.
Chief Real Estate Office at Oxford Companies, Wonwoo Lee, says he and his team feel a special connection to the property, "We're all very, very close to the arcade…we are very affectionate of the historical significance of it, as well as all of the different memories that have been made in this place.  Annually, we close it off to ensure that it remains a private concourse. We also decorate for Christmas and winter seasons every year."
Future Prospects
Today, Nickels continues to be cherished by the community, with ongoing efforts to maintain its historical significance. A restoration project in 1987, supported by the National Endowment for the Arts, revitalized its charm and ensured that its legacy endures for generations to come.
Nickels Arcade stands as a testament to Ann Arbor's rich history and its vibrant, welcoming community. With its captivating architecture, diverse businesses, and thriving real estate potential, the arcade remains an irreplaceable gem.