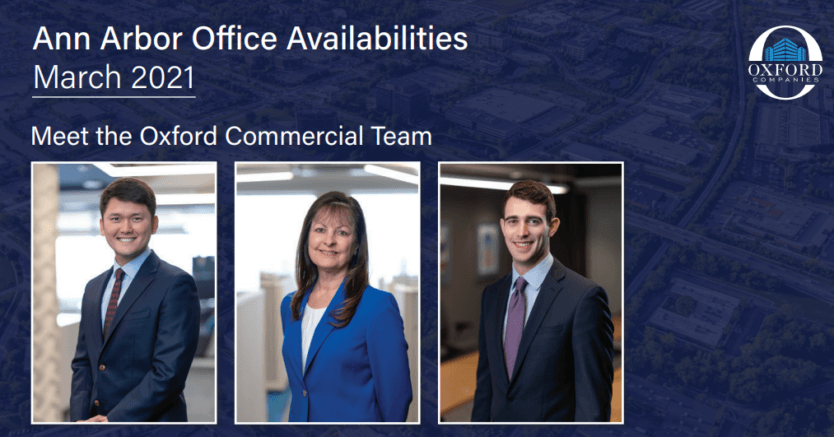 Oxford's Ann Arbor Office Space Availabilities for March 2021
Oxford Companies is widely-known as the expert in Ann Arbor office space.
We have more square feet under management than any other organization, after all! And, our service-focused leasing team knows all the right questions to ask to ensure that we help potential tenants find the perfect fit.
Our newest Availabilities Guide details all of our units and properties that are available throughout the Ann Arbor area. We have Instant Office availabilities for organizations and people who want to move right in with no complications, and we have sprawling Ann Arbor office space units for businesses looking to grow their footprints. Too see the entire guide, click HERE.
Also included in the Availabilities Guide for March are our "Orange Badge" offices – especially suited for organizations that have health and safety and top of mind. In these particular units, you'll find Ann Arbor office space availabilities with amenities like dedicated restrooms, private entrances and exits, space for physical distancing, etc.  We know that more than ever, businesses are taking extra care to ensure that their employees are safe and healthy – and we can advise on what a safe return to office work could look like in an Oxford-managed building. For more on how we've helped our tenants navigate the COVID-19 pandemic, click HERE.
Whenever you're ready to find the perfect Ann Arbor office space for your organization, we're here to help. Reach out to Karen O'Neil at koneil@oxfordcompanies.com or 734-665-6500, or click HERE to send us a quick form so we can get in touch.