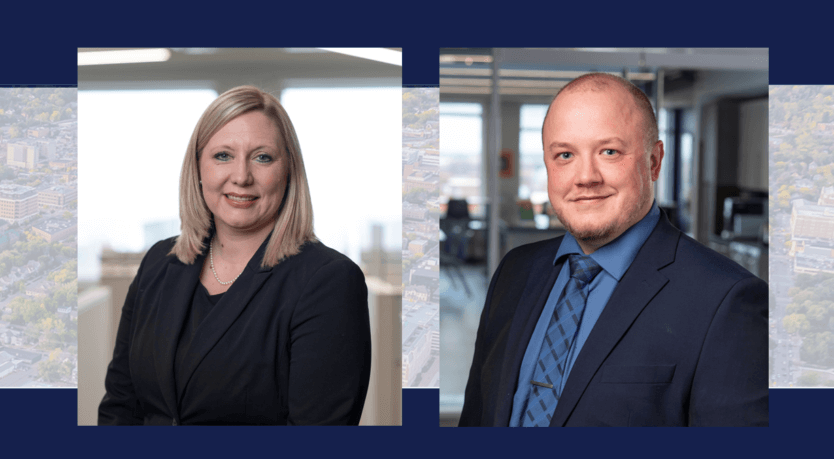 Oxford Property Management Leadership Update
Oxford is delighted to share that two of our exemplary leaders have been promoted in their respective departments. Please join us in congratulating Katie Vohwinkle, Director of Multifamily Property Management, and Mike Van Patten, Director of Commercial Property Management. Both of these real estate professionals have demonstrated incredible skill, knowledge, and determination as leaders in Ann Arbor property management.
Katie Vohwinkle oversees all elements of multifamily property management for Oxford, including tenant customer service, owner relations, leasing, vendor relationships, building improvements, and capital expenditures management. A highly-respected leader in Ann Arbor property management, Katie has almost 20 years of experience in the field and oversees four additional property management professionals. One of her biggest joys is watching them grow in their careers! Under her watch, Oxford has been named Best Landlord in Ann Arbor by the Michigan Daily on multiple occasions, and the multifamily and campus housing portfolio has expanded significantly. With this promotion, she'll be shifting her focus to also develop more business in consulting and brokerage management.
Mike Van Patten heads up all of Oxford's Ann Arbor property management services for commercial tenants. He enjoys overseeing a group of several commercial property management CREW members, and together they provide outstanding customer service, impeccable management of third-party contracts, mutually beneficial tenant relationships, timely maintenance and repair efforts, responsible oversight of building improvements and capital expenditures, and forward-thinking business development efforts. With his promotion, Mike will hand off much of the day to day Ann Arbor property management duties to his growing team, to focus on improving operations and expanding the portfolio.
When it comes to Ann Arbor property management, you won't find a more service-oriented, results-driven team than the Oxford CREW. If you're in the market for property management services for your Ann Arbor commercial real estate property, or your Ann Arbor office space, give Mike a call at 734-548-6944. Looking for help buying or selling Ann Arbor multifamily housing, or want to hand off the management of your campus buildings to a reputable company? Katie can help – call 734-548-6927.
You can also send us a quick form HERE if you'd like to discuss any of your Ann Arbor commercial real estate needs.