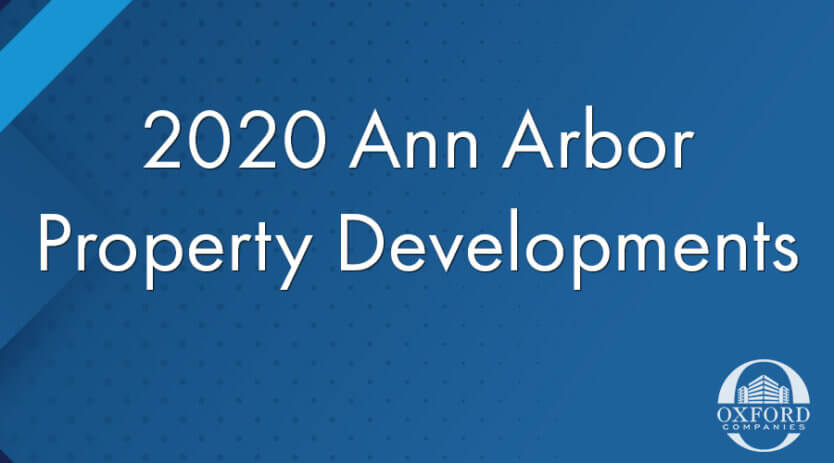 Upcoming Ann Arbor Property Development for 2020
As Ann Arbor continues to develop, here are the latest property developments to look out for.
Over the past decade, a construction boom in Ann Arbor has transformed many areas of the city, with new high-rise developments adding to the overall height of the city, and substantially growing the downtown population. For the past couple years, we've tracked the emergence of new building developments as they've moved from proposal to development and finally to completion. Here is our latest update for 2020.
Complete Ann Arbor Developments
Ann Arbor Office space on 315 S. Main St.
Construction at the location next to the Jolly Pumpkin finished last year, and the new 3-story streetwall building is already occupied by the M-Den. Behind this, set back from the street, is a new 6-story Ann Arbor office and retail space for lease.
Montgomery Houze, 212 S. Fourth Ave nears completion.
The new apartment complex on Fourth Ave. above the Ann Arbor Comedy Club, after undergoing several years of construction, is finally nearing completion and is prepared to house its first tenants as of Winter 2020.
The five-story building adds height to the location, while restoring the historic façade of the Montgomery Ward department store, which occupied the spot from 1928–1960.
Property Developments Underway in Ann Arbor
309 S. Ashley Condominiums begin construction.
Construction of a 5-story, 19-condo unit is underway on the corner of Ashley St. and Miller Ave. Plans for the building were first submitted in spring of 2018, and it is unclear when construction will finish. The completed building will have a contemporary urban style, and is expected to be an attractive housing option for working professionals.
The Gallery condos on 441 S. Ashley St. are underway.
S Ashley St. has a second 5-story, 19-condo unit under construction, this one a little further down the street near the Mews. The 2- and 3-bedrooom condos are designed to appeal to professionals, with tech spaces built in to each unit to accommodate residents who work from home.
Block of 151 E Hoover Ave. cleared for new development.
An entire block south of downtown has been cleared to make way for a new four-story apartment complex expected to attract young professionals rather than university students. The plan was approved in the fall of 2018 after property owners in the area agreed to sell and relocate. When complete, the structure will add 171 units and 182 beds to the neighborhood.
The Madison on 600 S Main Street begins development.
Proposed in 2015, development of the vacant block at 600 S Main St. has been a long time coming. The five-story design will accommodate street level retail while marketing 28–32 apartment units to mature professionals or recent retirees. Below-ground preparation work has recently been completed, and building construction is expected to begin soon.
Affordable student housing at 132 Hill St. underway.
With so much luxury student accommodation being built in the past few years, the construction of University of Michigan apartment student housing that matches a more affordable price point is a welcome sign. The three-story building will house five units and twenty-eight beds, filling a market need near the downtown/campus area.
Planned Ann Arbor Property Developments
6-story mixed-use development on 321 N. Main St. still in planning.
Since 2018, an eco-friendly mixed-use space including retail space for lease, office, condos, and apartments has been in planning for the vacant lot on 321 N. Main St. Environmentally-friendly aspects of the building plans include a large solar array that should generate 48,000 kilowatt hours per year, geothermal heating and cooling, and high-efficiency windows. Construction has yet to begin.
Vic Villages—South and East.
Two 13-story high rises have been planned along University Avenue, to be sister-buildings to the already-constructed Vic Village North. The buildings, while adding considerable height to the area, are designed to increase the availability of student housing within the University of Michigan apartment campus area by hundreds of beds, while also providing some affordable housing.
Michigan Theatre High Rise
The tallest development in fifty years has been proposed off Washington St., directly behind the Michigan Theatre. The development, which exceeds the downtown height limit, would be the tallest building since the 26-story University Towers was built in the 1960s, spurring the establishment of the current height limit.
The building would add 466 bedrooms to the downtown area, including 19 affordable housing units, and would also include a six-story mid-rise behind Sava's including workforce "micro-housing" units.
The Standard at 425 Main St. apartments.
A large redevelopment project spanning the length of an entire city block has been proposed for the east side of Main St., running from William to Packard. The development would add retail space for lease and 235 apartments, replacing what is currently a large asphalt parking lot and DTE's Edison Building.
327 E Hoover Ave Elbel Field apartments.
Ann Arbor's city council has approved plans for a four-story apartment complex to be built alongside Elbel Field, despite its proximity to noisy train tracks. The development will include three apartments with a total of eighteen beds.
Espresso Royale, 1101 S. University Ave.
Plans have been approved for the Espresso Royale off the University of Michigan diag to expand the building upwards by three stories. The extension would add three apartments with a total of sixteen beds.
The Glen at 201 Glen Ave.
Although plans for development of the vacant lot near the University of Michigan medical campus have been approved, construction has yet to begin. The Ann Arbor space will eventually include mixed retail space for lease and restaurants, apartments, and hotel rooms, as well as a four-level underground parking garage.
The Garnet at 325 E. Summit St.
Plans for a new 10-unit condo development in north of downtown have been recommended for approval after the property developer added more bicycle parking. The proposal would involve removing a house currently on the location and constructing a five-story urban chic brick building with limestone accents.
Hotel at 402 E. Huron St. to replace Firestone Auto Repair
The owners of Firestone Auto Repair have decided to sell the lot, opening development possibilities. One proposal is a 9-story hotel, which would be of comparable size to many of the other new high rises in the immediate area.
841 Broadway St. Development
The rezoning of the riverfront property between the Broadway bridge and the train depot has created possibilities for a new pedestrian-friendly green area, including condos, a riverfront restaurant and hotel, commercial developments, walking trails, and an event pavilion. Development plans are still underway.
Ann Arbor's development boom continues in 2020.
While development in Ann Arbor continues to grow at an astonishing rate, it is encouraging to see many new developments appealing to professionals rather than exclusively student clientele. Although the continued addition of high-rises to the area has raised concerns about maintaining the integrity of Ann Arbor's small town feel, several of the new developments also promise to transform spaces which are currently vacant eyesores into attractive, pedestrian-friendly zones. So long as new developments continue to make Ann Arbor a more attractive place to live, support among residents is likely to remain high.