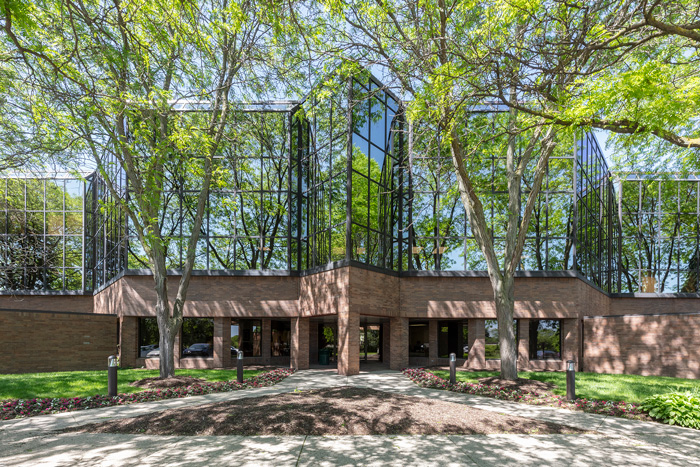 Ann Arbor Office Space Spotlight: 900 Victors Way
Ann Arbor Office Spaces at 900 Victors Way – The Atrium
900 Victors Way in Southside Ann Arbor, MI provides an ideal environment for businesses looking for premium office space. The Atrium at 900 Victors Way is known for its spacious, well-lit rooms that facilitate a comfortable and productive work environment. Tenants love the interior gardens, making commuting into the office fun and rewarding. Situated in a prime location, this Ann Arbor office space for lease offers easy accessibility to the city's main business districts and proximity to a range of local amenities such as restaurants and parks. Furthermore, the Atrium's sleek, modern design creates a professional atmosphere that is sure to impress clients and visitors alike.
Mike Van Patten oversees Oxford's Commercial Property Management team and is intimately knowledgeable about all of our buildings – so we were interested to hear about his favorite property. Turns out, it's the inimitable 900 Victors Way! This building is located south of Ann Arbor's downtown area, in a neighborhood we call the Southside.
We're passionate about the Ann Arbor Southside area, with its unmatched potential, its easy accessibility, and its diversity of Ann Arbor office space, shopping, parks and outdoor spaces, and more. Here's what Mike had to say about the 900 Victors Way.
Q: Why is 900 Victors Way your favorite building to manage?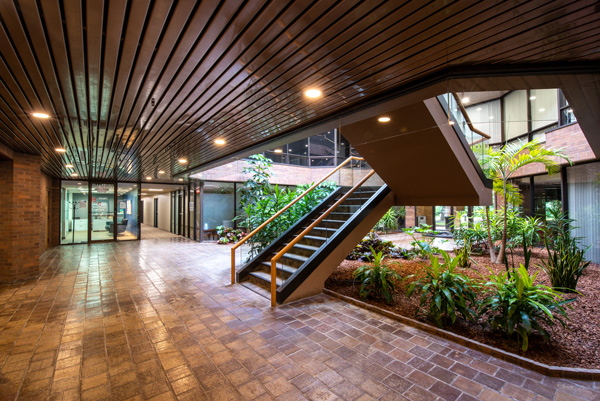 A: It was the first building I managed when I started at Oxford, so I've gotten to know it really well. I love the perfect throwback 80s look that the building has – it's like a look back in time at the best of 80s office design – like the interior landscaping. Lots of buildings from that era had the indoor gardens removed, but ours remains at 900 Victors Way, and it's one of our tenants' favorite things about the property. Also, as a property manager, it makes my life easier knowing that the building has had tons of capital improvement projects completed fairly recently – a new roof, new HVAC, and new elevators. It's a well-oiled machine of Ann Arbor office space!
Q: What tenants do you get to work with at 900 Victors Way?
A: I'd say our anchor tenant is KBR (formerly Centauri), which is a government contractor. We also have A3 Robotics – super cool tech company – and three separate law firms. It's a great place for professional services, like law and tax companies, that want Ann Arbor office space.
Q: What kind of benefits do you see for tenants who choose to set up shop at 900 Victors Way?
A: The location is perfect if highway access is important to you – it's literally less than two minutes from I-94. There's a great shared gym in the lower level that tenants have access to – and like I said earlier, our tenants love the indoor gardens in the common areas. It's also near some really great stuff! Obviously the whole Southside is full of things to see and do – but in particular, right there near 900 Victors Way, you'll find the Zingerman's Southside businesses like their Coffee Company and Bakehouse, and you're just a couple of seconds from the Briarwood Mall as well. When it comes to location, you won't find a more convenient Ann Arbor office space.
Q: If you were able to choose an ideal tenant to move into one of the vacancies at 900 Victors Way, what kind of tenant would you pick? What business could do well there?
A: It seems like professional services organizations really thrive here, so I'd say something along the lines of law firms, tax prep companies, accounting firms, payroll companies – they'd be happy in this building. I'd also love to see another tech company move in! There are tons of awesome innovative startups around here for which we'd love to provide quality Ann Arbor office space.
The Atrium at 900 Victors Way – Your future Ann Arbor Office Space!
900 Victors Way presents a unique fusion of a prime location, modern amenities, and a vibrant professional environment. With its retro 80s design intact and an indoor garden that tenants love, it stands as a testament to the best of 80s office design. Its accessibility to I-94, proximity to Zingerman's Southside businesses, and the Briarwood Mall further enhance its appeal. With a diversity of tenants from tech companies to law firms, it offers a versatile workspace that caters to various professional needs. Whether you're a burgeoning startup seeking innovation or a well-established firm, 900 Victors Way is the ideal address for your Ann Arbor office space.
To learn more about available spaces at 900 Victors Way, click HERE or contact Karen O'Neil at koneil@oxfordcompanies.com or 734-665-6500.