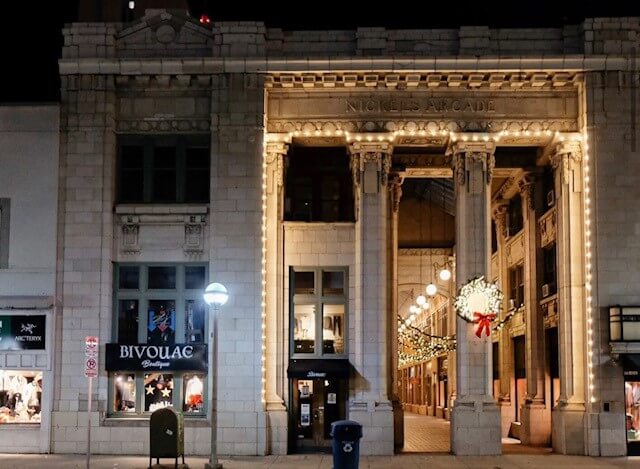 Downtown Instant Offices at Nickels Arcade
Ann Arbor Office Space for Lease at Nickels Arcade
The Oxford Companies Property Management CREW knows our buildings inside and out. That's why we're always looking to this part of our team for their thoughts on the most interesting aspects of the properties we manage. We recently had the opportunity to sit down (virtually!) with Senior Portfolio Manager Karen Farmer, who's been managing buildings for Oxford since 2017, and she told us all about one of her favorite properties – Nickels Arcade.
Nickels Arcade is one of Ann Arbor's most historic, iconic buildings. It was a shopping mall before there were shopping malls – home to barbers, clothiers, florists, and other vendors since it opened in 1917. That's right – Nickels Arcade is over a hundred years old, and the businesses there are still thriving. Located in the bustling State Street District of downtown Ann Arbor, the Arcade is home to unique businesses you can't find anywhere else, like Arcadian Antiques, The Caravan Gift Shop, and Van Boven Shoes.
Currently, Oxford is leasing coworking units on the second and third floors of Nickels Arcade as part of our Instant Office program. It's the perfect spot for an organization that would benefit from a downtown location, and the lovely views of the University of Michigan Diag truly can't be beat.
Here's a bit from Karen about Nickels Arcade:
Q: What is it about Nickels Arcade that makes it special to you?
A: It's just such an iconic building in Ann Arbor, and adds great depth to the Oxford portfolio. Nickels Arcade offers many things that other buildings don't – small offices alongside larger spaces, as well as retail storefronts. Working with this variety of tenants makes Oxford visible and accessible to the community – almost like a grassroots presence in Ann Arbor. Having a property like Nickels Arcade is great for Oxford's community relationships and recognition.
Q: In the greater scheme of Ann Arbor, what value does Nickels Arcade have?
A: Well, at over 100 years old, the Arcade was built for retail for the community, when Ann Arbor was very different than it is today. So much has changed in our city, but Nickels Arcade has stayed the same, without major modifications. It has personality and it's part of what make Ann Arbor a destination for students, visitors, and others.
Q: What types of spaces are available for lease right now in Nickels Arcade, and what kinds of tenants do you think would do well there?
A: Currently, we have offices of varying sizes – some are part of our awesome Instant Office program, which offers furnished suites and short-term lease options. I'd love to see another tech company or two move in. Nickels Arcade's proximity to the university makes it a great spot for access to the University of Michigan's students, faculty, staff, and resources. Other types of organizations that would work well there are entrepreneurs that need a relatively small space, web designers, software companies, marketing firms, architects… and really anyone whose client base would include downtown businesses.
Q: What kinds of tenants are currently occupying Nickels Arcade?
A: We have a great coffee shop – Comet Coffee, as well as the lovely University Flower Shop, and Bon Bon Bon – a chocolate company that just moved in, among others. Oxford tenants just outside of the main Arcade hallway are wonderful as well – like Red Hawk Bar & Grill and Michigan Creamery. Most of these businesses are locally owned and many were founded right here in Ann Arbor. It's a great place!
For more information about leasing an Oxford Instant Office at Nickels Arcade, click HERE.
Photo courtesy of Bivouac – another locally-owned, iconic Ann Arbor business.